President Robert Manuel announced this year's academic convocation plans for the construction of a new basketball practice complex in Lincoln Park. 
The $60 million project was announced in coordination with a philanthropic campaign. 
The new development comes as part of Manuel's "Design DePaul" initiative to make the university "the national model for higher education." Manuel expressed hope that the expansion will increase DePaul's academic and athletic prowess. 
"As we design DePaul's future, our philanthropic expansion must be grounded in an unwavering dedication to both our academic and athletic enterprise," Manuel said in a comment to DePaul Newsline. "Successful athletic accomplishments will raise DePaul's profile and reputation, and elevating our academic enterprise will expand elite educational opportunities for all students."
The campaign to finance the construction of a new athletic complex and renovations to the Sullivan Athletic Complex and McGrath-Phillips Arena, the existing athletic complex in Lincoln Park, will be primarily funded by donor contributions. Information about the fundraising campaign can be found on the "Dream Big Campaign" website. 
 "An investment in athletics will allow us to achieve even more on a national stage, which has the capacity to elevate the university's brand and reputation and drive future enrollment," Athletics Director DeWayne Peevy said to Newsline. 
Peevy said he was inspired to take on the project after conducting a comprehensive needs survey amongst athletes, coaches and alums to determine deficiencies within the athletic program. 
"The findings show that our facilities were inadequate to meet the needs and expectations of our student athletes, and were negatively affecting our recruiting efforts," Peevy said during Thursday's press conference. "The goal of the study was to determine the most cost effective options that accomplish the goal set forth in our needs assessment, and that impacted the most student athletes possible."
Freshman guard Haley Walker expressed excitement over the project despite the possibility of graduating before its completion.
"I would hope to still be at DePaul, you know if we get construction going next year I think [I'll] definitely be here," Walker said. "Even if I'm not here I think it's a really good thing for future Blue Demons and alumni."
However, Peevy's answer was unclear when asked if the project had acquired any donors yet.
"We've had some conversations, I mean, obviously, before a project of this note, we had to figure out if this is actually possible,"  Peevy said during the press conference. "We've had some conversations with our fundraising starting today, [I] got a couple of nice text messages today that I haven't had a chance to even share with my wife, just some people close to us, and they want to see us succeed, they want to help with this project."
The mockups show the new complex to be built at the corner of Belden and Sheffield across the street from McGrath-Phillips Arena, stretching west to the Arts and Letters Hall and north to the Sheffield Square Apartments. 
This announcement comes five years after the opening of Wintrust Arena in 2018. 
According to Newsline, the project was approved after 18 months of board, shared governance, community and campus leadership conversations.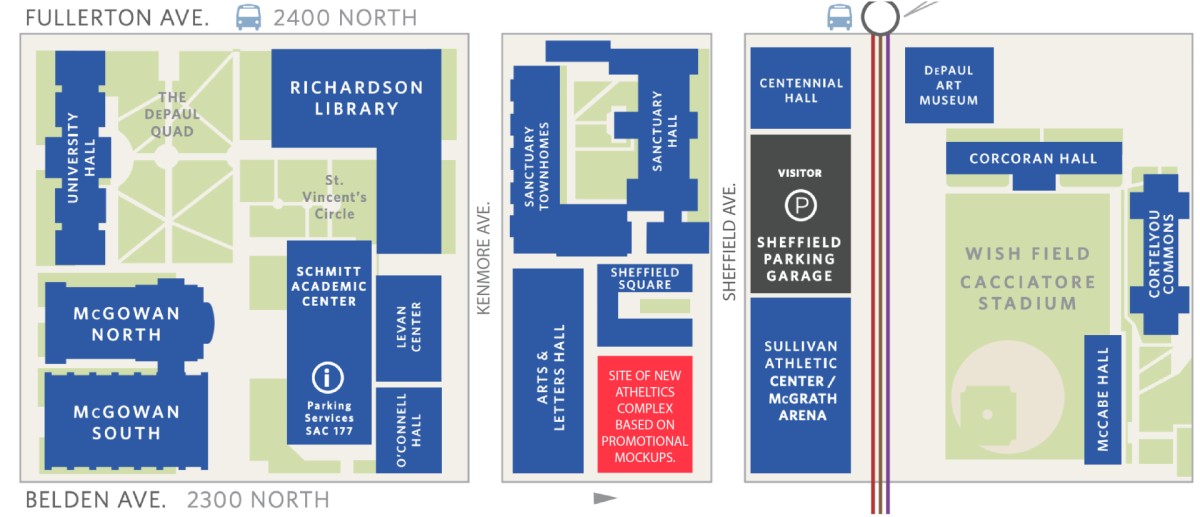 Currently, there is no set date for the project; however, Peevy estimates construction to begin early next year.