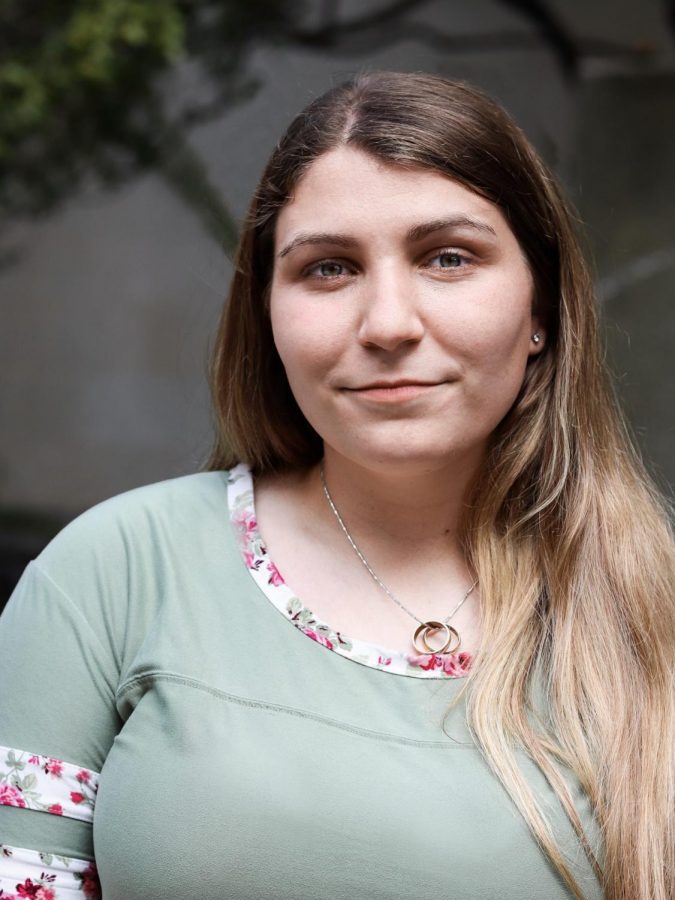 Lacey is the Editor-in-Chief for The DePaulia. Previously, she was the mastermind behind The DePaulia's Arts & Life section for two years and later held down the fort as Print Managing Editor. Outside of work, she can likely be found with her dog Deuces, watching "Survivor" or looking for new hoodies to add to her collection. Also, she's from New Jersey (South Jersey, specifically) and never shuts up about it for some reason.
Contact Information:
Email her at eic@depauliaonline.com. Follow her on Twitter @laceylatch.
Lacey Latch, Editor-in-Chief
Nov 01, 2020

FROM THE EDITOR: The DePaulia closes newsroom, shifts online as virus surges

(Story)

Nov 01, 2020

Law co-written by DePaul students provides inmates voting access, education

(Story)

Oct 23, 2020

DePaul president addresses pandemic, budget in State of University

(Story)

Oct 11, 2020

Election 2020: Illinois voting guide

(Story)

Oct 11, 2020

Students struggle to adapt to new email system

(Story)

Oct 05, 2020

Tracking Trump's contacts since contracting Covid-19

(Story)

Sep 27, 2020

Contested race for 14th Congressional district seat teeters on youth, commitment to president

(Story)

Sep 20, 2020

REVIEW: 'Challenger: The Final Flight,' an American-made tragedy

(Story)

Sep 13, 2020

Chicago Police throw maskless gathering in DePaul classroom

(Story)

Sep 07, 2020

University implements new precautions in preparation for fall quarter

(Story)

Sep 06, 2020

Colleges adapt to scaled-back campus reopening

(Story)

Aug 07, 2020

University employee tests positive for COVID-19 on Lincoln Park campus

(Story)

Jul 31, 2020

School of Music students call for dean's removal in open letter

(Story)

May 29, 2020

Killing of George Floyd ignites nationwide unrest

(Story)

Apr 08, 2020

Union asks DePaul to ensure pay for laid-off Chartwells employees

(Story)

Mar 01, 2020

REVIEW: 'Love is Blind' revamps dating show formula, 'brilliantly bonkers'

(Story)

Feb 16, 2020

How to do laundry for dummies

(Story)

Feb 16, 2020

DePaul faculty diversity upsets but doesn't shock

(Story)

Feb 09, 2020

OPINION: A case for the caucus

(Story)

Feb 09, 2020

On a campus that promotes diversity, DePaul's faculty demographics say different

(Story)

Feb 04, 2020

App snafu stalls final Iowa caucus results, muddies race moving forward

(Story)

Feb 03, 2020

Young voters weigh priorities heading into the Iowa caucus

(Story)

Feb 03, 2020

Bernie Sanders campaigns in Cedar Rapids with help from Vampire Weekend

(Story)

Jan 26, 2020

'Pandemic' teaches and terrifies

(Story)

Jan 20, 2020

DePaul Faculty Council discusses diversity, renames art school

(Story)

Jan 12, 2020

What's fresh on Netflix

(Story)

Jan 12, 2020

Australian bushfires point to dire future for climate crisis

(Story)

Nov 11, 2019

Active-duty military suicides on the rise

(Story)

Nov 11, 2019

OPINION: It's time we actually serve those who served us

(Story)

Oct 14, 2019

What's Fresh on Netflix

(Story)

Oct 14, 2019

Devastated by gun violence, a mother seeks justice after loss

(Story)

Sep 23, 2019

LSAT enters digital age with new test format

(Story)

Sep 23, 2019

OPINION: Cory Booker: Democratic presidential candidate for the people

(Story)

Jul 01, 2019

Thunderstorms put early end to pride parade, but can't stop the celebration

(Story)

Jun 14, 2019

Seniors make studio debut at DePaul Art Museum

(Story)

Jun 12, 2019

Museum of Contemporary Art exhibit redefines understanding of common language, imagery

(Story)

Jun 03, 2019

St. Vincent's DeJamz

(Story)

Jun 03, 2019

DePaul Art Museum current exhibitions highlight trends through local lens

(Story)

May 28, 2019

St. Vincent's DeJamz

(Story)

May 28, 2019

What's Fresh on Netflix

(Story)

May 25, 2019

DePaul FEST 2019 Recap

(Story)

May 13, 2019

Pentagon report: Sexual assault in U.S. military increased for female service members

(Story)

May 13, 2019

What's Fresh on Netflix

(Story)

May 13, 2019

St. Vincent's DeJamz

(Story)

May 06, 2019

What's Fresh in Comedy

(Story)

May 06, 2019

2 Navy recruits dead after training at Lake County bootcamp

(Story)

May 06, 2019

A conversation with those behind Netflix's new coming-of-age flick "The Last Summer"

(Story)

Apr 29, 2019

St.Vincent's DeJamz

(Story)

Apr 29, 2019

What's fresh on Netflix

(Story)

Apr 29, 2019

DePaul students with Halal diet worry about lack of transparency from dining hall

(Story)

Apr 22, 2019

What's fresh on HBO

(Story)

Apr 22, 2019

St.Vincent's DeJAMZ

(Story)

Apr 15, 2019

St. Vincent's DeJamz

(Story)

Apr 15, 2019

As 'Veep' enters final season, Julia Louis-Dreyfus cements legacy fit for comedy royalty

(Story)

Apr 15, 2019

What's Fresh on Climate Change

(Story)

Apr 15, 2019

New Illinois program lets patients substitute opiate prescriptions for pot

(Story)

Apr 08, 2019

St.Vincent's DeJamz

(Story)

Apr 08, 2019

What's Fresh on Hulu

(Story)

Apr 01, 2019

Bill Hader discusses the delicate balancing act of 'Barry' season two

(Story)

Mar 11, 2019
Mar 11, 2019

St. Vincent's DeJamz

(Story)

Mar 04, 2019

St. Vincent's DeJamz

(Story)

Feb 25, 2019

What's Fresh: In podcasts

(Story)

Feb 25, 2019

Pete Holmes on comedy, commitment and the third season of 'Crashing'

(Story)

Feb 18, 2019

The Recording Academy's cruelty

(Story)

Feb 18, 2019

What's Fresh on Netflix: True Crime Edition

(Story)

Feb 11, 2019

What's Fresh on HBO

(Story)

Feb 11, 2019

St. Vincent's DeJamz

(Story)

Feb 04, 2019

What's Fresh on Amazon Prime

(Story)

Feb 04, 2019

St. Vincent's DeJamz

(Story)

Jan 28, 2019

What's fresh on Comedy Central

(Story)

Jan 28, 2019

Breslin and Hamill: HBO's look at journalism legends and the importance of human stories

(Story)

Jan 28, 2019
Jan 28, 2019

St. Vincent's DeJamz

(Story)

Jan 14, 2019

St. Vincent DeJamz

(Story)

Jan 14, 2019

Trump's business failings foretold the shutdown

(Story)

Jan 14, 2019

what's FRESH on Netflix

(Story)

Nov 12, 2018

What's Fresh for Veterans Day

(Story)

Nov 05, 2018

What's Fresh in Late-Night

(Story)

Nov 05, 2018

St. Vincent's DeJamz

(Story)

Oct 22, 2018

Backlash over a black Bond

(Story)

Oct 22, 2018

What's Fresh for Halloween

(Story)

Oct 22, 2018

St.Vincent DeJamz

(Story)

Oct 22, 2018

One man. One mountain. No rope.

(Story)

Oct 22, 2018

In search of greatness

(Story)

Oct 15, 2018

Navy Pier to host lakeside love search

(Story)

Oct 15, 2018

What's Fresh on Netflix

(Story)

Oct 15, 2018

St Vincent DeJamz

(Story)

Oct 15, 2018

Dystopian optimism in "The Oath"

(Story)

Oct 08, 2018

Working students turn strain into skills

(Story)

Oct 08, 2018

St. Vincent's DeJamz

(Story)

Oct 08, 2018

What's Fresh on Podcasts

(Story)

Oct 01, 2018

St. Vincent DeJamz

(Story)

Oct 01, 2018

What's Fresh on HBO

(Story)

Sep 24, 2018

St. Vincent's DeJamz

(Story)

Sep 24, 2018
Sep 24, 2018

What's Fresh on Netflix: Sophomore Seasons

(Story)

Sep 17, 2018

Blue Man Group briefly lights up Wintrust

(Story)

Sep 17, 2018

St. Vincent DeJamz

(Story)

Sep 17, 2018

'A Simple Favor' surprises to the end

(Story)

Sep 17, 2018

Kevin Hart on education and redemption

(Story)

Sep 17, 2018

What's Fresh on Hulu

(Story)

Sep 10, 2018

The Second City closes welcome week

(Story)

Sep 10, 2018

13 years of 'Sunny'

(Story)

Sep 10, 2018

St. Vincent's DeJamz

(Story)

Sep 10, 2018

What's Fresh on Netflix: Animation Edition

(Story)

Aug 23, 2018

"Minding the Gap" explores life's complexities through skateboarding

(Story)

Aug 06, 2018

An Interview with Post Animal

(Story)

Aug 06, 2018

Lolla Recap: Day 4

(Story)

Aug 05, 2018

Lollapalooza 2018 Recap: Saturday

(Story)

Aug 04, 2018

Lollapalooza Friday Recap

(Story)

Aug 03, 2018

Lollapalooza Thursday Recap

(Story)

May 29, 2018

St. Vincent DeJamz, May 29, 2018

(Story)

May 29, 2018
May 21, 2018

Playing it safe: As national and local violence ramps up, concerns about safety follow suit

(Story)

May 21, 2018

St. Vincent DeJamz

(Story)

May 14, 2018

What's fresh and recently canceled

(Story)

May 14, 2018

Late-night eats in Lincoln Park

(Story)

May 07, 2018

St. Vincent DeJamz

(Story)

May 07, 2018

Hip-hop in transition

(Story)

May 07, 2018

What's Fresh on Netflix

(Story)

Apr 30, 2018

St. Vincent DeJamz

(Story)

Apr 30, 2018

What's Fresh on Hulu

(Story)

Apr 23, 2018

What's Fresh on HBO

(Story)

Apr 23, 2018

St.Vincent DeJamz

(Story)

Apr 16, 2018

Television in bloom

(Story)

Apr 16, 2018

What's Fresh on Netflix

(Story)

Apr 09, 2018

Bill Hader gets in touch with his dark side for "Barry"

(Story)

Apr 09, 2018

What's fresh in HBO documentaries

(Story)

Apr 02, 2018

Film review: "Game over, Man!" is for "Workaholics" fans

(Story)

Apr 02, 2018

What's Fresh on HGTV

(Story)

Apr 02, 2018

Henry Winkler stops by to talk "Barry"

(Story)

Mar 23, 2018

"Thoroughbreds" is this year's dark horse horror film

(Story)

Mar 12, 2018

What's fresh on Amazon Prime

(Story)

Mar 12, 2018
Mar 05, 2018
Mar 05, 2018

What's fresh in reality tv

(Story)

Feb 26, 2018

What's Fresh in stand-up

(Story)

Feb 26, 2018

Rager on the Red Carpet

(Story)

Feb 26, 2018

Teen love with a twist shines in "Every Day"

(Story)

Feb 19, 2018

The truth about treason

(Story)

Feb 19, 2018

what's FRESH on Hulu

(Story)

Feb 19, 2018

"Crashing": Comedian Pete Holmes discusses HBO's hit show

(Story)

Feb 14, 2018

Film review: Marvel's "Black Panther" highlights Black excellence

(Story)

Feb 12, 2018

Rom-Com Recommendations

(Story)

Feb 12, 2018

A tail of true rejection

(Story)

Feb 12, 2018

what's FRESH on NETFLIX

(Story)

Feb 12, 2018

Valentine's Day on TV

(Story)

Feb 05, 2018
Feb 05, 2018

Where to stream Oscar nominees

(Story)

Feb 05, 2018

What's Fresh on FOX

(Story)

Feb 04, 2018

An Eagles win is a win for the common person

(Story)

Jan 29, 2018

What's Fresh on NBC

(Story)

Jan 29, 2018

Identity and hip-hop

(Story)

Jan 29, 2018
Jan 29, 2018

Hot Chocolate Battles

(Story)

Jan 22, 2018
Jan 22, 2018

"The Chi" a love letter to the South Side

(Story)

Jan 22, 2018

What's FRESH on ABC

(Story)

Jan 16, 2018

What's Fresh on HBO

(Story)

Jan 16, 2018

"The Post" powerfully preaches the free press

(Story)

Jan 16, 2018

Student Photographer Spotlight: Wendy Davis

(Story)

Jan 16, 2018

DPAM puts focus on Chicago

(Story)

Jan 08, 2018

"Bright" leaves viewers unsatisfied

(Story)

Jan 08, 2018

Gen Z finds a voice with "Grown-ish"

(Story)

Jan 08, 2018

What's fresh on Netflix

(Story)

Jan 08, 2018

St. Vincent's DeJamz

(Story)

Dec 14, 2017

A Winter break binge watching guide

(Story)

Nov 13, 2017

Networks at war: Popularity of military TV shows rise as quality falls

(Story)