The headline printed on the very bottom of the Jan. 29, 1925, DePaulia front page reads, "Girls Practice Basketball." The story is rather short for a newspaper, but it's there:
"A group of the co-eds interested in athletics … have been going up to the temporary gymnasium for the girls on the fourth floor of the Liberal Arts Building at noon time, in order to accustom themselves to the feel of the ball, and to renew their acquaintance with the rules of the game. Among the most enthusiastic of the future Basketball Champions of the City are Mary Nangle, Marge Tarpey, Ruth McCarthy and Helen Mustari."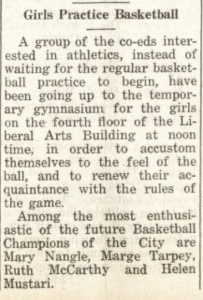 It might be hard to imagine a world where the novelty of women playing basketball was groundbreaking enough to make the front page of a newspaper. Printed in ink and memorialized in the DePaul Library's online newspaper database, the story is an anchor for the tradition of women's basketball at DePaul, celebrating its 50th official season this year.
The 1926 DePaulian Yearbook shows women in the fourth-floor Liberal Arts Building meetings took it upon themselves to form their own basketball team.
"Perhaps it was a desire for the gayly-checkered uniforms of the 'Blue Demons' that induced the co-eds of DePaul to form a basketball team," the yearbook reads. "But, judging from the surprisingly good record they managed to make in the short time in which they functioned as a team, we might say that nothing less than a genuine love for athletics and the ability to play the game were behind their decision to unite into a 'Co-Ed Five.'"
Most Catholic universities did not accept female students when the "Co-Ed Five" formed at DePaul in 1926. Any college women's athletic team had to operate as a club, with members paying dues and sharing uniforms. Women's basketball at DePaul continued to function as a club for nearly another 50 years. 
The Women's Athletic Association (WAA) facilitated the early years of women's athletic clubs at DePaul. An article in the Oct. 11, 1974, sports section of The DePaulia said the WAA "operated on limited funds which included dues from members, proceeds from bake sales and other such sources."
Physical education professors Millie Shemluck and Jean Nordberg were coaching the women's athletic teams under the WAA for no extra pay when the passing of Title IX occurred in 1972.
Title IX is the federal law that prohibits sex-based discrimination in educational programs or activities at institutions that receive federal funding. The passing of Title IX meant that federally funded universities and institutions had to offer comparable athletic opportunities for women as they did for men. 
DePaul started implementing Title IX policies in 1974 and women's athletics officially began operating under DePaul's athletic department.
Women's basketball coach Doug Bruno was there when it happened.
Much like DePaul's early acceptance of female students, he said the transition was met with great support from university administration and staff.
"
There was no resistance. There was a natural wanting to create opportunities for women."
— Doug Bruno, Women's head coach
"Tina Brown. Dr. Patricia Ewers. Gene Sullivan. The Vincentian Fathers. These people were real in their fight for women to have opportunities here at DePaul. There was no resistance. There was a natural wanting to create opportunities for women," Bruno said, a DePaul University alum who played under the respected and revered men's basketball coach Ray Meyer from 1969 to 1973.
With Title IX, DePaul started providing athletic scholarships to women for the first time. Bruno, a scholarship recipient himself, knew how impactful the financial assistance would be. When he became head coach of the women's basketball team in 1976 after Debbie Miller, he immediately handed the scholarships to women already on the team. He said he still remembers them by name.
"Some of our first scholarship athletes were Jean Lenti Ponsetto, Patty Hie, Karen Loiacono, Diane Brynairski, Sue Buhmann, Debbie Brinkman, Carolyn Connors," Bruno said.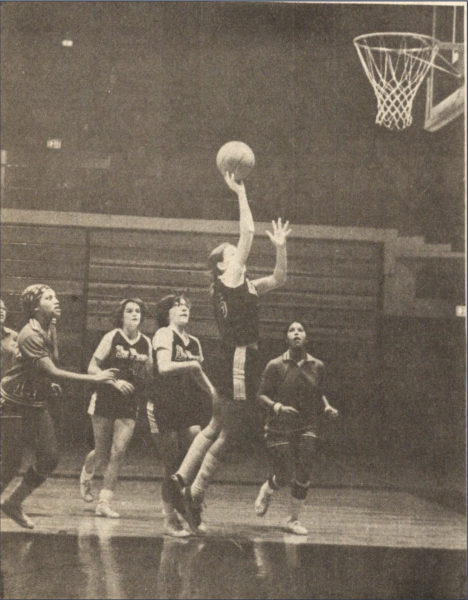 Bruno had two successful years coaching DePaul women's basketball before leaving in 1978 to coach the Chicago Hustle, a team in the short-lived Women's Professional Basketball League (WBL). He then took up the role of associate men's head coach at Loyola University. During that time, the DePaul women's basketball team was coached by John Lawler, then Ron Feiereisel and Jim Izard. Bruno returned to coach the women's team at his alma mater in 1988.
"My obvious goal is success on the floor and off the floor for the ladies in the program," Bruno told The DePaulia in the fall of 1988. "But coupled with that success is showing the Chicago sports fans that we are worth watching and putting people in Alumni Hall."
It is safe to say that Bruno achieved his goal.
The DePaul women's basketball program has continued to grow and succeed under Bruno's guidance, winning multiple conference championships and reaching the NCAA Sweet Sixteen four times.
Candis Blankson played for the DePaul women's basketball team from 1997 to 2001. Blankson now serves as the director of player relations and is an assistant coach for the team. She looks back on her time as a student-athlete fondly.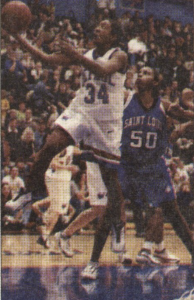 "With my group of recruits, Coach Bruno was just trying to have good character kids that cared about academics," Blankson said. "We didn't have as much success as we have been having traditionally, but it was a fun time. I felt good about being the start and the foundation of something great."
Last year, the women's basketball team struggled to hold on to all its players, with six players transferring from the program. Current players are keenly aware of the women's basketball legacy at the university.
DePaul guard Anaya Peoples and forward Jorie Allen spoke to reporter John Fanta at the BIG EAST basketball media day Oct. 24 at Madison Square Garden. Both student-athletes reflected on what it means to play in the 50th season of women's basketball at DePaul.
"I think about all the hard work the past generation of women put in for us to be able to play this game," Peoples said. 
Her teammate echoed similar sentiments.
"It means a lot to us to uphold the tradition of excellence at DePaul – to be a part of that history and make a little bit of our own maybe," Allen said.
DePaul women's basketball did make history Oct. 15 in an exhibition game against the University of Iowa. The game had 55,646 people in attendance and broke the all-time attendance record for a women's basketball game.
While prospective students may initially consider DePaul because of the women's basketball team's history, Blankson said recruits are drawn to the tight-knit environment DePaul provides. 
"It really is a family atmosphere. We support each other," Blankson said. She mentions the encouragement of Athletic Director DeWayne Peevy as one force behind that atmosphere in the athletic programs at DePaul.
"
I felt good about being the start and the foundation of something great."
— Candis Blankson, Director of Player Relations & basketball alum
Peevy has been on the job since 2020, a relatively short time compared to Bruno and Blankson, both former student-athletes who have dedicated decades of service to DePaul.
Bruno attributes the dedication of DePaul University "lifers" like him to one thing – people.
"DePaul is a special place," Bruno said. "The beauty of DePaul from the beginning, it's always been about the people."
For Bruno, the student-athletes he coaches impact him the most. When asked to think of a favorite memory from his career, he doesn't initially think of the past.
"My favorite memories are watching our student athletes graduate, go on and make a life for themselves after basketball," Bruno said. "Carrying on in the tradition of DePaul, becoming great service leaders after they leave here. It's a living memory, an ongoing living memory."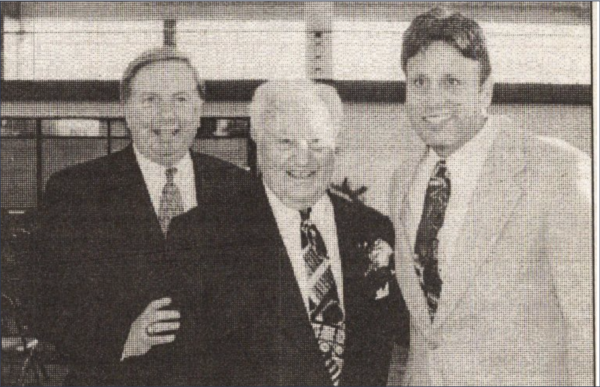 The tradition Bruno speaks of is built from the perseverance of DePaul students from the past. 
Almost 100 years after Mary, Marge, Ruth and Helen met on the fourth floor of the Liberal Arts Building to practice basketball, the DePaul women's basketball team will play their 50th official season in a state-of-the-art arena that can seat over 10,000 fans. 
Eventually, Bruno comes up with another favorite memory after pausing and apologizing for getting emotional. His memory encapsulates how far women's basketball has come at DePaul. 
"The looks on our kids' faces," Bruno said. "The first group that went to an NCAA tournament. They were just watching the TV set and it came up that they had earned their way into the NCAA tournament the first time. That was a pretty cool experience. A pretty cool moment for sure."