Facebook Safety Checks do not apply to all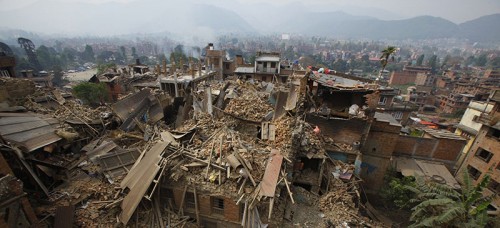 On April 25, a devastating 7.8 magnitude earthquake struck Nepal's city Kathmandu. The disaster was followed by several aftershocks, including a 7.3 magnitude shock on May 12, according to an article from BBC News. The region is in shocking ruins.
In light of the disaster, Facebook activated a Safety Check feature. With the feature, anyone who said they were in the affected area received a notification asking if they were safe. It also offered the ability to mark others they knew as safe. This would send a notification to their Facebook friends notifying them that they were unhurt.
If a citizen of Nepal didn't get this notification, users had the ability to mark themselves as both in the area and safe. According to Facebook creator and CEO Mark Zuckerberg, "It's a simple way to let family and friends know you're OK."
However, some Facebook users have been distastefully abusing the feature as a joke. Certain people who were nowhere near the destruction have marked themselves "safe" from the earthquake, particularly people in Britain and America.
A Buzzfeed article addressing the subject showed social media users calling the action ignorant, disrespectful and inappropriate. Some users claimed to unfriend anyone outside of Nepal who marked themselves safe.
Other users claim to have had no intentions of making fun of the disaster. According to a Snopes article, one Facebook user marked himself safe because their Facebook "automatically connected him to it, even though he's in the UK," and he "didn't want to remain as 'missing.'" The article referenced the same thing happening to another person from the U.S. Both people claimed they "didn't mean to be disrespectful at all."
This innocent story is not always the case. Some of my own Facebook friends marked themselves safe or were marked safe by one of their friends, and only commented joking remarks along the lines of, "I just want people to know I'm OK!"
Actions like this speak volumes about the empathy — or lack thereof — that many people, particularly Americans, have for issues that aren't domestic. Americans would never have marked themselves safe from Hurricane Katrina or 9/11 had the feature been available then, yet we feel so distanced from, and superior to, other countries that their disasters appear petty and we make fun       of them.
Thousands of lives were lost in Nepal's recent earthquake. We get it, America's fine.
Social media and features like this should allow people around the world to sympathize with the victims of disasters and destruction and offer a donation for support if possible. 
Although the United States and Europe are powerful, actions like this make us the bullies of the globe. Making fun of other countries' devastations is disgusting.