Q&A: Actor Omar Sy of 'Samba'
Hang on for a minute...we're trying to find some more stories you might like.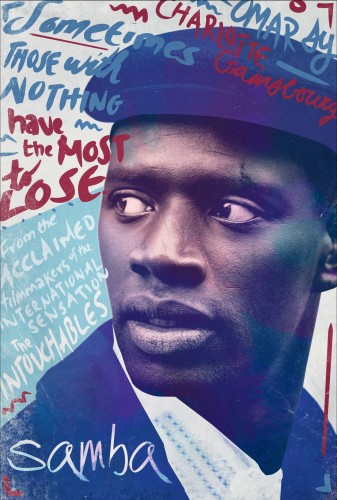 "Samba," a new film from France, focuses on the lows and aspirations of illegal immigrants in Paris, working day and night to fly under the radar while living in fear of deportation. French actor Omar Sy (pronounced "see") stars as the title character: an immigrant from Senegal trying to survive on the streets of Paris while avoiding immigration laws.
This is Sy's latest collaboration with co-writer/directors Olivier Nakache and Éric Toledano, after their success of 2011's "The Intouchables," France's biggest film of the last decade.
The DePaulia sat down with Sy to talk about "Samba" and his leap into American films.
Could you tell me how you got attached to the film, "Samba"?
Well, because we were talking about this subject with the two directors since a long time ago, long before "The Intouchables." So we talked about it and then we did "The Intouchables," and after all that happened with that film we believed it was the right time to make the movie. After the success of "The Intouchables" they had the time, the financing and good casting to do it. So of course I made time to do it, because I knew these were great directors to handle the subject. Both the directors and I come from immigrant parents, so we have that perspective and it's been important to us.
You've had a long-standing relationship with the two directors of this film. How did you guys come to meet and start this team?
I met them about 15 years ago. I was doing a little show on TV as a comedian, and they came to me and asked me to act in their short film, and they were pretty unknown at this time. But I told them, "You know, it's nice from you guys but I'm not an actor, I can't do this." And then they replied saying, "That's okay. We're not directors, so we can try."
I mean that answer was perfect. So each time we worked together, they came to me with a bigger part. And trust grows and you have these connections. We grew up together, so we have a pretty special connection.
You produced this film too, that's a first out of all the films you've made with these guys. What was that like?
It was great. You know, this is what I mean by stronger connections. We really wanted to become a stronger team this time around. And there's no doubt we became a stronger team, especially because this film's subject was so important to us and personal, and we studied the subject for quite sometime.
Was there any other type of research you did for you role as Samba?
I had all the directors' work because before the film they did a lot of research, and we also spent a lot with volunteers helping at immigration offices. We learned about the lows and spent a lot time with people who've been through that situation, where you have to wait a long time until you become legal in that country. They told me their stories and I learned greatly from that, it helped me prepare for the character.
This role is very different than your role in "The Intouchables" and some of your past roles as a comedian, in a sense this is a lot more dramatic and serious.  Was that a challenge for you at all, or perhaps did you learn anything new from this role?
It was a challenge. Each time we work together, we try and create something new. So a dramatic character was that challenge, also a character more far from me. It's interesting because it's different though, as an actor I have to find and search in myself to make a realistic character.
Speaking of different roles, ever since the success of "The Intouchables," you've been in a lot of US films. Recently, you starred in "Jurassic World" this summer and last year you were in the latest "X-Men" film.  How has the transition been from a small film with a social commentary like this, to a big blockbuster like "Jurassic World"?
The big difference we all know is the budget, of course. But for me, the only difference I can see as an actor and from my experiences is the language. It makes things very very different for me because on set in America, I have to be focused on my lines much more than in France, there's less room for improv.
When did you start learning English?
Three years ago.
It's really good.
Thank you very much. I'm getting there.
Do you plan on doing more US films then?
I do. I plan on having a range. I would love to be doing both French films and American films like what I've been doing now. Like for example I just shot "Samba" during the winter and then for the summer I flew and worked on "Jurassic World." So I think it's very good for me as an actor to learn from all these different experiences, because there is always something you can bring from one to the other.