New DePaul Art Museum director strives to build community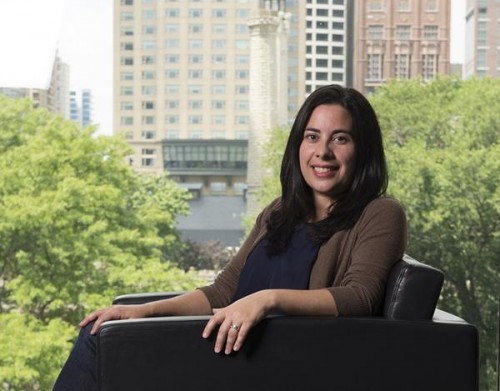 Julie Rodrigues Widholm no longer wants to curate an art museum — she wants to create a community. The former Museum of Contemporary Art curator is still settling into her new position as director of the DePaul Art Museum, where she began Sept. 1, but she envisions filling the space not just with art students, but with those majoring in law, business and communication.
Contemporary art, she said, is not just about brush strokes, but is a visual representation of global and personal issues. It is the center of her life, and centers around everyone else's. Her job is to bridge that gap.
"Art just reflects the whole spectrum of life," Widholm said. "What we need to do is tell those stories in a way where other departments can find those points of connection."
The DePaulia: What drew you to DePaul Art Museum?
Julie Rodrigues Widholm:  I had visited the DePaul Art Museum a few times in the past few years. I felt like it was a great opportunity to work in a great space — it's moving in the right direction, the staff is fantastic — and create a program that I would like to see in museums today.
DP: What is your vision going forward?
JRW: I'm really interested in putting DePaul Art Museum on the map. One thing I want to do is make an interdisciplinary program that can relate to all areas of teaching and in all areas of interest at the university.
I'm still working on what specifically the vision will be because I've been speaking to staff, faculty and people outside of the university community to figure out what Chicago needs. What kind of museum and what kind of program would fill a gap?
DP: Have you been getting any answers on that?
JRW: The university mission is something I want to continue to be a part of the conversation about why we're doing what we're doing. In large part, I think providing opportunities in a museum setting is important, and making sure a wide range of artists and voices are being represented.
DP: I understand that having a diverse body of artists represented is something you are passionate about.
JRW: It's very important to me to provide opportunities to underrepresented artists. That is women, artists from Africa, from Latin America and Asian artists. It's important to show how essentially, at the core, we are all human and there are universal concerns that we share.
DP: When did this become a priority for you?
JRW: Since the beginning of my career, I've always worked with a lot of female artists — it's always been important to me. It's important to give opportunities to female artists, but it's also important how you contextualize them.
DP: What have your first few weeks been like?
JRW: I've been going on my listening tour. I'm slowly working my way through the art faculty. But I've also met with faculty outside of the History of Art and Architecture. Again, getting back to this interdisciplinary idea. Making sure that I am able to respond to or be aware of the larger cultural conversations around innovation and creation at the university.
DP: Because DePaul is not traditionally known as an art school, how do you see the museum fitting into the DePaul community?
JRW: I'm actually quite excited to learn about the strength of arts at DePaul. The Theatre School is a top 10 school, the music program is very strong and the film school is very strong.
But it's also important to make it easier for other departments to understand how art is relevant to all areas of life. Modern and contemporary art, in particular, just speak about issues in life. It's not just about how this paint is applied to the canvas. It's related to issues of war, poverty, existence and spiritually.
DP: How do you see the museum functioning in the larger art community in Chicago?
JRW: That's something that we're also working through and thinking about: What kind of role can we play within the neighborhood and the Chicago art community. I think we're already getting great attention showing artists who live and work here.
I really hope to become a leading university museum that collaborates with other museums, and brings exhibitions from other national university museums. Ideally, we can collaborate internationaly. I think there's potential here to have those conversations within the city and also outside the city.
DP: What continues to excite you?
JRW: I get excited about a lot of things. I am excited about building the museum that I want to see in the world and creating connections and building a community around this museum.
Art is my life. It's never boring, it's always challenging and it's always interesting. Therefore, I am perennially excited about it.