Chicago gun violence mirrors national issue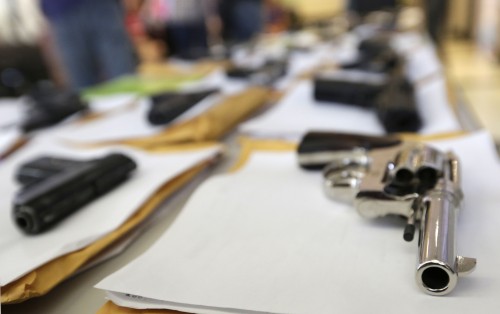 Israel LaSalle stood mixing a batch of Kool-Aid, babysitting his two grandchildren as they scurried throughout the house playing cops and robbers — a game far too realistic within their Humboldt Park neighborhood.  The 6-year-old boy climbed atop the refrigerator and grabbed the loaded gun wrapped in pajama pants and unintentionally shot his three-year-old brother Eian in the head, killing him. 
The scene of events marks the 369th person shot to death within the city of Chicago in 2015, according to Chicago Data Portal.  While local and international news outlets and Chicago residents have become numb to the recurring stories of fatal fire within the city, the story of Eian's tragic death heightens a highly politicized local and national debate regarding gun reform.
As President Barack Obama said following the recent mass shooting spree at Oregon's Umpqua Community College that resulted in the deaths of ten people, "We are not the only country on Earth that has people with mental illnesses or want to do harm to other people.  We are the only advanced country on Earth that sees these kinds of mass shootings every few months."
In 21st-century American society, there now exists a constitutional right provided by an originalist interpretation of the Second Amendment that gives every American citizen the right to bear arms in order to protect themselves and gather as a self-pronounced "well-regulated militia."
The interpretation, or misinterpretation, of the Second Amendment resembles a polar debate fixated on two political parties at odds.
The National Rifle Association's (NRA) long fight stems back to the late 1970s and their transformation into a political entity, paired with the 1980 election of a gun enthusiast president in Ronald Reagan, marked the mere beginning of a mission aimed at transforming the Supreme Court's interpretation of the Second Amendment.
Republicans stand protecting the "security of the free state" as essential in protecting the individual freedom and safety of American citizens.  Liberals emphatically declare the amendment conferred solely on state militias the right to bear arms, not individuals.
While American citizens no longer face the need to rise up against a distant British government, the Supreme Court's holding via the 2008 Supreme Court case District of Columbia v. Heller continues to be a topic of debate.
    The issue at hand lies within the impact of living in a country with newly established gun rights enabling the assembly of a citizen-armed militia.  Evidently, these laws have been of no aid in stopping the recent mass shootings in schools, churches, movie theaters and navy yards.
"After Sandy Hook, even as a responsible gun owner, I decided to get rid of my modern military guns," longtime gun collector Michael Boyd said. "I didn't want to feel somehow complicit even by mere association."
    To a large mass of Americans, more shootings simply means a need for more guns.  Yet, in a society where there are enough guns in circulation to arm every man, woman and child in America, an alternate reform seems better suitable.
     In recent history, Chicago stood strongest on strict gun laws.  Republican presidential hopefuls such as Donald Trump, Chris Christie and Carly Fiorina have all pointed to Chicago as living proof that strict gun laws leave no substantial impact on halting crime.
In reality, Chicago's strict reputation on gun laws are not as strict as they seem.  While former Chicago Mayor Richard M. Daley fought to keep handguns off the streets, he eventually lost his battle in 2010 to the Supreme Court as the city's handgun ban was struck down. In 2012, Chicago's conceal carry ban was struck down, leaving gun advocates with one last bone to pick, the city's longtime gun store ban.
"Legislative powers think imposing stricter laws on citizens who want guns is the solution," DePaul senior Mick Mulvaney said. "Under this pretense the stricter law will scare people from obtaining a weapon."
According to the Chicago Tribune, 60 percent of police-seized guns used in Chicago crimes spanning from 2009 to 2013 were originally purchased in other states. Every day, roughly 20 guns are taken off the city's streets.  This year alone, the Chicago Police Department has collected 5,500 illegal weapons.  But even with zero gun stores in Chicago, gun violence remains a rampant safety issue.
"These laws don't prevent anyone in this country from acquiring a weapon, similar to this alleged "drug war" America has been 'valiantly' fighting since 1971," Mulvaney said.
It seems the self-assembled militia has gone to war against itself.
View Comments (3)