Users groundless in complaints of New Year's Eve Uber surge pricing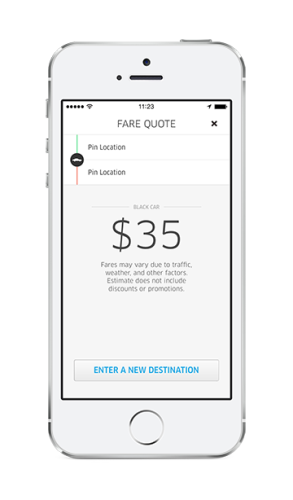 In its fourth year operating on New Year's Eve, ridesharing service Uber expected some backlash over its controversial surge pricing — an increase in fare that goes into effect when the demand for rides exceeds the number of drivers out on the road. In order to avoid any anger or confusion, the Uber app sent out a "News Year's Eve Guide" Dec. 30 for its customers essentially as a fair warning that the night would be one of the busiest of the year and that riders should expect surge pricing. Additionally, a 2013 video of CEO and co-founder Travis Kalanick answering common questions about surge pricing was available on the company's website.
"If you're at a party at 1 a.m. and you'd like to get home economically, with a relatively inexpensive ride, wait 'til 3 (a.m.)," Kalanick said in the video. "It's (going to) go well. If you absolutely need a ride between 1 and 3 a.m., Uber will be reliable but it will be a pricey ride and you just have to expect that."
Uber also advised users to take advantage of the Fare Quote option that allows users to see the approximate cost for their ride before they even request it. By entering their current location and final destination, the Fare Quote option takes into account surge pricing and informs the user how much they would be spending if they decide to take an Uber.
Yet when many Uber users woke up on New Year's Day, they were outraged over what they considered an outrageous fare for their ride home the night before. Even though they were warned of the surge charge rate and had to type the rate in themselves before they could request a ride, they believed their fare price was completely unreasonable. And to voice their frustrations, they turned to social media to vent about their supposed mistreatment. Many posted screenshots on twitter of surge prices in their area using the hashtag #ubersurge.
My 15 minute Uber ride from last night. Yes, I can read & do math. But I didn't want to walk home. #uber #ubersurge pic.twitter.com/ppaiYsn95H

— Kelley Dupre (@KelleyDupre) January 1, 2016
Possibly the most ridiculous part about claims like Dupre's is that these people acted as though Uber is the only possible mode of transportation that can get them home safely. Partygoers on New Year's Eve had many options. They could hail a cab, take public transportation, arrange for a friend to pick them up or use a different ridesharing service — although most of those had surge charges during busy hours on New Year's Eve as well.
Some went so far as to say that Uber surge pricing takes advantage of those who want to go out and drink without having to drive home under the influence. It is outrageous to claim that Uber has any responsibility in making sure individuals do not drive home drunk. While Uber is a ride sharing service and in the business of getting people home safely, at the end of the day they are a business — and businesses operate with one sole purpose: making a profit.  And Uber is actually helping keep drunk drivers off the road. In a study of drunk driving deaths in California conducted by Temple University showed that after UberX entered the market there was a significant decrease in fatalities.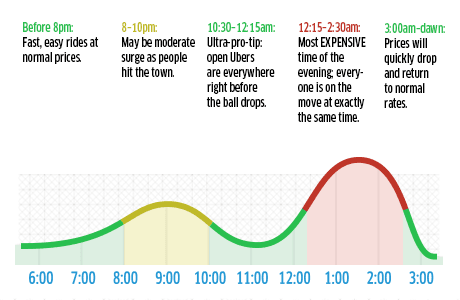 It is as if people have become so used to getting anything they want immediately with a tap of their finger that traveling any other way seems unthinkable. The irony of the situation is that while users may have been outraged over surge pricing on New Year's Eve, that increase in fare is what Uber uses to motivate drivers to get in their cars and start working and to encourage drivers already on the road to move to high demand areas. Considering 61 percent of Uber drivers have another career and work for the company only as a part-time job, surge pricing is a way to convince drivers that have another form of income to work for Uber at a time when they may have chosen not to.
The New Year's Eve surge pricing debacle is just one in a string of controversies for the ridesharing service. Uber made headlines when its drivers were found requesting and then cancelling rides with Lyft in an apparent effort to both waste their time and money and to make the riders use the Uber app instead. The company has also found trouble in the damage it has caused the traditional taxi industry. Most recently, Uber had to make a settlement with New York's attorney general after it was discovered the company was using its "God view," an aerial view of riders' locations, to keep tabs on reporters' whereabouts.
But surge pricing should not be a controversy. These people willingly chose to be charged more than the normal fare because they wanted to get home the most convenient way possible. They made the choice to not follow the company's advice and wait until lower traffic times or use a different form of transportation.
The only valid argument that can be made against surge pricing is that it does not actually motivate drivers to get on the road who are not already working. In a study conducted by The Washington Post's Nicholas Diakopoulos, it was found that surge pricing rates changed rapidly and were more effective in moving already working drivers to areas with surge pricing than it was in motivating other drivers to get on the road. Diakopoulos also found that by moving drivers to the surge pricing areas, it depleted surrounding neighborhoods of drivers and in turn caused those areas to have longer wait times.
Customer claims that drivers were cancelling rides on New Year's Eve in order to make customers request another when the surge pricing was even higher are illogical. "Consistently canceling rides in an effort to manipulate the app or discriminate against riders is in violation of the contract that driver partners sign," Uber spokesman Taylor Bennett said in a statement. "Driver partners who do this may be deactivated from the system."
Almost every major news organization — ABC News, CNN News and Time, just to name a few — published articles on New Year's Eve boasting tips on how to avoid surge pricing. These tips included avoiding high demand hours, splitting the fare, sharing rides by using Uber Pool and more. While all of these instructions were helpful, there is only one true way to guarantee avoiding them entirely: don't use Uber.