Student genetics researcher, Vincentian historian among TEDxDePaulUniversity speakers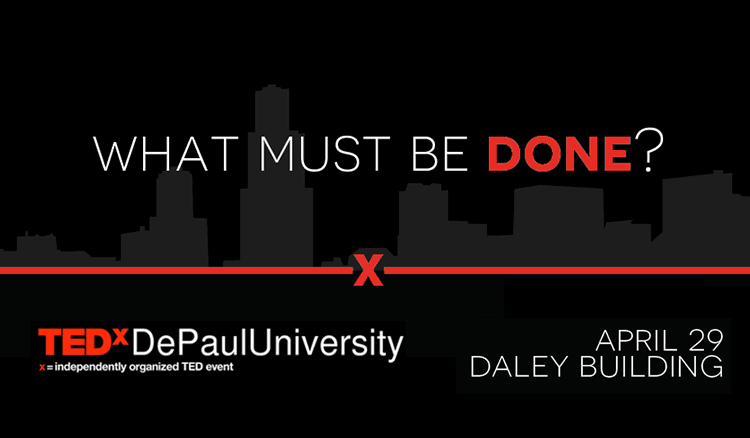 A dozen speakers were chosen from a pool of 80 applicants to present at TEDxDePaulUniversity April 29.  
The speakers – ranging from an international homelessness advocate to a sophomore researching genetics – will speak on the theme, "What Must Be Done?" All 12 speakers are DePaul faculty, staff, alumni or students, and the master of ceremonies will be The Theatre School's diversity advisor Dexter Zollicoffer.
Though TEDx events are independently organized and local, all speakers are expected to reflect TED's mission of sharing "ideas worth spreading."
TEDxDePaulUniversity takes place 1 p.m. to 5 p.m. April 29 at the Daley Building at 247 S. State St.
Here is the full list of speakers:
Ken Butigan: Peace, justice and conflict studies teacher, who has worked on issues of war, homelessness and nuclear weapons.
Winifred Curran: Gentrification scholar and associate professor of geography
Dorothy Griggs: Writer, advocate and graduate student in the School for New Learning
Kinza Khan: College of Law alumna and domestic violence attorney at an organization serving low-income individuals
Jacqueline Martinez: Student and co-founder of NetWings, an organization dedicated to creating international education opportunities
Mark McGreevy: Homelessness advocate with UK-based Depaul International
Gabrielle Presbitero: Sophomore genetics researcher interested in the medical implications of DNA sequencing
Laith Saud: Islamic writer, scholar and activist
Shailja Sharma: Director of the Refugee and Forced Migration Program at DePaul
Derise Tolliver Atta: Faculty mentor and associate professor, clinical psychologist and healer.
Rev. Edward R. Udovic, C.M.: Senior executive for university mission and church historian
Alyssa Westring: Associate professor of management and women's work culture researcher