Program focuses on "steps" toward a diverse newsroom
Rene Lopez, a high school senior at Prosper Career Academy, traveled from his Belmont Cragin home to DePaul's College of Communication at 14 E. Jackson Ave. to begin his first steps towards his dream of becoming a broadcast journalist. Lopez got his first real taste of media production when he was chosen to become a contestant on Univision's popular entertainment show "La Banda."
This experience caused Lopez to become one of several high school students participating in Pasos al Futuro, which means steps toward the future in Spanish. Pasos Al Futuro is a two week journalism program geared toward Latino high school students who are interested in journalism in Chicago.
Established six years ago by now retired professor Cristina Benitez and Associate Director of Global Initiatives- Latin America, Esther Quintero. The program was aimed to give students skills in the journalism field and to encourage students to become aware of issues impacting the Latino community because, more often than not, their voices are not heard in the newsroom. With the help of a grant from the McCormick foundation the program was able to become possible.
Programs such as Pasos Al Futuro are well-thought out initiatives necessary to increase the amount of minority journalists in the field. In a recent report by the Pew Research Center titled "Hispanic News Media: Fact Sheet and data from the American Society of News Editors (ASNE)," the organization stated that in the broader newsroom only about 4 percent of journalists are Hispanic. Perhaps contributing to this problem is the fact that the number of Hispanic journalists employed in a U.S. daily newspaper have steadily decreased since 2005.
Diversity in the newsroom isn't just a problem within the Latino community, its a general issue among communities of color. The lack of diversity in those producing the media causes a disconnect between the broad reality of issues occurring within these communities of color and what is actually being nationally produced in the news.
Now, a few years after receiving the grant, students like Lopez can become involved in Latino media before college and pursue it if they are interested.
"Students from all different nationalities, representing different native homelands, such as Mexico or the Caribbean, who are involved in this program are learning about issues they need to know about," said Benitez. "It makes them better informed if, and when, they become journalists."
DeMario Phipps-Smith, a born and raised Chicagoan, is attempting to fight the issue and give light to varying cultures in the U.S. with the creation of his minority owned company and media platform, Culture.
One of Culture's missions is to report on the "reality that motivates the mainstream," and Phipps-Smith hopes to differentiate his media company by filling the void in the corporate wake and by highlighting cultural issues either on a local or national platform.
"It is not so much about giving jobs in media to minorities. Now, its about ownership. It's a way to train people from the neighborhood we grew up in and give back to the community," said Smith. "That's what the problem is when people who can't completely relate or understand the issues experienced by the colored community, we need to make more accurate portrayals."
A 2014 study released by the American Press Institute and the Associated Press Center for Public Affairs Research stated how only 25 percent of African-American said news and media accurately depicted their communities. Only 33 percent of Hispanics agreed.
"Without a diverse newsroom you get very disparaging news coverage. Your going to get angles and perspectives not covered," said Smith. "Diversity in the newsroom is a good thing (because) you cover as much ground as possible. When you have a meeting with a lot of different kinds of people, you'll have a productive discussion. When everyone agrees no progress is made. Diversity is not important because it's politically correct, it's just the right thing to do."
Programs such as Pasos Al Futuro are a prime example of a proactive effort to dispel the homogeneous news market. With efforts being made by colored citizens such as Smith, Benitez and Quintero progress will be made on the issue of accurately portraying diverse issues in America.
On Friday, July 1, the program concluded its final day with a ceremony where all participating students showcased their work and received certificates of completion. Lopez walked out of DePaul's communication building with a feeling of security in his passion for broadcast journalism. His personal goal is to one day become a Spanish news anchor, his goal as a Latino is to become a role model for his community and encourage Latino voices to articulate their own issues themselves.
"Latinos have now become a majority and the newsroom doesn't represent that," said Lopez. "It's not just we need more Hispanic workers, it's getting to contribute to what is said about us as a community."
About the Contributor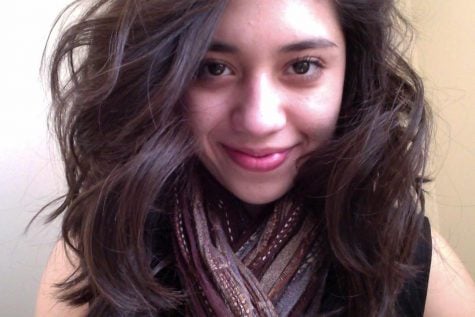 Yazmin Dominguez, Online Editor
Yazmin is the online editor of The DePaulia. She enjoys house music, storytelling, tough editors, and people who can make her laugh. Follow her on Twitter...