Protests show multicultural unity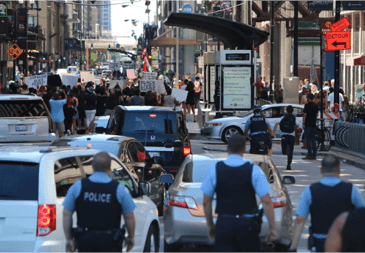 This past weekend, downtown Chicago had a large array of protests deriving from its streets. Among the yearly Taste of Chicago festival taking place on Columbus drive, there were Black Lives Matter (BLM) protests carrying on throughout the three day festival up until Monday of this week.
On July 11, four high school teenage girls organized and led a peaceful, sit-in in Millennium Park. The protest was a response to recent police brutality and to honor the lives of Alton Sterling and Philando Castro as well as the death of the five Dallas police officers. The protest received so much traction on social media via the #BLMchiyouth that in the early afternoon a crowd of a thousand protestors joined the march downtown along side the high school girls, Eva Lewis, Sophia Byrd, Natalie Braye, and Maxine Wint. Shortly after the sit-in, participating demonstrators marched down Michigan avenue to the Daley Plaza, where in front of Chicago's Department of Justice, poetic words and speeches in light of the recent tensions surrounding the black community were expressed.
On a last minute decision, DePaul student Amber Colon Nunez, decided to join the Chicago youth based protest. Along with other protesters, Nunez sat in front of the Millennium Park Pavilion. She found herself marching down Michigan avenue when the crowd began singing "We Shall Overcome," the anthem during the Civil Rights era, when then other protestors split into repeatedly chanting "Black Lives Matter." She got goosebumps when both the hymn and chant were sung into the air at the same time, all the while noticing how all kinds of people with different identities were present supporting the movement.
Nunez noticed how many signs had an artistic touch, a strong focus on music, art, and the community were present. A sign in particular stood out to her, "Brown girls for Black lives" it read and resonated within her.
"Especially as a Latina, I was almost afraid of being the only Latina in the movement, but I definitely wasn't," Nunez said. "If and when you get involved with it (BLM movement), I don't want to take away from what the BLM movement is. My people, my community is dying from the same reasons but I think there is always a feeling of separation that comes into this."
The feeling of separation might be present between communities of colors, but police brutality is very much an issue within other minorities as well.
In the Huffington Post, in a blog, "Populous, Multi-Racial and Ignored: Latinos and Police Shootings," written by Juan Cartagena, the President and General Counsel of Latino Justice, a group that dedicates to attaining diversity within the legal profession, he stated how "just this month in the days that enveloped the shootings of Baton Rouge Falcon Heights, and Dallas five Latinos were killed in police encounters with barely a ripple of media attention."
The national issue of police brutality appears to be an issue within the black community only when it is not. Many incidents involving Latinos in police brutality cases are labeled as "black." This being because only three years ago, in 2013, did the FBI Uniform Crime  Reports insert a field for 'Hispanics' thus adding to the false impression that the issue appears to be to black and white only.
A case of this would be how the recent shooting of Philando Castille was committed by a Latino police officer, Jeronimo Yanez, who was falsely regarded as white. In the tragic murder of five Dallas officers, Micah Johnson, killed a Mexican-American cop, Patrick Zamarripa. Initially, he was also reported as white.
Michael Brookins, DePaul student, artist, activist and President of M.O.V.E (Men of Vision and Empowerment) at DePaul, explained a reason why police brutality has taken on the face of a black movement.
"You shouldn't look at it from the standpoint that its just a black issue," said Brookins. "Black people are affected by it the most, but others should go into the movement as if its their own issue too because it is. The more cross cultural unions the better."
In a press release from Monday's sit-in and march stated the reason behind the demonstration.
"The protest aims to break the divide between communities, and bring youth from all areas of Chicago in solidarity with Black Lives Matter. The goals are for their initiatives and passions as young people to catch the eye of politicians and judges who have the power to indict the officers responsible. Breaking the cycle of officers getting away with injustice is crucial to eradicating systematic oppression towards Black people, as well as other communities of color."
The lines are and have been blurred, it is not just a white and blacks issue on both sides of the parties and this needs to be understood. Monday's sit in brought attention to this issue, when Nunez heard a member from Black Lives Matter Chicago, say into the microphone, "All the Blacks, Latinx people, and everyone else that came out today…," Nunez was pleasantly surprised and responded with a "wow, this is great."
"As someone who defines as a brown person," Nunez said. "There was never not a moment where I didn't feel like this was not my issue."
About the Writer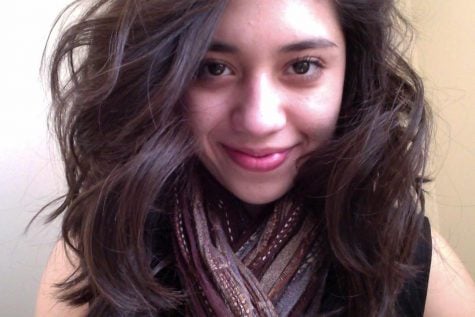 Yazmin Dominguez, Online Editor
Yazmin is the online editor of The DePaulia. She enjoys house music, storytelling, tough editors, and people who can make her laugh. Follow her on Twitter...