Entertainment "news" fails to establish accountability
Presidential candidates Donald Trump and Hillary Clinton have just finished their second debate of the election season. Leading up to the debates, both candidates made numerous appearances on television talk shows to promote their respective campaigns. It's not unusual to see presidential candidates doing this, it is in fact beneficial for the American people to see them humanized. However, in regards to controversy stirred by both parties, many are concerned with media outlets establishing accountability, rather than providing comedic entertainment.
The Tonight Show with Jimmy Fallon has been known for its hilarious sketches and humorous banter between Hollywood guests. However, these jokes hit a sour note when Fallon hosted Trump on his show. While viewers tuned in to see if Fallon would address the rhetoric and high-tension environment created by the Republican candidate, they instead were treated to commentary on his voice transformation and awkward hair fluffing. Although Fallon invited opponent Clinton one week later, several critics condemned the television personality for losing his credibility by presenting a lack of interest in the current political climate.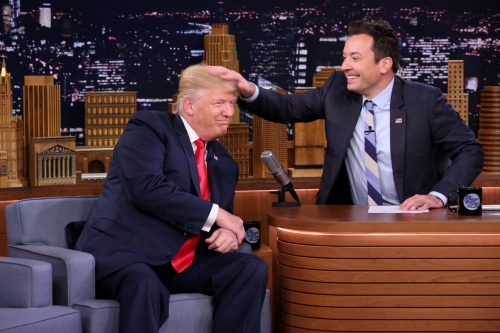 Trump, due to numerous offensive remarks throughout his campaign, is the easiest target when it comes to analyzing these appearances. With that being said, Clinton has faced her own fair share of scrutiny due to her use of a private email server during her tenure as a secretary of state. The Democratic candidate turned many heads in her recent advertisement with singer Mary J. Blige, promoting the R&B artist's upcoming show, The 411 with Mary J Blige, powered by Apple Music. The brief commercial finds Blige singing about police brutality and Clinton awkwardly staring in silence, leaving viewers scratching their head asking why.
Freshman Courtney Barber is left uncomfortable when watching these segments, believing they don't aid in helping her picture who she can see leading this country.
"Watching them out there in these forms is particularly distasteful. There should be a manner in which they address things, and that's not one of them," Barber said. "I do recognize that they are people, but it's not appropriate. I don't want my presidential candidates cracking weird political jokes with Jimmy Fallon."
Despite Barber's dislike of this approach, she points out that the programs take the time to separate humor from the problems at hand, they have the chance to connect to a wider demographic.
"I think it's important to switch up because when you have entertainment shows like these, they have an opportunity to reach different audiences that may not be into watching CNN or reading information on the campaign," she said. "Here, they have a chance to learn something and that can get them involved."
Although it's important to be discussing the issues that are plaguing our nation, PBS NewsHour special correspondent DePaul's senior journalist Chris Bury suggests to pressure the platforms where this task is their job, and ease away from the ones meant to entertain.
"We have to remember that talk show hosts, such as Jimmy Fallon, are entertainers first. They're not journalists," said Bury. "I don't think his credibility is effected because he has no credibility as a journalist. Hillary Clinton has been on Saturday Night Live in a comedic role. No one expects the cast members of a comedy show to challenge Clinton on matters of substance. That's for journalists to do, not comedians and entertainers."
Accountability is not just being geared towards presidential candidates, but moreover, public figures as a whole. In this season of Dancing With the Stars, Gov. Rick Perry and Olympian Ryan Lochte have joined the ballroom. Both Perry and Lochte have received several negative reactions on their involvement in the show. During the premiere of the reality-show competition, protestors stormed the stage after Lochte's performance, prompting the gold medalist to almost bail out of the competition.
Sophomore Aurora Lawrie connects audience's frustration to not only what Lochte did in Rio, but also to the limited time frame in which people have been given to process it all.
"In terms of Ryan Lochte, I'm wondering why the producers thought it was okay for him to be on the show. What he did in Rio was not okay," Lawrie said. "I think that's too raw. I think he needs to lay low for a while. Sure, he apologized, but people need some time to get over that."
As for Perry, Barber, who is a Texas native, believes that with the policies the former governor was trying to implement, his role on the show should not be taken lightly.
"Coming into contact with a few of Rick Perry's policies, to see him on the show, it's funny at first," Barber said. "Then, wait a minute, this is the person that was going to force a million little girls to have the HPV shot, with no regards to what their parents had to say. It's not funny anymore. It's very serious. Where are people going to draw the line?"
This is an important question that many others watching these programs are asking. Where, and how, do we separate public figures being used for our enjoyment, but then again holding them accountable for their wrongdoings?
Perhaps it's giving that time off camera for audiences to properly forgive these figures, or maybe it's switching up the theme of your show to tackle serious matters.
However, as we get closer to election day in November and looking at how the media paints our presidential candidates, Bury leaves us with what's important for viewers to keep in mind.
"Our job as reporters is to press candidates on what they've said, what they do, (and) what they intend to do. That's the role of the news media, not the role of the entertainment industry. "