Q&A: Theatre School alum Bridget Schreiber in 'Whaleship Essex'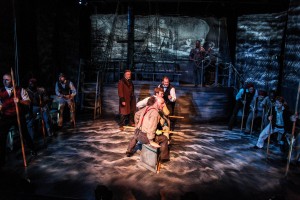 This fall, Shattered Globe Theatre is bringing a magnificent tale to life. "The Whaleship Essex," written by Joe Forbrich and directed by Lou Contey, tells a story of resilience and heartbreak. Cast member and DePaul Theatre School Alumni, Bridget Schreiber, spoke with The DePaulia to provide insight on this incredible new production.
The DePaulia: Can you tell me a little bit about "The Whaleship Essex" in general?
Bridget Schreiber: It is an adventure epic in every sense of those words. It is a story of the sailors that went out on The Whaleship Essex. It is a true story of a ship that was stolen by a whale and then these men had to fend for their lives. It is told with a group of fifteen of us on stage and has enough production value to last you for days. It's really exciting.
The DePaulia: I understand that "The Whaleship Essex" was written by a member of Shattered Globe's ensemble. Does this create any unique situations or cause this show to differ from others that you have worked on?
Bridget Schreiber: It's a pleasure to work with a playwright, I think. It's exciting because you get to work directly with somebody who has been with this story for a lot longer than you have. So I think it was really exciting for Shattered Globe to have one of their own give them the opportunity to produce this story that he wrote and that he was so inspired by after sailing to Martha's Vineyard in a boat that he made. He was also inspired by the true stories that he was reading about The Whaleship Essex. As an actor, that itself is just so exciting. Joe Forbrich, the playwright, and Lou Contey, the director, they've known each other for a long, long time. They've worked together many times before and have been friends for many years. So to watch them collaborate to try to get this epic story up on its feet with a group of fifteen of us was just, you know, it's something that you don't get to do every time, especially with a new play. You really have to see it develop and become something, kind of a beast of its own. So that was great. You get to see somebody else in their creative process. When I first read the script, it was just so exciting. It really felt like I was reading an adventure novel. The idea of somebody writing this story to be put on the stage and then having the opportunity to be part of that story was really thrilling It's a big challenge and everybody was ready and willing to rise to the occasion and that's just always great to be a part of. Then your heart is in the same place, you know?
The DePaulia: The adventure aspect of the show is so exciting. People rely so heavily on movies for that now, but theater can provide it in a whole new capacity.
Bridget Schreiber: Oh, totally. I feel like it is starting to become something where people are looking to the theater to do that. People are starting to challenge what they can do. Especially with this story, with "Whaleship". It is so many stories within one epic story. There are so many different people involved in telling this tale and so many things happen.
The DePaulia: Can you tell me a little bit about the roles that you have taken on in the production?
Bridget Schreiber: I play two different parts, and I am the only female that's on the stage out of the fifteen of us. There is one other actress in the show but she is playing a young, fourteen-year-old boy. So I am the only one holding down the female end of it. I am the character that helps the audience, in a way. I am being told the story of The Whaleship Essex. There is a character who becomes the narrator and kind of guides you through story and I stay on stage and I am told the story. For me, now that we have our audiences, now that we're open, I get to kind of feel their energy as they're watching it and feed off of that and just really listen to everything that happens. And then later on in the play, without giving anything away, obviously in something like this and based on a true story it does become kind of a tragedy, I do become another female role. Somebody who is also on land and not at sea who has to hear about the aftermath of what is lost by these people when they had to spend almost 90 days out at sea.
The DePaulia: That sounds so powerful.
Bridget Schreiber: You know, it is. I think what makes it even more powerful is remembering that it is a true story. That this really was the life that some people led. Even the people who did end up coming home and surviving everything ended up going back to sea, which I think is just incredible. You think you would come home with a fear of the ocean but they were all, mostly, from Nantucket so when they came back home after all of that, a lot of them became captains of other ships. To play a part as more of an observer than somebody who participates you really just kind of have to digest everything that these people really had to fight against, just surviving, and how does that affect the people at home, as well.
The DePaulia: If you could describe this production using one or two words only, what would they be?
Bridget Schreiber: Definitely "epic." I would say "epic" and "powerful." I think it is just good storytelling. Although it's all these big ideas, the company and the ensemble of actors and Lou and Joe, just found a way to tell a good story. It's exciting. It's just really exciting.
"The Whaleship Essex" will be at Theater Wit (1229 W. Belmont) from Aug. 28 to Oct. 11.