DePaul 101
Before you take a seat on the Smoker's Steps, there are a few things you must know about campus culture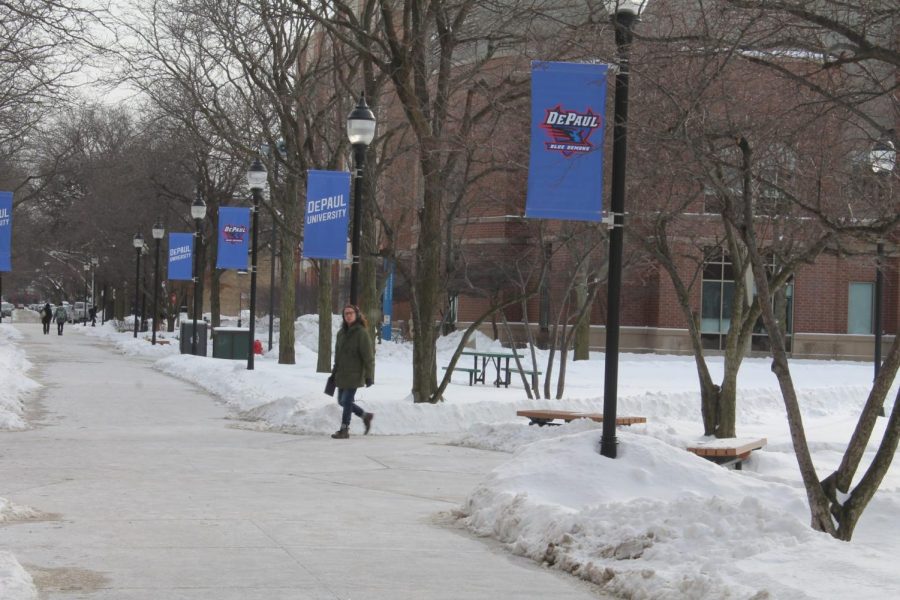 So, you've decided to become a Blue Demon at DePaul, the home of a competitive theatre program, urban campus and a less-than-stellar basketball team. Regardless of your reason for attending DePaul, you've joined a slightly perplexing campus of art school kids, commuters, frat boys and computer science students. You might be a little nervous, coming into a new city of 2.7 million people with no parental supervision, a pocket full of meal swipes and relatives warning you about the danger of Chicago winter. Here at The DePaulia, we have compiled a list of some tips, tricks and resources that we think you should know as a new student.
To begin, you should know that St. Vincent de Paul, known colloquially as Vinny, will follow you for these next few years. His image, along with his campus counterpart St. Louise de Marillac, spans the halls and windows.
DePaul is the largest Catholic university in the nation as of 1998, and Vinny iconography is one of many examples of the school's commitment to maintaining its religious foundation. But you don't have to be Catholic to enjoy all that DePaul has to offer. As of 2017, only 38 percent of incoming freshmen identified as Catholic. So as a new student, you can — and should — embrace Vinny as an integral part of DePaul's campus. You don't have to think too hard about his Catholic affiliation.
It's important to remember that you can get involved at DePaul despite the perceived lack of campus culture. Campus culture is whatever you make it, whether that's through Greek life, extracurriculars or on the Smoker's Steps outside the SAC building. Join a club, join The DePaulia, go to a DAB-sponsored event, pretend to smoke a cigarette — the opportunities are endless. And don't forget to get involved outside of DePaul — Chicago has 77 neighborhoods, over 60 museums and 570 parks. Look up student discounts and take advantage of your U-Pass. Chicago starts to feel smaller when you're venturing outside the four-block radius of the Lincoln Park Campus or the Red Line from Fullerton to Jackson.
When you're on campus, don't overlook DePaul's multitude of resources that will be beneficial in your next four-or-so years — you're paying a lot of money to be here, so why not exploit this university for all it's worth?
The Writing Center offers completely free peer-to-peer tutoring by students who are genuinely interested in writing and editing. It's almost like DePaul is paying someone to do your homework for you — they will improve your papers at no cost. The Writing Center is a great resource for improving writing skills and a go-to for when you're struck with the inevitable incapacitating writer's block that comes from staring at a paper for hours.
DePaul's Idea Realization Lab in 14 E. Jackson Blvd. Room 310 gives students the opportunity to screen print, 3D print or sew for free after taking workshops to learn how to use the machinery. Having access to a screen printer is not commonplace and the equipment is expensive. Print some posters.
Demon Discounts offer discounts on anything from movie tickets (AMC offers $8.50 tickets for DePaul students) to segway tours (15 percent off tickets to Segway Experience of Chicago). Flash that student ID and hop on your Segway — it's what St. Vincent de Paul would have wanted.
The Center for Students with Disabilities isn't just for students with registered disabilities. They can be a resource for communicating with professors about accommodations for anything from ADHD to anxiety. They can help you craft emails to send your professors and give tips to manage workloads and various academia-related struggles.
For freshmen, Chicago Quarter Mentors are there if you need anything. And when Fall Quarter ends and you bid farewell to the CQMs, the New Student and Family Engagement office has Student Success Coaches who will reach out during Winter Quarter. From registering for classes to restaurant recommendations, they're here to help. They're paid to be a hub of resources and a point of contact so don't be afraid to reach out.
While this isn't an all-inclusive list, we hope these resources will help you in the next few years. The transition to college can be tough, so take advantage of what Chicago and DePaul has to offer and make your time here as successful as possible.
General Tips:
Don't go to Brownstones before your 9:40 a.m. class and don't go to the Bean after your 9:40 class.
The chairs in the Demon Den are really uncomfortable, but the chairs in Arts and Letters Hall are not.
It's evident to anyone who has visited both the Loop and John T. Richardson Library in Lincoln Park that the Loop campus does not have the quality of resources that John T. Richardson does.
The Art Institute of Chicago is free for DePaul students, and it's only a short walk from the Loop campus.
There are no Mac computers in the Lincoln Park campus that aren't on the first floor of the Library.
Use the Loop Patio on the top floor of the 1 E. Jackson Blvd. building while it's still warm.
There's a gym in the basement of the College of Computing and Digital Media building in the Loop.