Editorial: For DePaul provost, Nancy Brickhouse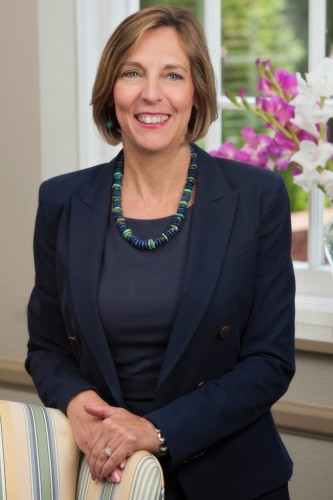 More than one year after Donald Pope-Davis, the university's last permanent provost, resigned after six months on the job, DePaul is once again ready to name a new provost. After a national search and visits by the four finalists, the time is now.
For those who do not know ­— and there are many who do not ­— the provost is the chief academic officer of the university. While below the president, they often make the important academic decisions  that provide direction for deans, faculty and staff, and ultimately ones that affect students. They may not be well known to the student body, but they are extremely important.
Following the resignation of Helmut Epp in 2012, Patricia O'Donoghue stepped into the role until Pope-Davis took the helm. She stepped in again when Pope-Davis abruptly resigned without explanation. And when O'Donoghue became interim president while Rev. Dennis Holtschneider, C.M. went on a sabbatical during fall quarter, Dean of the College of Computing and Digital Media David Miller took on the role while still holding his title as dean.
This instability of leadership has hurt the university. There is a genuine disconnect between faculty and administration, with many faculty describing morale as low —  something not noticeable in the classroom — including a clear frustration with the lack of direction, communication and leadership from the administration.
The faculty and staff who packed the meetings with the candidates made that abundantly clear. Luckily, there are four qualified candidates vying for the position who bring their own set of strengths to the table.
But above all else, the new provost must provide direction for a university facing the financial headwinds of higher education across the country, while also rebuilding relationships that have soured and bringing faculty back into the fold of decision-making.
That is why we endorse Nancy Brickhouse for provost.
One major point that sets her apart from the rest of the contenders is her commitment for the long haul. She has spent the past 27 years at the University of Delaware serving in multiple capacities.
"Obviously, I'm not a job jumper. I tend to develop roots rather than wings," Brickhouse told faculty and staff during her campus visit last month. "And that's because what's important to me is having a real impact on a place. I want to feel like when I do a job that I do it well and that build things that will live on beyond me."
She's worked her way up at Delaware, giving her the perspective of a faculty member as well as an administrator. She's worked as a professor, director of a school, deputy dean, dean, interim provost and deputy provost.
According to her CV, as interim provost she "developed the first three-year budgetary plans for all academic units" and  "enhanced the research enterprise ($140M annual sponsored research expenditures) via effective fund-raising and planning for new capital projects."
Although Delaware's public, state-funded model differs from DePaul, she explained how they operate on more of a responsibility-centered management budget, indicating that enrollment revenue is important. We are confident that Brickhouse will be able to make the adjustment. Her commitment to research is also promising to both students and faculty who have made that a top priority.
One red flag is Brickhouse's lack of experience working with a law school. At a time when DePaul's College of Law is facing its own leadership turnover and the challenges of declining enrollment, the provost must play an active role in selecting the next dean and helping the school weather the storm. However, Brickhouse has displayed an ability to hire talented leaders and collaborate with qualified individuals to make decisions.
Most importantly, we think Brickhouse's focus on the student experience is vital. She understands the collaboration with co-cirriculars, and also values an international curriculum, which is currently a priority for the university and Vision 2018. She values high-impact learning (study abroad, service trips and living learning communities), and has helped develop Delaware's study abroad program to a point where more than 40 percent of students study abroad in some capacity. This level of experience and learning is certainly something DePaul students value.
Additionally, her international experience with partnerships and joint programs  will only be beneficial in a global city like Chicago.
Of course, there were other qualified candidates who did not make this decision easy.
Alan Ray, the president of Elmhurst College, probably had the greatest knowledge of DePaul's mission, a vital factor in the final decision. Religion is his field of study and he was taught by Vincentians.
However, Ray spoke with a breath of arrogance and seemed to dismiss the idea of faculty doing "research for the sake of research" as it was not part of the mission as he understood it. DePaul is certainly a teaching university first and foremost, but in many cases research is vital to bring innovation and new teaching to the classroom. The next provost must recognize this  and be open to faculty suggestions given the current morale.
Jim Coleman, currently a dean at Virginia Commonwealth University, also gave heavy praise to faculty, saying that they are the most important asset to a university. The son of a civil rights leader in an urban environment, we are confident that Coleman had a substantial understanding of the mission.
However, his tendency to jump ship when the next best opportunity arrives is troubling. While he has high marks wherever he goes, he never held a job at the same university for more than five years. Since DePaul has had four different provosts in just a three-year span, it is not something that can be taken lightly.
Marten denBoer, the provost at California State Polytechnic University, Pomona, praised the university's mission, saying that DePaul is "a private university that really sees its mission in a very public way." He also has experience with diversity, a key concern of some faculty, as Cal Poly Pomona is a minority-majority campus. DenBoer, however, does not have the charisma that is needed to boost morale.
This is a crucial time for the university. We need a stabilizing force in a provost; a change agent who can step right in and make the necessary adjustments to keep up with the ever-changing landscape of higher education, we need someone to improve faculty morale and give students the best chance for success after graduation, as well as a place to return as alumni.
Nancy Brickhouse is the best candidate to accomplish those goals. The president and Board of Trustees would be wise to select her as our next provost.
View Comments (1)