Brian Williams: The high price of lying for fame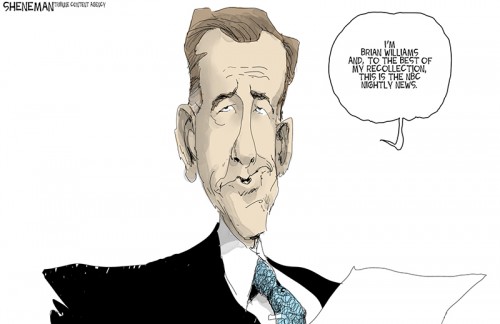 Journalist Brian Williams' falsified war story hit home for many Americans. Williams told the American public on multiple occasions that he was hit by enemy fire in 2003 while riding in a U.S. Army helicopter. His lie led to a six-month suspension from NBC Nightly News and a ruined reputation for himself and the network.
This past month, it was revealed that his helicopter was not the one hit by enemy fire, but rather the helicopter that was ahead of his. Fabricating minor details may be one thing, but there is no overlooking this huge aspect of the story.  Williams was caught in a tough spot where he was called out for        his lying.
People with high power want to please their audiences, which causes them to exaggerate their tall tale stories to make them more appealing. Why does the power of fame give people such strong urges to lie? And what is the appropriate punishment?
A person who is popular in the media does not want to tell a boring story.  They must keep things interesting in order to stay ahead of their competition. Many of those who are a part of the press neglect to think that the stories they tell in private are also stories that can easily be revealed to the public. Williams is supposedly known for telling exaggerated stories in private, but nevertheless was looked highly upon as a journalist and news anchor. 
Williams' exaggerated stories were once known as part of his personality. However, his exaggeration and joking has now put his job in jeopardy. A Washington Post article by journalists Manuel Roig-Franzia, Scott Higham and Paul Farhi quoted multiple NBC journalists anonymously because they were warned not to speak publicly. One NBC journalist described the event as painful. "I can't tell you how much it hurts. We all worked so hard at establishing our credibility, and it feels like our credibility has been badly damaged. People are angry         at Brian."
It is clear that Williams' falsified war story didn't just affect himself, but his whole network. The media is a tough realm and any individual mistake can have a domino effect on the network as a whole.
The Washington Post also reported that the NBC journalists "were not surprised by the allegations that Williams had inflated his involvement in news stories and what he supposedly witness while on assignment."
Roig-Franzai, Higham and Farhi reported, "(the NBC journalists) said his exaggerations were an open secret at 30 Rockefeller Plaza and became an inside joke, mostly because they were not made on            'Nightly News.'"
The New York Times reported that NBC Nightly News, hosted by Williams, was drawing in around 9.3 million viewers a night. Williams had a large and loyal fan base. With his suspension set at six months, it is hard to predict how NBC will proceed from here on out.  New York Times reporters Emily Steel and Ravi Somaiya said, "Six months is a long time to disappear from the television landscape, and analysts said it would be difficult for him to re-establish himself as a viable nightly presence." 
Fabricated stories are something that the average person may oversee in casual situations. However, Williams knew how many people listened to his stories and should now experience the consequences of  his actions. 
Jack Schafer from Politico Magazine said, "Journalists are paid to be more vigilant than civilians about the stories they tell." We should be able to trust reliable journalists to feed the media true and hard facts about any given situation.
Williams should have thought more about NBC's reputation before he exaggerated his story. His reputation wasn't the only one on the line.
His punishment may have been a suspension of six months, but he will never become the same well-liked and trusted man that Americans tuned in to every night. Nor will his fellow journalists ever respect him as a reporter again. That seems to be the worst punishment there is.