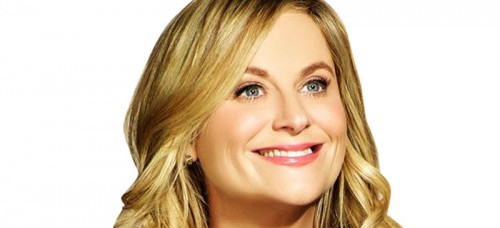 When the penultimate episode of "Parks and Recreation" came to an end last Tuesday evening with Gary/Jerry/Larry/Terry Gergich floating off into the distance in a hot air balloon after his mayoral "inauguration," I found myself crying on my couch. Maybe it was a lack of sleep, maybe it was somehow caring about Mayor Gergich, but mostly it was realizing that after seven seasons, the groundbreaking comedy was finally coming to an end.
It's amazing "Parks and Rec" made it this far. The series got off to a rocky start, struggling to find its own and relying too heavily on the techniques of "The Office," from which the show is a spinoff. But it found its groove around season 3 when Rob Lowe and Adam Scott were added to the cast, and it became the best comedy on network television and possibly anywhere on TV.
It never got the award recognition it deserved, save for Amy Poehler's Best Actress in a Comedy award at last year's Golden Globes, but "Parks and Rec" made the TV landscape inhabitable by including different, fresh voices. It was a show about a woman — a working woman — who was passionate about her job and good at it, too.
Leslie Knope was nothing like any TV character before her. She was smart, driven and loved her job to pieces, but she was never seen as a bitch. Her almost annoyingly bubbly personality made her impossible to hate — most of the time.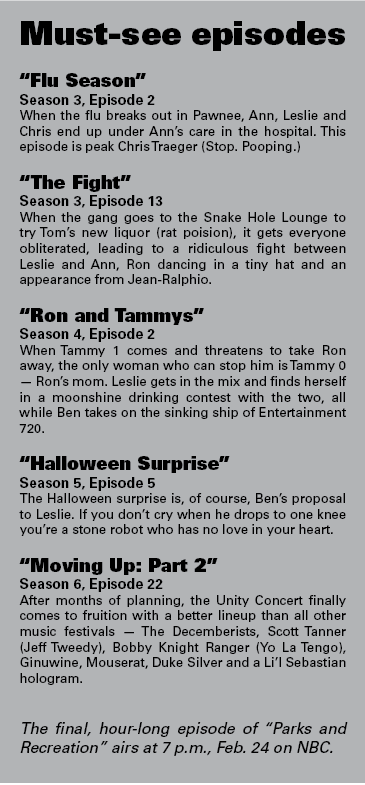 In one of this season's final episodes, after Ben Wyatt announces his run for Congress, Leslie is expected to partake in a pie-baking contest with all of the other candidates' wives. Leslie refuses to take part in the antiquated tradition, then changes her mind, then eventually Ben makes his own pie (well, calzone).
In a press conference in the midst of the "controversy," Leslie addresses the press and protesting meninists (bless you "Parks and Rec" for calling out the ridiculousness of men's rights) and delivers one of the best speeches in the show's history.
"I'm now going to give you permanent answers to all the silly questions that you're going to end up asking me and every other woman in this election over the next few months," she said.
"'Why did I change my hairstyle?' Oh, I don't know, I just thought it would look better. Or my kids got gum in it. 'Are you trying to have it all?' That question makes no sense. It's a stupid question. Stop asking it. 'Do you miss your kids while you're at work?' Yes, of course I do. Everybody does. And then, you know, sometimes I don't."
Ben then jumps in and calls out the press for never asking him if he misses his kids while at work or who's taking care of them, shedding light on how absolutely ridiculous the narrative in which we view women in politics, and beyond, is. It's why there have been ongoing, actually serious debates on if Hillary Clinton could be president as a grandmother. It's why we talk about what female politicians wear during the State of the Union address and couldn't care less about the color of the president's tie. It's why we subject women to the "Mani Cam" on red carpets and ask them which designer they're wearing while we ask men what they're working on next. It's why we haven't closed the pay gap between men and women.
Showing real-life feminism in a meaningful way on the show is really a testament to its star, Amy Poehler. In her book "Yes Please," she explains her philosophy of "Good for her! Not for me." as a lens for looking at other women. Women constantly pit themselves against each other and either can't accept the success of other women, or can't fathom the life choices they make. It's when "feminists" balk at women who choose to be stay-at-home moms, when women criticize mothers for going right back to work after having a baby. "Good for her! Not for me." is the way to support other women while respecting their choices for how to live their lives, knowing their path isn't for you and maybe your path isn't for them.
Leslie Knope is the biggest cheerleader of other women. Leslie's ridiculous support of her friends is a major running joke throughout the show, but female friendships like this aren't shown nearly enough on screen, and they're just as much an important part of feminism as a working woman with children who never has to prove she can't do both.
"Parks and Recreation" is so many things, and its position as a beacon of on-screen progressive feminism being just one small aspect of what makes it so wonderful. At its core it's a funny, silly, witty show about small town government with characters so lovable you can't help but wish they were your friends and family. After seven seasons they really have become a part of us, and seeing them leave us is hard.
And that's why I'll be sobbing uncontrollably Tuesday night.