DePaul Coaching Candidates: Steve Masiello
This is the fourth in a series of articles looking at potential replacements for Oliver Purnell as head coach of DePaul men's basketball
Source: DePaul job is 'Ben Howland's to turn down.' Also in mix (or trying to be): Bryce Drew, John Giannini, Steve Masiello, Bobby Hurley.

— Adam Zagoria (@AdamZagoria) March 20, 2015
With Howland taking the head coaching job at Mississippi State, one of the younger options for DePaul is Manhattan's Steve Masiello.
Steve Masiello Bio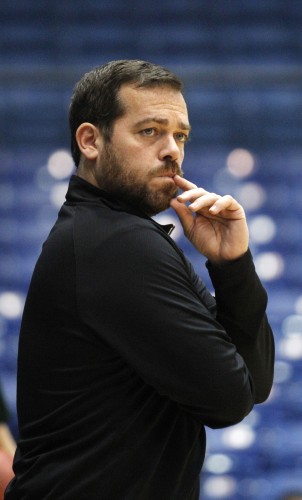 Age:37
Current Job:Head Coach of Manhattan (fourth season)
Record: 79-53 (.598), 19-14 this season
NCAA Appearances:2 (2014, 2015)
A native of New York, Masiello has carved out a nice program in his four years at Manhattan. In each of his last two seasons, Masiello has gotten Manhattan into the NCAA tournament with winning the Metro Atlantic Athletic Conference (MAAC).
Masiello has accomplished a bit in a short amount of time since playing at Kentucky from 1996 to 2000 under Rick Pitino and Tubby Smith. From 2001 to 2005, he was an assistant coach at Manhattan before joining Pitino's staff at Louisville, a position he served at for six years (2005 to 2011).
Masiello played a strong role in recruiting and helped Louisville secure four Top-20 recruiting classes. Masiello's strength as a recruiter is something that DePaul could surely use. Having recruited the Midwest is an advantage
Masiello has shown an indication that he'd be willing to leave Manhattan. In March 2014, he agreed to become the next head coach at South Florida. However, South Florida went back on the deal when they uncovered Masiello hadn't gotten his degree. As a result, he was temporarily suspended at Manhattan as well before completing his degree in August.
This past season, Manhattan went 19-14 and lost in the play-in game to Hampton.
QUICK FACTS:
Played at Kentucky from 1996 to 2000
Accepted to become South Florida's next head coach before they discovered he never finished his undergraduate degree
Received his undergraduate degree in August 2014
Coached under Rick Pitino from 2005 to 2011 at Louisville