DePaul at the center of tuition increases in Chicago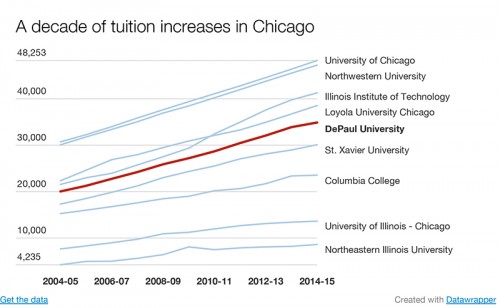 DePaul recently announced next year's tuition rates, which will increase 3.75 to 4.25 percent for new freshmen, bringing DePaul's new sticker price to $35,680 per year.
There is a wide range of tuition rates for Chicago schools, with the University of Illinois at Chicago and Columbia College in the lower tier at about $13,600 and $23,544 per year, respectively.
DePaul's tuition falls well below Northwestern University and the University of Chicago's rates by more than $12,000, the Illinois Institute of Technology is about $7,000 more expensive, and the average tuition for students at Loyola University of Chicago is about $4,000 more expensive. 
"Does my education get any better because I'm paying more? I feel like this is already really expensive," UIC transfer student Vince Metzger said.
"I feel like (universities) are trying to get money out of the middle class and students. It's not fair," Metzger said. "(We have to) just shut up and pay it."
According to a press release from DePaul's Student Government Association (SGA), student representatives voted against tuition increases proposed by the Tuition Pricing Committee and supported the devotion of 45 percent of the university's budget to financial aid. 
Jon Boeckenstedt, associate vice president of the Division of Enrollment Management and Marketing at DePaul said student scholarship funding increased by 7.7 percent for the 2015-2016 academic year. According to DePaul's website, DePaul distributed more than $288 million in financial aid and assistance in 2013-2014. 
"Once you're part of DePaul, we are committed to keeping tuition increases as low as possible," Boeckenstedt said. "New freshman haven't made the (same) commitment (as returning students), so as the quality of institution increases, (freshman) should bear more of a burden."
Continuing undergraduates and graduate students at DePaul will only pay 2.5 and 1 to 2 percent more in tuition, respectively. According to DePaul's enrollment office, tuition has increased 2 to 2.5 percent for the last three years at the rate of inflation.
For many students, tuition increases come as no surprise, but they are skeptical about the reasons for the increases.
"It seems like inflation rates are way lower than the rate to which tuitions have gone up, so I don't really know how to make sense of it," DePaul senior Mike Ortolano said.
Rising tuition rates are meant to compensate for the increased rate of inflation, the consumer price index that measures how much people pay for goods and services.
In 2005, inflation was measured at 3.4 percent. During the recession, the inflation rate spiked and dropped.  By 2011, inflation was at 3 percent and has decreased ever since. The average for 2014 was 0.8 percent and, according to the Federal Bureau of Labor Statistics, the inflation rate reported on March 24 was 0.2 percent.
"The reality of tuition increase is (a) fact of life. Our rate of increase tend to be identical to industry as a whole," Boeckenstedt said. 
According to tuition data of DePaul's top competitors provided by Boeckenstedt, tuition at University of Notre Dame, a private Catholic school, and the University of Chicago and Northwestern University, both private schools in Chicago, increased by 57 percent over the past decade.
Schools at DePaul's price range in 2004, like Elmhurst College and Wheaton College in the Chicago suburbs, increased their tuition by 69 and 60 percent, respectively. DePaul's tuition increased by 74 percent over the past decade and Loyola University in Chicago increased tuition by 72 percent. The Illinois Institute of Technology's tuition has nearly doubled in price.
A closer look at the data revealed the tuition prices often did not account for room and board costs or other miscellaneous fees, so estimates may not represent what students actually paid each year. 
"(Other universities) are discounting tuition and price even more. The gap between DePaul and other institutions rose, so we had to increase financial aid to be competitive," Boeckenstedt said. "The market decides what it's willing to pay."
Boeckenstedt acknowledged the struggle of the middle class and lower-income families with higher education. 
"Go back to the early 2000s. What you see is family income for almost every single group has adjusted for inflation," Boeckenstedt said. "Fewer people of any income level are able to afford private college education. If we hadn't increased financial aid we would have far fewer students. It is less possible every year for students to afford school without it."
Boeckenstedt said it was difficult to compare private and public universities as state schools have access to state funds. He also said graduating in four years is also harder to accomplish at a state school, which would drive up total education costs.
Local state schools have significantly cheaper prices than private schools, but their tuition rates have more than doubled over the past decade. Northeastern Illinois University and Illinois State University have increased by about 103 and 106 percent. Michigan State University tuition increased by 96 percent and UIC has increased by 78 percent over the past decade.
"I can't afford any more tuition increases. I can't even afford to live on campus right now," sophomore Sarah O'Brien said. "Right now my parents have loans out for me and scholarships."
"(DePaul) was already hard to afford as it was, but I wanted to come here instead of another school," O'Brien said. She plans to cut the cost of books by ordering them online and applying for more scholarships.
"It's better to pick a good school and be in debt longer than (go) somewhere that's cheaper," freshman Rachael Johnson said. "I'm lucky enough to make a decision based on that."
"I think universities have changed a lot over the last 20 years," Ortolano said. "They've become businesses. There's a lot of money to be made. And money's usually not made with price decreases on the given product. Our product is just education."