Landing the job: Pro's tips on getting the interview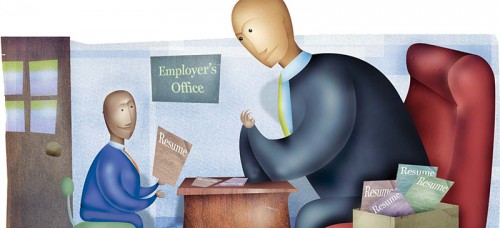 When people think about doing homework, they tend to envision traditional reading, researching, writing up a paper and answering questions. While this may be true in most cases, we also do homework unrelated to class when making large purchases and big life decisions, such as choosing the right job to apply for.
After having a rough start to his professional career, Jamian Griggs, a business management major at DePaul, has finally landed his first internship in accounting for J.P. Morgan Chase in New York City this summer.
Griggs' intern journey first began with a negative interview experience for Abbott Laboratories, and one that he considers to be his "worst interview." He said the lack of interview preparation was the main reason why he didn't get the accounting intern position.
As many DePaul students are preparing for graduation, DePaul faculty emphasize the importance of preparing and brushing up on interviewing skills that could land them their first professional job or summer internship.
Spending no more than five minutes preparing right before the interview, Griggs is one of many students who have mistakenly believed they could "pull off" an interview without practicing beforehand.   
"I rushed into it and didn't research the company.  I wasn't prepared at all and that was my biggest mistake," Griggs said. "It was my first big interview with a large corporation and I thought I could just waltz in there and get the job."
"Your objective is to get the next interview," Graciela Kenig, director of internships at DePaul, said. Kenig said this is a difficult thing to do if students have not spent enough time preparing and doing their homework on the company.
"You have to show you have done your homework," Kenig said. "This comes with preparation by knowing what the company does and what the company culture is like."
If one does enough homework on the company, Kenig said, then students might even realize that they don't like the organization and shouldn't apply.
Many students find their first interview to be difficult, but career experts at DePaul say there are easy steps to take to make the next one better.
Know yourself
Michael Elias, assistant director and career specialist of DePaul's Career Center, describes some of the biggest challenges in interviews for students
"As applicants, we spend so much time preparing to talk about our strengths that we forget the importance of selling our personality as well," Elias said. "Communicating enthusiasm and passion for the position both through one's (words) and through non-verbal communication are just as important as highlighting relevant skills and experiences."
Griggs said he felt a lot of his mistakes came from not knowing his resume.
"My resume was outdated and I hadn't updated it in a while. So when they asked me questions in reference to my resume, I blanked," Griggs said.
Griggs also said he didn't give concise or consistent answers to the interviewers' questions.
"They would ask me about my past professional experiences and I would respond with something different than what was on my resume," Griggs said.
While inconsistency was to blame for many of Griggs' mistakes, Elias said this could be easily avoided if students spend time  reviewing their resume.
"Be prepared to tell a story about everything on your resume, even that volunteer opportunity that may have only lasted one day," Kenig said. "You never know what an employer is going to have questions about from your resume, so it's important to be able to justify the inclusion of everything on your resume while relating it back to the position or articulating why it makes you an ideal fit for the role."
Griggs said he learned his mistake as well as the importance of knowing his resume, especially because it's something he wrote about himself.
"If you have not elaborated on what you've written about yourself, you're not going to do well," Griggs said.
Keep if brief
Elias said that one of most common mistakes students make during the interview is saying too much.
"Employers will often begin the interview by saying 'tell me about yourself,' and people sometimes think this is an invitation to tell their life story," Elias said.
Elias said it's best for interviewees to frame their response in current terms, which includes their major and student status and mentioning any recent experiences that make them an ideal fit for the role their applying for.
"Keep it brief, and keep it relevant to the position; if the employer wants to know about your hobbies or what you do for fun, they will ask those questions separately," Elias said.
If presented with Griggs' situation, Kenig believes it's always best to listen to the question and answer the question asked only.
"Rather than assuming they want to hear everything, it's okay to ask them if they want you to elaborate by simply asking, 'does that answer your question? Would you want me to elaborate on that?'" Kenig said.
One of the main challenges for Griggs was answering the situational and behavioral questions typical of face-to-face interviews.
"They asked (the questions) in a very complex and weird way, and without any previous experience or preparation, it really made me stumble on my answers," Griggs said.
In this case, Kenig recommends asking for clarification to questions to ensure that the questions are understood and answered the right way.
Finishing the interview
Towards the end of the interview, Elias and Kenig both said that it's important for students to prepare questions to ask at the end.
"This is a great way to get further clarification about the role, but it also allows you to further emphasize your enthusiasm by highlighting any research you conducted before the interview," Elias said.
At the end of the interview, Elias also recommended students to send a thank-you note to everyone they met during the interview process within 24 to 48 hours after the interview. Kenig added that the letter should reflect things that were mentioned in the interview to show the student was engaged and listening.
"It's a professional way to close the loop, and many employers will not move forward with applicants who forget this piece of the interview process," Elias said. "Email thank-you notes are appropriate, but sending them through postal mail shows that the applicant went the extra mile and often makes a stronger impression on the employer."
Building a strong resume
Of the many scenes in "Legally Blonde," perhaps one of the more distinct moments in the film is when aspiring lawyer Elle Woods hands her professor a scented resume printed on bubble-gum pink paper. While this is certainly one way to stand out among other applicants, it's really not the best method to follow when trying to land your dream job or internship. Fortunately as DePaul students, the Career Center is at our service to assist with the application process from resume-building advice and revision, to tips on how to dress for an interview.
With advisors available to guide many aspects of the hunt for a suitable job, the Career Center aims to connect students, alumni and employers. However, like Elle Woods, most students tend to forget that content is everything when it comes to revamping their resumes.
"One common error students make on their resumes is with writing bullet points," assistant director and career specialist at the DePaul Career Center Sarah Highstone said. "Strong bullet points should focus on accomplishments, highlighting the results that came out of the work and the actions you took to achieve those results."
Along with that, instead of just stating in the resume that you "worked in the technical support department," it would be better to share more insight about your duties. Fleshing out your responsibilities and achievements shows potential employers a better picture of your range of abilities. To say that you "provided on-demand technical support to more than 75 faculty members resolving hardware and software issues on both PC and MAC desktops and laptops in an efficient and courteous manner," presents a well-rounded image of your capabilities.
"There's a misconception that the resume is just a way to show work history, but in reality the resume is your highlight reel," Keala Murdock, a career advisor for the Driehaus College of Business, said.
Placement is also key. "When the 'education' section is at the top of a resume it immediately signals you are in school or about to graduate. If you have already graduated and have three to five years (of experience) in the working world, then education is placed at the bottom," Murdock said. "We want all applicants to be sorted appropriately — competing at their current level and not being unintentionally weeded out due to miscommunication."
Writing a cover letter that's specific to both the job position and company can seem like a Herculean task — especially when sending out multiple applications. But putting the effort into fine-tuning a cover letter or portfolio to showcase achievements can make or break your chance at landing the job.
"Cover letters and portfolios give you an opportunity to sell yourself and set yourself apart from other applicants," Highstone said. "Sending a well-written cover letter gives you an additional opportunity to provide reasons for 'why they should hire you.'"
In such a competitive job market, the best practices for the job application and interview process are ever-changing. It's one thing to give your resume to a friend who aced their writing courses, but how do you know if you're on the right track? The Career Center offers opportunities for peer review.
"Peer advisors can connect students to a lot of resources that they may not have known about before coming into the Career Center," Jane Bradley, a peer career advisor, said. "Students who walk in just hoping for a resume review might end up leaving with another appointment to visit a UIP (University Internship Program) advisor, or with new knowledge about the (ASK Alumni Sharing Knowledge) program or interview stream, or signed up to attend a career event," she said.
Rest assured, landing a job or internship for the summer doesn't have to be so intimidating, and with help from the Career Center you won't even have to resort to perfumed resumes.
View Comments (1)