'Mein Kampf' returns to shelves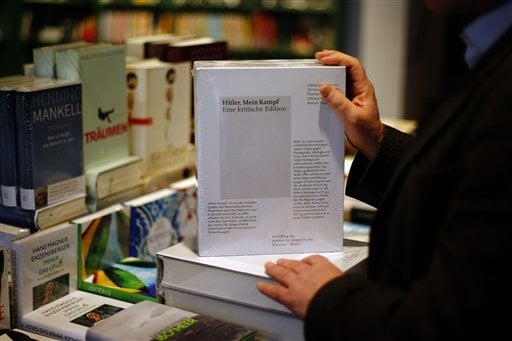 The Munich Institute of Contemporary History in Bavaria, a federal state of Germany, published an academic reissue of Adolf Hitler's infamous manifesto "Mein Kampf" with annotations on Friday, Jan. 8. This follows the expiration of the Bavarian copyright on Dec. 31. The $64 tome flew off the online shelves immediately after it was published. Four thousand copies of its initial run sold out in two days and 15,000 more are on back order.
The new critical version has incited controversy. While some see the edition as long overdue and a means to contextualize a violent era in Germany's past, others claim the reissue will legitimize the incoherent rantings of a psychologically damaged inmate and potentially infuriate Holocaust survivors.
Entitled "Hitler, Mein Kampf: A Critical Edition," the book is composed of 1,984 pages featuring more than 3,500 annotations from scholars. The new edition "sets out as far as possible Hitler's sources, which were deeply rooted in the tradition of the late 19th century," the institute's director, Andreas Wirsching, said on Friday to The Associated Press.
The two-volume annotated edition contains more analysis and commentary in proportion to the original text, which was published in 1927 during Hitler's time in prison. The lead historian of a team of five on the project, Chris Hartmann, is dedicated to demystifying the fetishistic attraction of Hitler's reign and discrediting his racist agenda.
"We wanted to literally surround Hitler with our commentary," he said in The New York Times last week.
"It's a loaded issue. It's concerning.If people are going in (to reading this) with intentions to understand, to teach us not to think like this and to stop another Holocaust from happening, then I think it might be a good idea," Danny Farber, a Jewish student at DePaul said. He has never read Mein Kampf. "If the intention of the (publisher) isn't to do that, though, then that's pretty bad and it shouldn't be republished."
Following the American occupation after World War II, "Mein Kampf" was forbidden in Germany along with scores of other Nazi paraphernalia. The copyright for the book was transferred to the Bavarian state government which prevented republications for the last 70 years. However, versions have been readily available in other countries and the book is downloadable online, which critics of the printing prohibition say is reason enough to allow for an academic edition.
"It's not a well-written book. It's a manifesto, which pretty much means a bunch of ramblings," Richard Busch, who read "Mein Kampf" while in school, said. "Reintroducing [the book] now makes no difference. It was on my high school library's shelves in 1995 as an academic resource. If Nazi sympathizers wanted access to it, they've already gotten a hold of it."
Opponents of the book's publication reiterated that it will remind the world how easily prejudices can spread.
"At a time when the well-known formulae of far-right xenophobia are threatening to become socially acceptable again in Europe, it is necessary to research and critically present the appalling driving forces of National Socialism and its deadly racism," Wirsching said, according to The Associated Press.
In 2013, the German government abandoned efforts to re-release Hitler's book following complaints from activists.
"Many conversations with Holocaust victims and their families have shown us that any sort of reprint of the disgraceful writings would cause enormous pain," Bavarian State Minister of Education and Culture, Ludwig Spaenle said on Friday, according to The Associated Press.
Echoing this sentiment is Jewish community member Rabbi Avrohom Moller who argued that reintroducing Hitler's ideology is a mistake that will legitimize the crimes for which Hitler bears responsibility.
"This publication lends the book a degree of credibility and respectability which it does not deserve," he said. While Moller said that publishers are trying to preserve an important historical document with balanced critique, the book's role as a symbol of extremist and violent ideology prevents a fair contextualization.
"(Radicals) will not read this as a scholarly examination of the darkest recesses of a twisted mind," Moller said. "This book is the venomous ranting of a demagogue who succeeded in sweeping his country into a great period of evil."
Still, many do not imagine the book will cause a resurgence of extremist behavior.
"The difference (between Hitler and modern radical right parties) is that however distasteful someone might find a radical right leaders like Marine Le Pen and Donald Trump, Hitler systematically destroyed a perfectly legitimate group of German citizens. He was bleeding with resentment," Erik Tillman, associate professor of political science at DePaul, said.
In addition to the German version, the Bavarian government plans to issue a new English version, as well as an eBook and an audio book, though no timeline has been announced. Requests for the annotated version to be translated into hundreds of other languages have been received, said Wirshing, though no plans have been released at this time.