Flint declared an emergency, EPA official steps down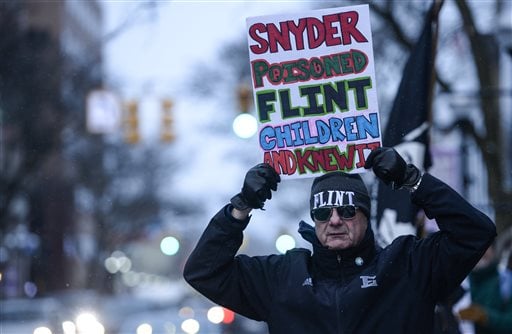 FLINT, Michigan (AP) – The federal government is investing more money this year to help local governments improve their water systems, and about $80 million will go to Michigan next week, President Barack Obama told the nation's mayors Thursday, as part of the U.S. Conference of Mayors.
The city of Flint, Michigan has generated national attention because of high levels of lead in the water supply. The city's water source had been changed from Detroit's water system to the Flint River in a cost-cutting move, and the water was not properly treated to keep lead from leaching into the supply.
Obama said the additional money for cities came as a result of the bipartisan budget agreement that Congress passed in December. The White House said the administration moved to make sure the money is available to Michigan more quickly than normal, though it's unclear how much, if any, of the money would go to Flint. States use the federal funding to make low-cost loans to local governments for drinking water and waste water construction projects and have significant freedom in how they prioritize the projects.
Flint's mayor has floated a shockingly high price tag to fix the Michigan city's lead-contamination problem: $1.5 billion to replace damaged pipes. Gov. Rick Snyder put the figure at $700 million.
In the meantime, officials and water experts are hopeful that there is a less drastic and far cheaper step — using a chemical to recoat existing pipes and contain the lead. If it works, that could make the water safe enough to drink until the damage to the system can be fully assessed.
Snyder has asked that Obama approve a federal disaster declaration to help bring in millions of dollars more to address Flint's water problem. Instead, Obama declared an emergency rather than a disaster, qualifying the city for $5 million. The White House concluded that disaster money is intended for natural events such as fires or floods. In an appeal letter, Snyder called the decision a "narrow reading" of the law.
Obama told the mayors that he had met with Flint Mayor Karen Weaver earlier in the week. He described the problem in Flint as an "inexcusable situation with respect to the drinking water there."
"Our children should not have to be worried about the water that they're drinking in American cities," he said. "That's not something that we should accept."
A regional director of the U.S. Environmental Protection Agency resigned Thursday in connection with the drinking water crisis in Flint, Michigan, and EPA chief Gina McCarthy issued an emergency order directing state and city officials to take actions to protect public health.
EPA said in a statement that Susan Hedman, head of the agency's regional office in Chicago whose jurisdiction includes Michigan, was stepping down Feb. 1 so it could focus "solely on the restoration of Flint's drinking water."
Also Thursday, Michigan officials said they still aren't certain whether there's a link between a drinking water crisis in Flint and an increase in local cases of Legionnaires' Disease.
A report by the Michigan Department of Health and Human Services said nine people died of the bacterial illness between June 2014 and October 2015 in Genesee County, which includes Flint.