A recent stretch of hurricanes in August and September left destruction in physical property as well as the U.S. economy. What resulted in extensive damage on capital and swallowed up jobs impacted different economic markets throughout the affected regions and entire nation.
Hurricane Harvey hit southeast Texas on Aug. 25 and proceeded to cause widespread flooding in the city of Houston, the fourth largest city in the country. The second storm, Hurricane Irma, made its way to parts of Florida and Georgia on Sept. 10, causing rampant property damage and putting a halt to small businesses.
Moody's Analytics, a subsidiary of Moody's Corporation, which specializes in business and financial services, concluded that the storms led to many small businesses and properties suffering an insurmountable cost of damage.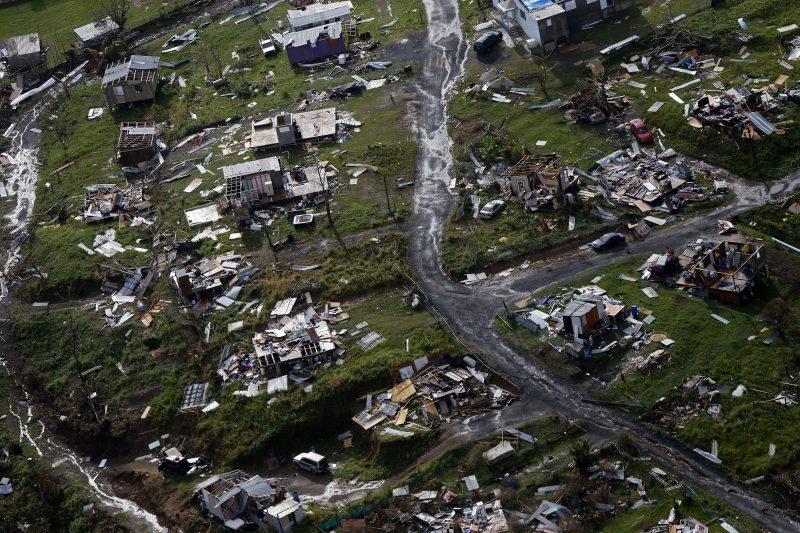 Between both hurricanes Harvey and Irma, Moody's preliminary estimate for property damage in hurricane affected regions ranges from $150 billion to $200 billion. The estimated cost for Hurricane Harvey ranges from $86 billion to $108 billion, and for Hurricane Irma the estimate ranges from $64 billion to $92 billion.
While the hurricanes resulted in 33,000 jobs lost in September for the entire country, according to the Bureau of Labor Statistics, the unemployment rate in October actually fell to 4.1 percent from 4.2 percent in September. This is a good sign for the economy because it indicates that the storms didn't holistically put a halt to overall job growth.
Michael Miller, a professor of economics at DePaul and long-time economist, said that despite the job losses, the employment sector of the economy should recover soon "because the behavior will not change." Given this prediction, Miller still expects citizens to consume at the same levels they did before the hurricanes hit.
The Bureau of Economic Analysis recently released data regarding GDP, which is the dollar market value of all finished goods, services and structure currently produced by labor and property.
GDP increased just 3 percent in the third quarter, which is the span of July through September when the hurricanes first made landfall. This is a slight decline from 3.1 percent in the second quarter that spans from April through June.
The hurricanes lead to a decline in GDP because a scarcity of workers means that fewer goods will be produced.
The housing market also took a hit due to the hurricanes.
According to the Monthly New Residential Construction statistical report that was released on Oct. 18 by The U.S. Census Bureau and the U.S. Department of Housing and Urban Development, housing starts, which is the number of new houses begun during a particular period, fell 4.7 percent in September from the previous month to a seasonally adjusted rate of 1.127 million. The seasonal adjusted rate takes into account the fluctuations of values in data that occur due to seasonality. For the US, this is analyzed on a quarterly basis.
Residential building permits, authorizations that must be granted by government or another regulatory body before construction can legally occur, declined 4.5 percent to a seasonally adjusted rate of 1.215 million in September.
Miller mentioned that the housing market will take a hit after any natural disaster because "workers will be gone." Along with a decrease in available workers, "fewer people might have to be paid more."
With many construction workers having left the affected regions, Miller said that it affects real estate in the short-run. While the housing market is stalled in the short-run, Miller believes that "it'll take a while for the market to act", as hurricanes "can be disruptive" to the housing market. 
Americans did catch a break though, as the hurricanes didn't influence the Federal Open Market Committee to raise the federal funds rate from 1.15 percent at their Oct. 31 – Nov. 1 meeting. Ingunn Lonning, an economics professor at DePaul, said the two are likely unrelated.
"I don't think the decision to not raise rates was affected by the hurricanes," Lonning said. 
In addition to regions in the mainland being impacted, Puerto Rico, a U.S. territory, was hit by Hurricane Maria in mid-September. The natural disaster caused catastrophic damage across the island as well as a widespread humanitarian crisis for the island's residents.
Unlike the mainland U.S., talks of an economic recovery for Puerto Rico are slim to none. Despite the island only having an approximate population of 3.4 million, the damage costs are high and the economy was already struggling.
Puerto Rico is "not a vibrant economy, the island is broke," Miller said. And an anticipated recovery for Puerto Rico's economy "may not happen for years," he continued. "What was destroyed is all gone, which is a cost (of the hurricane)."
Moody Analytics' predictions for Hurricane Maria indicate that the hurricane could cost Puerto Rico around $45 billion to $95 billion in damages. It projects that almost $40 billion could be lost in economic output, and property damage itself could total up to $55 billion.
This level of damage will take a hefty toll on Puerto Rico's $103 billion economy, which represents 30 percent of the territory's GDP according to another report from CNN Money.
Miller believes that it will be tough for the island to make a recovery in a timely manner and said they "will have to be rebuilding, which will increase GDP, but it doesn't mean that they're better off." He elaborated on the outlook of Puerto Rico's GDP, which "will fall because production will fall in small businesses."
William Sander, an economics professor at DePaul with expertise in urban economics, agrees with Miller that recovery for Puerto Rico will take some time. Sander said, "the big problem is Puerto Rico," and it needs more international attention to begin to recover.
Sander said it will take longer for Puerto Rico to recover than other areas affected by hurricanes because, it "has less capacity relative to Houston and Florida to recover, so they need more help."
Sander concluded that "undoubtedly, many households will struggle for some time to come, especially low-income households without many resources." Overall, it's going to take a while for Puerto Rico to recover.
There are many people in Puerto Rico who don't have basic necessities like clean water, which is troublesome for an island looking to rebuild.
Along with the human suffering, the destruction in the affected regions represent a colossal loss of national wealth. The technical variations of economic losses mean that rebuilding could result in a potential recovery, but that's different from real improvement. Perhaps there is now one universal saying, hurricanes are bad for the economy.