TEDxDePaul to return, speakers announced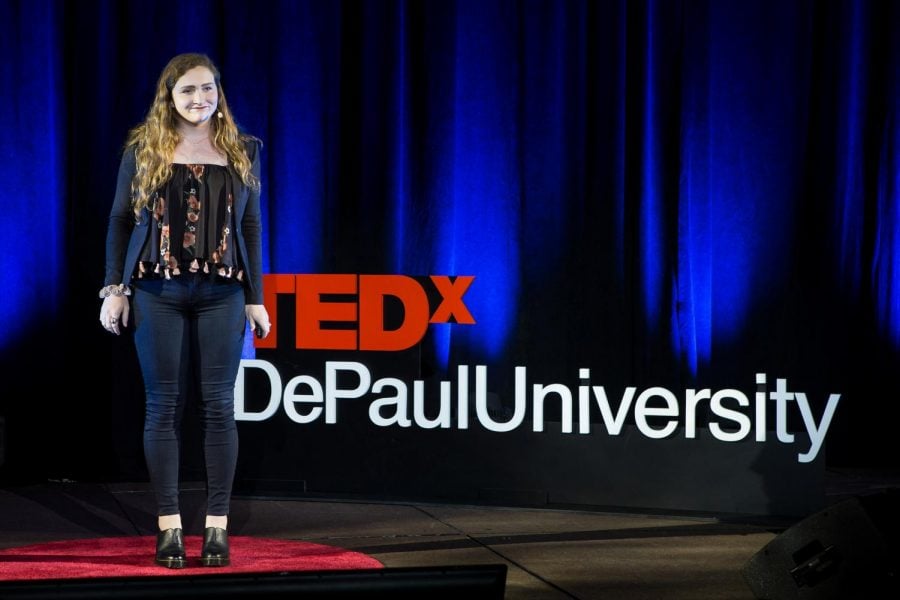 TEDxDePaulUniversity will be returning on May 1. The third annual TEDx event will bring in 11 speakers who will give powerful presentations on various topics, all centered on the theme "Reimagine."
TED, according to their website, is a nonpartisan nonprofit devoted to spreading ideas, usually in the form of short, powerful talks. To continue the concept of spreading ideas worth sharing, TED provides a TED-like experience via TEDx, where the x means it is an independently organized TED event.
TEDxDePaulUniversity is an independently organized event through a license provided by TED.
Now in its third year, TEDxDePaulUniversity hosts faculty, staff, students and alumni as the speakers. This year, the speakers come from across the DePaul community and consist of five students, three alumni, two faculty and one staff member. They came out on top of a record-breaking 114 applicants– a 46 percent increase from 2017.
One of the speakers is Guillermo Vasquez de Velasco, Dean of the College of Liberal Arts and Social Sciences. He came to DePaul a little over a year ago, having previously served as Dean of the College of Architecture and Planning at Ball State University in Indiana, and as executive associate Dean of the College of Architecture at Texas A&M University.
Vasquez de Velasco brings a designer's perspective to the DePaul liberal arts program, and his talk will focus on reimagining the liberal arts in the 21st century. He describes the liberal arts as a collection of disciplines that frequently also provide the foundation or core of what some universities address as general studies.
"That's where you find the humanities, the social sciences," Vasquez de Velasco said. "It's where you'll find the majors of philosophy, history and English, but you also find multidisciplinary majors like gender studies and African and black diaspora studies."
Originally from Peru, and having lived a number of years in Europe, Vasquez de Velasco has seen both sides of the equation.
"I know the differences between institutions in different parts of the world," he said. "The American liberal arts core is a real source of strength and higher end. It can empower us as collaborators, as people that know how to work together and I'm looking forward to that personal connection with the audience."
Karli Butler, another one of the speakers in this year's TEDx event, is a two-time DePaul alumna of DePaul's College of Communication. She graduated from undergrad in 2004 and finished her master's in 2010.
Butler was enrolled in the first class of her master's program when she was physically attacked and was forced to drop out of school. She turned her pain into triumph and was determined to finish her studies.
Currently, she is the trauma-informed social service provider at a nonprofit organization called Curt's Café. Using her experience to teach and empower, she works with young women between the ages of 14 and 24 who live in at-risk situations.
"I'm going to help the audience reimagine forgiveness," Butler said. "I was attacked by someone, and I chose to forgive that person, and that experience has influenced my outlook on forgiveness."
Past years' themes have been "What must be done?" (2016), a famous quote by Saint Vincent de Paul and "Courage to Connect" (2017), which reflected conversations that were happening or needed to happen on campus.
Wendy Smit, a co-organizer of the event, says this year's theme – "Reimagine" – is a single word that will invite the audience to consider questions and subjects in a new light.
"It's timely because it comes at a time when DePaul is building a new strategic plan and has recently welcomed a new president," Smit said.
Hosting the event is Rachel Pride. Pride was one of the student speakers last year, where she emphasized the impact that human beings can have on the community if they simply take a break from their phones to serve those around them.
TEDxDePaulUniversity 2018 will be held May 1 from 1-5 p.m. at the Lincoln Park Student Center, room 120 A & B. Registration is now open, tickets are $5. RSVP at TEDxDePaulUniversity.com.