Chicago startup aims to pay apartment seekers, build community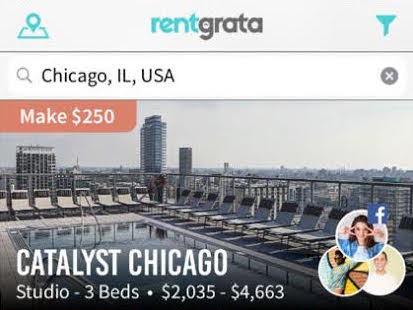 Looking for an apartment isn't always the most glamorous task, especially for college students. Rentgrata is a new service aimed to ease that process and get apartment seekers paid for signing their lease.
The Chicago-based company, incorporated in October 2016, is an iOS app and web-based platform that allows apartment seekers to search for available apartments and chat with current residents of the apartment communities that interest them. If the apartment seeker and the resident of the apartment community chat on Rentgrata and then the apartment seeker signs a lease, both parties split referral bonus that's paid out by the property manager.
"It's a social sharing economy take on the whole apartment search process because there is that monetary benefit that's split between our two users," CEO Ben Margolit said. "We're giving them the ability to really transform the way they think about their apartment lease not just as money going out the door every month, but think of it as somewhat of an asset, a way for them to generate a little bit of side hustle income."
Aside from trying to make the apartment searching process more enjoyable, Rentgrata also aims to build a community feeling in apartment buildings. This community feeling is something that COO Sam McArtor said makes users want to join Rentgrata.
"That incentive to sign up for Rentgrata is there not only because you can make a little bit of money on the side, but also because people like giving feedback," McArtor said. "It's a really great way to build community at a property because if you are moving into a building and you've had a chance to talk to someone on Rentgrata, you might already have an acquaintance at that building."
Rentgrata users sign up through Facebook. This process involves the user submitting their address alongside their likes and interests. From that point, the apartment seeker can browse through apartments and once they find a place of interest they will see a list of current available residents. The residents are organized in the order of Facebook connections while everyone else is sorted on the basis of likes and interests.
"The platform makes it easier to connect with someone whether they're your current friend, a Facebook connection, or another Rentgrata user who's signed up as a resident of the building," McArtor said. "We wanted to make the process of signing up to be a resident at a building straightforward because we want the experience to be simple without any major hurdles."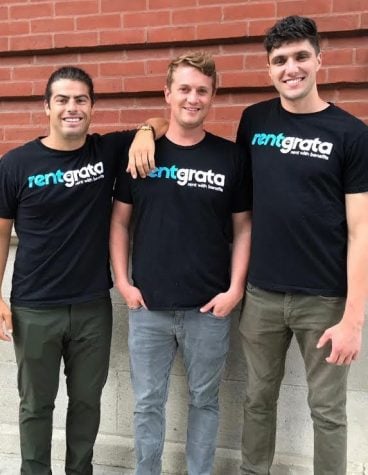 Rentgrata's third co-founder and CFO is Zach Sloan. The platform's first hire came in September 2017 when Max Bryan was brought on board to be the Technology Strategist and Developer. In January, Built in Chicago, an online community for tech companies and startups, named Rentgrata to its Top 50 Startups to Watch list in 2018.
However, there are still more goals — such as nationwide expansion, signing on to more properties, and spreading brand awareness — that the group wants to achieve.  
"Most property managers have these referral programs in place," Margolit said. "There just wasn't an effective way for them to get as much visibility and much use as they would like, so giving the current resident a passive way to more frequently and more easily utilize those programs is really what we're offering."
Carley Ross, a Rentgrata user who referred her building to another user, mentioned that Rentgrata provides insider information that some apartment finding services lack.
"I would 100 percent recommend the app to students and young adults," Ross said. "The app is easy to use and residents will give you the 'scoop' on the building's surrounding area, amenities, and apartment units. The leasing office was able to provide some great information about the area, but nothing as candid as what Rentgrata can provide."
Most of the buildings that Rentgrata works with are in Chicago, but they're starting to sign with properties outside of the Windy City in markets such as St. Louis, Milwaukee, and Minneapolis. Rentgrata also recently brought on student housing properties at both Texas A&M and Arizona State.