Scotland: No to independence
Hang on for a minute...we're trying to find some more stories you might like.
Voters choose to preserve union with England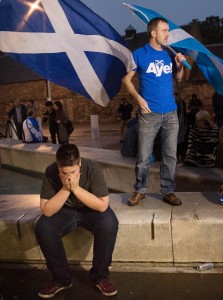 Marked by record voter turnout and participation, the Scottish people rejected the option of becoming an independent nation Sept. 18, choosing to remain part of the United Kingdom.

The electorate took to the polls to answer one question: "Should Scotland become an independent country?" "No" received 55 percent of the vote, with "Yes" being defeated by collecting 45 percent. The BBC reported a voter turnout of 84.59 percent for all of Scotland.
Part of the United Kingdom since 1707, the Scottish setup has allowed them to operate with a partial self-government. Despite Scotland having its own parliament, DePaul cultural geography Professor Euan Hague explained in an interview with WBEZ radio that many policies and issues are still decided by the U.K. parliament as U.K. issues.
Much of the conflict stems from disagreement and differences with the London establishment. Before the vote, Prime Minister David Cameron pleaded for the Scottish people to retain their union, while calling a vote for "yes" as a "divorce" that would allow for no turning back, according to Al Jazeera.
Cameron, a conservative, contrasts with the more left- leaning Scottish parliament. The Conservatives only possess 15 of 129 Scottish seats. Independence has been championed by the Scottish National Party since it won a minority of parliament seats in 2007, and a majority in 2011. Scottish nationalism has especially been on the rise in 2014, with Scotland playing host to this summer's Commonwealth Games in Glasgow, and the upcoming Ryder Cup, a point made by Hague.
A number of issues regarding an independent Scotland became key topics of debate. Financial questions regarding a potential currency of the new state included discussion of retaining the Pound Sterling, joining the questionable Euro, or creating a new currency.
Regarding the international ramifications of independence, Hague concluded: "I think the U.S. has been very late to wake up to this issue. We're talking about the dividing up of the U.S.'s major post-WW2 ally and partner. Also, there is a U.S./U.K. nuclear naval base in Scotland, and the 'yes' vote manifesto says they'll be non- nuclear. What would happen to the U.S. alliance in NATO? Would the U.K. leave the U.N. Security Council?"
In line with Hague's comment, the pro-independence website YesScotland said the nuclear weapons stored in Scotland conflicts with the Scottish sentiment of opposition to such weapons. On the issue of NATO membership, BBC reported that until two years ago, the Scottish National Party held an anti-NATO stance. Regarding European Union (EU) membership, a vote for independence would have set a precedent for succession within an EU member state. The EU made it clear that Scotland would be forced to apply like other nations, and would not retain membership simply because of their relationship with the U.K.
The referendum also brought up a number of questions as to the ethics of who should or should not be able to participate in an independence vote. Hague broke this down.
"The voter registration is based on residency, so non- citizens who have residency can vote," he said.
UK citizens who were born in Scotland, but now live abroad were unable to participate. Hague, among such citizens, said that this included nearly 750,000 people worldwide, whose citizenship status would be affected by the vote, but had no say in the election.
Professor H. Peter Steeves, of the DePaul Philosophy Department, agreed that defining the referendum as "democratic" or not is a tricky subject.
"Who should get to vote in an election or referendum? Everyone who is affected by the outcome? On such grounds, then, the referendum concerning Scottish separatism should include all of Great Britain," Steeves said. "Or perhaps all of Europe, or even all of the world. That would only seem fair if we're going by the criteria of 'All affected parties get a say.' In a globalized world, we're all affected by this decision. But surely this isn't appropriate."
Steeves also challenged the referendum's two choices of "yes" or "no", saying this would appear to illustrate only two possible paths for the future of Scotland. "The referendum itself has reduced a complicated question of interdependency to a dualist binary," he said.
Over the course of the summer, the "yes" campaign was portrayed as having gained ground. But Hague offered an explanation for this. "The short answer for why the polls narrowed is that 'no' assumed they would win. They didn't do a great deal of door-to-door and on the ground voter outreach."
A "yes" vote would have begun the process for independence to be complete after 18 months. But even with the "no" victory, a strong message has been sent to London indicating that the status quo must change. According to BBC News, following the result, the UK government has vowed to give more powers to the Scottish parliament, with the first details of such an agreement scheduled
to publish next month. The U.K.'s three largest political parties — the Conservative Party, The Labour Party, and the Liberal Democrats — all signaled their support in the transfer of responsibilities to Scotland, though each party has a different approach. With more powers to be granted to Scotland, this unleashes new questions as to whether Wales and Northern Ireland also deserve such independent treatment.