Nation & World Briefs: November 12
Gunman posted about mental state during bar attack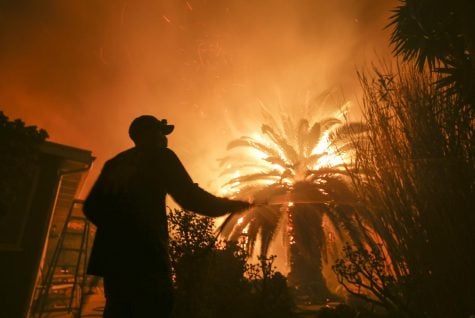 Strong Santa Ana winds returned to Southern California on Sunday, fanning a huge wildfire that has scorched a string of communities west of Los Angeles.
Huge plumes of smoke were rising again in the fire area, which stretches miles from the northwest corner of Los Angeles' San Fernando Valley to the Malibu coast.
Aircraft swooped low over flaming hills to drop lines of fire retardant as flames marched through brush lands on the edges of cul-de-sac communities.
A one-day lull in the dry, northeasterly winds ended at midmorning and authorities warned that the gusts would continue through Tuesday.
The lull allowed firefighters to gain 10 percent control of the so-called Woolsey fire, which has burned more than 130 square miles (335 sq. kilometers) in western Los Angeles County and southeastern Ventura County since Thursday.
Severely burned bodies were discovered in a long residential driveway on a stretch of Mulholland Highway in Malibu, where most of the surrounding structures had burned. The deaths remained under investigation.
The deaths came as authorities in Northern California announced the death toll from a massive wildfire there has reached 23 people, bringing the statewide total to 25.
Progress was made on the lines of smaller fire to the west in Ventura County, and evacuees from that blaze were being allowed back home. But thousands remained under evacuation orders due to the Woolsey fire.
Arik Fultz, his family and 52 horses survived, but two houses, two barns, three trailers and three decades of accumulated possessions were incinerated on his 40-acre ranch near Malibu.
"It just doesn't feel real that it's all gone," Fultz said Saturday.
"It was way too big a firestorm," said Lani Netter, whose Malibu home was spared while her neighbor's burned. "We had tremendous, demonic winds is the only way I can put it."
The flames also stretched into the suburb of Thousand Oaks, a city of 130,000 people that just a few days ago saw 12 people killed in a mass shooting at a country music bar.
"We've had a lot of tragedy in our community," said Ventura County Supervisor Linda Parks, whose district includes Thousand Oaks. "We don't want any more. We do not want any more lives lost."
At the Fultz ranch, Fultz's mother, 61-year-old Tricia Fultz, said everyone expected the fire to stay well south of their property, but shifting winds forced them to take the horses out to open pastures as quickly as they could.
Three were still in their pens when the adjacent barn caught fire, and Tricia Fultz just had to open the pens, burning her hands and hoping for the best.
"It's so surreal because it's so dark, and when we're in the tunnel you can't see anything," Tricia Fultz said. "There was so much burning and so much black."
The fire hopscotched around the Oak Park neighborhood of 70-year-old Bill Bengston, leaving most houses untouched.
The home for 22 years of Bengston and his wife, Ramona, was the only house on his block that burned. And it burned everything.
"It's all gone," he said softly as he sifted through the remains. "It's all gone."
The hardest to lose were the photos and the mementos handed down through the family — a cigar box that belonged to his great-grandfather; the handcuffs his father carried in World War II.
"We're somewhat devastated," Bengston said. "Still a little bit numb."
---
Florida election recount underway, tensions rise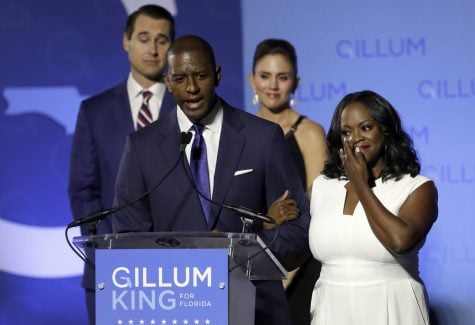 After some early bumps, more than half of Florida's 67 counties began recounting votes Sunday in the razor-thin Senate and gubernatorial races, bringing back memories of the 2000 presidential fiasco.
In Democratic-leaning Broward County, the scheduled start of the recount was delayed Sunday because of a problem with one of the tabulation machines. The Republican Party attacked Broward's supervisor of elections, Brenda Snipes, of "incompetence and gross mismanagement" following the delay, which was resolved within two hours.
The county, the state's second-most populous, is emerging as the epicenter of controversy in the recount. Broward officials said they mistakenly counted 22 absentee ballots that had been rejected, mostly because the signature on the return envelope did not match the one on file. It is a problem that appears impossible to fix because the ballots were mixed in with 205 legal ballots. Snipes said it would be unfair to throw out all the ballots.
The recount in most other major population centers, including Miami-Dade and Pinellas and Hillsborough counties in the Tampa Bay area, was ongoing without incident on Sunday. Smaller counties are expected to begin their reviews Monday, Tuesday or Wednesday. All counties face a Thursday afternoon deadline to complete the recount.
The reviews are an unprecedented step in Florida, a state that's notorious for election results decided by the thinnest of margins. State officials said they weren't aware of any other time either a race for governor or U.S. Senate in Florida required a recount, let alone both in the same election.
Unofficial results show that Republican former U.S. Rep. Ron DeSantis led Democratic Tallahassee Mayor Andrew Gillum by 0.41 percentage points in the election for governor. In the Senate race, Republican Gov. Rick Scott's lead over Democratic incumbent Bill Nelson is 0.14 percentage points.
State law requires a machine recount in races where the margin is less than 0.5 percentage points. Once completed, if the differences in any of the races are 0.25 percentage points or below, a hand recount will be ordered.
As the recount unfolded, Republicans urged their Democratic opponents to give up and allow the state to move on. Scott said Sunday that Nelson wants fraudulent ballots and those cast by noncitizens to count, pointing to a Nelson lawyer objecting to Palm Beach County's rejection of one provisional ballot because it was cast by a noncitizen.
"He is trying to commit fraud to win this election," Scott told Fox News. "Bill Nelson's a sore loser. He's been in politics way too long."
Gillum and Nelson have argued each vote should be counted and the process allowed to take its course. Both the state elections division, which Scott runs, and the Florida Department of Law Enforcement have said they have found no evidence of voter fraud.
That didn't stop protests outside Snipes' office, where a crowd of mostly Republicans gathered Sunday, holding signs, listening to country music and occasionally chanting "lock her up," referring to Snipes.
A massive Trump 2020 flag flew over the parking lot and many members of a Bikers For Trump group wore matching shirts and carried flags, mingling among a crowd that included a protester wearing a Hillary Clinton mask.
Registered independent Russell Liddick, a 38-year-old retail worker from Pompano Beach carried a sign reading, "I'm not here for Trump! I'm here for fair elections! Fire Snipes!" He said the office's problems "don't make me feel very much like my vote counted."
Florida is also conducting a recount in a third statewide race. Democrat Nikki Fried had a 0.07 percentage point lead over Republican state Rep. Matt Caldwell in the race for agriculture commissioner, one of Florida's three Cabinet seats.
From a distant glance, the recounts might dredge up memories of the 2000 presidential recount, when it took more than five weeks for Florida to declare George W. Bush the victor over Vice President Al Gore by 537 votes, thus giving Bush the presidency.
But much has changed since then. In 2000, each county had its own voting system. Many used punch cards — voters poked out chads, leaving tiny holes in their ballots representing their candidates. Some voters, however, didn't fully punch out the presidential chad or gave it just a little push. Those hanging and dimpled chads had to be examined by the canvassing boards, a lengthy, tiresome and often subjective process that became fodder for late-night comedians.
Now the state requires that all Florida counties use ballots where voters use a pen to mark their candidate's name. It also now clearly mandates how the recount will proceed.
Those ballots are now being run through scanning machines in each county for a second time under the watchful eye of representatives of both parties and the campaigns. Any ballot that cannot be read for any of the recounted races will be put aside.
If a race's statewide margin falls below 0.25 percentage points after the machine count, the state will order a manual recount in each county. At that point, only the rejected ballots for that race will be examined.