DePaul can't snap losing streak against red-hot Villanova squad
When Villanova freshman forward Saddiq Bey hit an open corner 3-point field goal to put the Villanova Wildcats (17-4; 8-0) up 13 points with 17:26 to go in their eventual 86-74 win against the DePaul Blue Demons (11-9; 3-6) Wednesday night, DePaul head coach Dave Leitao immediately and emphatically called a timeout.
He had seen this movie before, a short stretch in which DePaul's opponent gets hot from 3-point land changing the complexion of a game. Like the weather going from standard Chicago winter readings to the dangerous-to-be-outside levels like it was for this matchup, to the 40 degree temperatures forecasted for this weekend, Leitao knows a run like that can happen in a hurry.
"At the start of the second half we didn't guard them as intensely," Leitao said. "Our rotations were a little bit slower than they needed to be and you can't do that. It's like watching an NBA team because they spread you out they play pick-and-roll. Those threes early kind of put us behind the eight ball."
The Wildcats came out firing in the second half with back-to-back 3-pointers from Collin Gillespie and Eric Paschall, ballooning a four point halftime lead to 10 points. Bey's connection from 3-point land gave the Wildcats a decisive 13-point lead. Besides a 15-for-35 showing from 3-point land (42.9 percent), another key ingredient in Villanova's wining formula tonight was epitomized in a play late in the game.
With just over a minute to play and his team up seven points, Wildcat forward Dhamir Cosby-Roundtree caught a full-court pass from a teammate. Sensing the hard-charging Blue Demons center Femi Olujobi behind him zeroing in on a block, Cosby-Roundtree shot faked causing Olujobi to fly by him. Cosby-Roundtree then went up for a layup only to have a hustling Max Strus block his shot. But the ball fell harmlessly back into Cosby-Roundtree's hand as he laid it back up to put his team up nine points and ice the game.
All night, giving up offensive rebounds were a problem for the Blue Demons. Villanova finished with a Big East Conference-play high 14 offensive rebounds, converting the extra opportunities into 11 second chance points and more importantly controlling the clock which made a Blue Demon comeback in the second half trickier.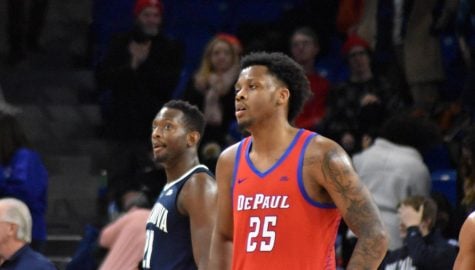 "When shots go up and you ball watch the offense has an opportunity to get it back or pursue it," Leitao said. "Early on, I thought shots that were missed could have been rebounded underneath the basket. We didn't do a good job of being first to the ball, or boxing out and getting it. After that, long rebounds caught. We've got to get back to the drawing board."
"The way that Villanova shoots threes, there's a lot of long rebounds," Blue Demon senior Eli Cain said. "I personally didn't rebound well but I think as a whole we were out of position a little bit, let guys slip behind us and didn't get the extra possessions. We'll clean it up for next game."
DePaul is now 0-6 in games in which their opponent has outrebounded them.
The Blue Demons gameplan early was to feed Paul Reed. The sophomore big man cast up four early shots but only hit one of them. The 6-foot-9-inch sophomore never found a rhythm, finishing the game with six points and six rebounds after entering the game averaging 16.8 points and 9.4 rebounds in Big East play. Olujobi picked up the slack inside scoring 20 points on an efficient 7-for-10 from the field marking the eighth-straight game he's scored in double figures.
DePaul shot the ball 52.9 percent from the field, marking the second time this season that they've shot the ball over 50 percent against Villanova and still lost the game.
The Blue Demons will look to snap their three-game losing streak on Saturday when they welcome Providence College to Wintrust Arena for a 1:30 p.m. tilt.
View Comments(1)