Darious Hall prime to make a major different on defense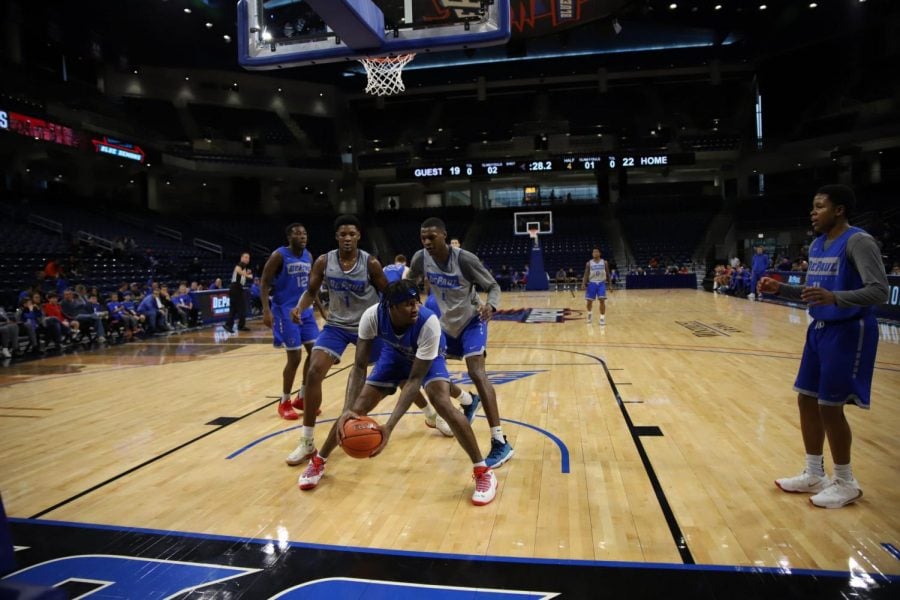 After redshirting a year due to NCAA transfer guidelines, Darious Hall is finally ready to suit up for the DePaul Blue Demons.
In his freshman season at the University of Arkansas, he played in all 35 games and averaged 5.1 points and 3.1 rebounds in 14.8 minutes per game. He also shot 50 percent from the field and a blistering 40.6 percent from beyond the three-point arc. In April of 2018, he committed to transfer to DePaul.
For the Little Rock, Ark. native, the redshirt year provided a valuable opportunity to learn more about himself as a player and a person. "I had to mature more, especially staying in Chicago, a big city," Hall said. "It's not the same as back home. The first thing I had to adjust to was the weather, I wasn't used to it." He also said that the time away from the court allowed him to improve his grades and his relationship with the DePaul coaching staff.
Head Coach Dave Leitao liked what he saw from Hall during his redshirt year. "He was a bright light every day in terms of bringing his energy, and using his athleticism and his energy to make a difference," Leitao said. "Especially when you're on a second team and you're sitting out for a whole year, and you know you're not playing games… but he never let that affect him."
Hall has lofty goals for both himself and the team this season.
"I do have the confidence that we can win the Big East this year," he said. "The reason why is that we have a talented team, a talented group of guys where everybody is locked in and collected as one. When you're like that, can't nobody break that bond."
Hall has his eyes set on the Big East Defensive Player of the Year award. His teammate, junior forward Paul Reed, praised Hall's defense. "He's a defensive guy," Reed said. "He brings that energy to the court, to the locker room, everywhere. And he's a leader, he's always got his cool. He can really do everything. It's good to have a guy like that around."
  Hall, a 6 foot 7 inch, 215 pound forward, is a valuable addition to DePaul's frontcourt. He showed flashes of his potential in some standout games at Arkansas, including an 11-point, seven-rebound performance against Tennessee in the SEC tournament and 14-point, 11-rebound double-double on the road against Mississippi.
"He gives us length and athleticism," Leitao said. "Particularly on the defensive end, the guy can cover a lot more ground than what we're used to." He also praised Hall's ability to get to the free-throw line, saying that he leads the team in drawing fouls.
Leitao also echoed Reed's thoughts on Hall's impact on the locker room. "He has a personality that's really good for our team, good for our locker room," he said. Leitao was effusive in describing the value of players like Hall who bring energy on and off the court.
"He is always looking forward to the next day, and he plays that way both emotionally and physically," Leitao said.
With DePaul's first game of the season drawing near, the opportunity to get out and play again is extremely meaningful for Hall. "It's just mind-blowing," he said. "I haven't played in so long, I got people back home that want to see me play, people here that want to see me play… I would say it's a weight off my shoulders, but at the same time it's not because it's something I love to do and it's something I'm ready to do."
Hall is itching to get back on the court and show Blue Demons fans what he can do. "I bring everything," he said. "Energy, defense, communication, leadership… and just bring wins back to Wintrust and DePaul."
Hall also suggested that DePaul could surprise some people in the Big East this year. "[The rest of the Big East] don't really know what we're cooking up right now," he said. "But when it comes out, they're going to be scared."