Preview: DePaul travels to face Iowa in the Gavitt Tipoff Games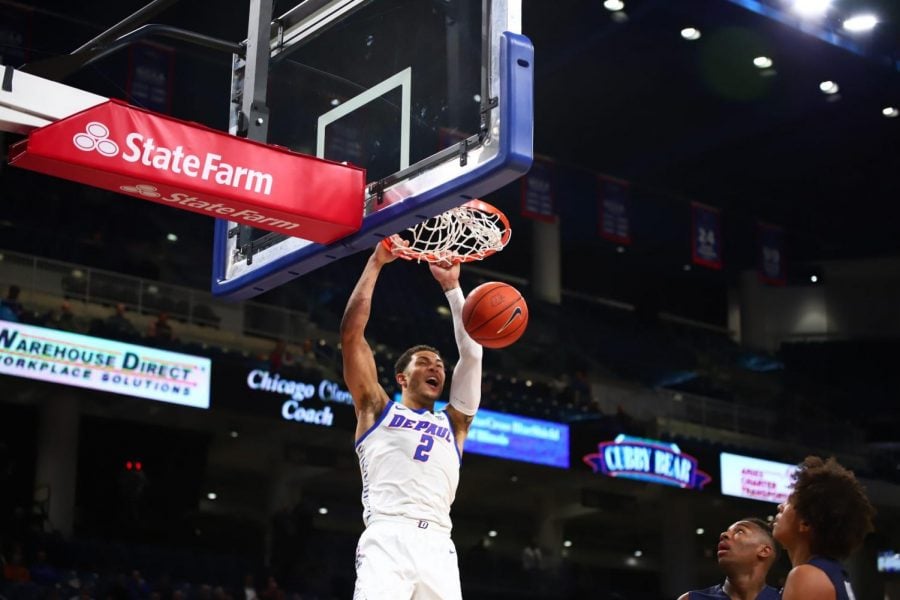 When DePaul's 2019-2020 schedule was released in September, the first three games of the season didn't seem much of a challenge for the Blue Demons. Now, with game four approaching fast, the Blue Demons are embarking on their first challenge of the season: at Iowa. 
The Blue Demons began the season with a relatively soft schedule, taking on Alcorn State, the University of Chicago and Fairleigh Dickinson at Wintrust Arena. DePaul won those three games by an average of 19.3 points. 
The Blue Demons had a much easier time taking care of their first two opponents than they did facing Fairleigh Dickinson on Friday. For nearly 30 minutes, DePaul was having a tough time shaking past the Knights with their offense struggling to have any sort of flow and rhythm. But, through their stout defense and the play of junior guard Charlie Moore, the Blue Demons escaped with a 70-59 victory to improve to 3-0. 
With those three games out of the way  and head coach Dave Leitao completing his three-game suspension, the Blue Demons embark on their first road game of the season against an Iowa team that made the second round of the NCAA Tournament last season.
This is the fifth season that DePaul has participated in the Gavitt Tipoff Games in annual series between the Big East and Big Ten, with this season's trip to Iowa being their third road game in this series. The Blue Demons picked up their first victory in the Gavitt Games last season when they defeated Penn State 72-70 in overtime at Wintrust Arena. 
This season's opponent, the Iowa Hawkeyes, might be the Blue Demons' toughest challenge since the start of the Gavitt Games. Last season, Iowa posted a 23-12 overall record and a 10-10 record in the Big Ten, the Hawkeyes also qualified and won a game in the 2019 NCAA Tournament. 
Iowa, who is coached by Fran McCaffery, lost their leading scorer and rebounder — Tyler Cook — from last year's team. But they return two players, senior Jordan Bohannon and junior Luka Garza, who are expected to be vital players for the Hawkeyes this season.
In their season opener on Friday, Iowa defeated SIU-Edwardsville 87-60 at the Carver-Hawkeye Arena. Bohannon, who had major hip surgery six months ago, came off the bench for the first time in 97 games and scored nine points on 4-for-4 shooting. Garza, on the other hand, dominated the game with his size and length inside, scoring 20 points and grabbing 12 rebounds. 
Three things to look for in Monday's game
1: Can Moore continue his stellar play to start the season?
Moore, who transferred from Kansas to DePaul in May, is leading the Blue Demons in scoring, 19.3 points, and assists, five, per game to start the season. The Chicago native has managed to control all three games through his passing and scoring, and keep opponents guessing on what he is going to do next when he has the ball.
His impact wasn't felt as much in the first two games of the season against Alcorn State and Chicago due to DePaul not having much trouble in defeating those teams. But against Fairleigh Dickinson on Friday, Moore was the reason why the Blue Demons pulled out the win. After trailing 50-47 with less than 10 minutes left in the game, Moore put the team on his back and scored 13 points in the final nine minutes to secure a 70-59 victory. 
Against Iowa, a tougher opponent and one that will recognize that DePaul's offense runs through five-foot-11-inch guard, Moore will need to keep up that level of play in a hostile environment. 
Which leads to our next question
2: How will DePaul play in their first road game of the season?
It's one thing to look impressive at home, but it's much harder to replace that on the road. For DePaul, that will be one of their toughest challenges against Iowa: can they replicate their home form when they hit the road? 
Last season, the Blue Demons went 3-10 on the road and went 0-2 away from Wintrust in nonconference play. This season, however, DePaul has more road games scheduled in their nonconference — but their might not be a tougher test on the schedule than having to travel to Iowa. DePaul has high expecations for themselves this season because of their talent and depth, but in order to make those expectations a reality they need to showcase that talent and depth in a hostile environment — like the one at Iowa.
3: Can Leitao lead the Blue Demons to an important win?
After serving his three-game suspension, Leitao finally returns to the bench just in time to face Iowa. This was the game that Leitao wanted to be at, that's one of the reasons why the Blue Demons scheduled a Division III team during his suspension, and now that he's back the pressure is on him to deliver a win. 
While there is pressure on the players to put in a good performance, there is just as much pressure on Leitao to get this game right. In the past, Leitao has been criticized for his inability to win big games — last season at Creighton or failing to close out the CBI championship series — but in this instance it's time for Leitao to be on the other side of those games. 
His in-game adjustments will be key for the Blue Demons, especially if DePaul is on a bad run it will be on Leitao to make those changes. The excuse in the past has been that there wasn't enough depth on the team, this season that's different. So, Leitao will have more options to go to when things aren't going well, it will be on him to get those changes right. 
DePaul is a nine-point underdog going into the game against Iowa, the first time this season the Blue Demons are underdogs. The game is scheduled to begin at 7 p.m. at Carver-Hawkeye Arena.