DePaul celebrates annual tree lighting
DePaul University officially ushered in the holiday season with its second annual Christmas tree lighting ceremony on Nov. 13. Another brisk November night didn't stop the appearance of a sizable crowd in St. Vincent's Circle where the tree stands, all looking forward to the holidays.
As students, staff and community members alike enjoyed complimentary hot chocolate, apple cider and s'mores, cheerful chatter gave way to featured speeches from student body president Gisselle Cervantes, university president A. Gabriel Esteban and 43rd ward Ald. Michelle Smith. Attendees were also treated to a rendition of "The 12 Nights of Christmas" by the DePaul choir and a performance from DePaul a capella group The Fullertones.
Although a Christmas tree is inherently Christian in origin, Esteban emphasized in his speech that, "this tree is for everyone at DePaul," regardless of religion, race or any other background. A commendable thought in light of increasing controversies surrounding the inclusivity of Christmas, especially when it is celebrated at public institutions.
As a private Catholic university, DePaul is not legally bound concerning expression of religion. However, an inclusive culture may help to bring students together and create a warm, welcoming environment.
Events like this one are essential to DePaul's efforts toward increasing the sense of community at the school. Many students showed up for the hot chocolate and free scarves, but getting them to come is the first step of the process.
"Students are really busy this time of year with finals coming up," said Lydia Stazen, director of DePaul's Institute of Global Homelessness. "I think it's really beneficial to hold an event like this where everyone can step back and take a moment to just connect with one another."
DePaul freshman Wyatt Hettel shared a similar outlook on the young event.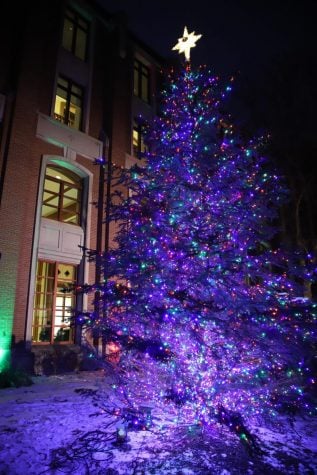 "I think that it really just shows a togetherness here that is growing," he said, "and that's what the holiday spirit is really about."
Despite the cold, the students who attended couldn't help but have  a good time as they laughed among friends and listened to classic Christmas jams.
"I just really love Christmas so much," said DePaul junior Danielle Cherry. Of course, she is far from alone with those feelings, as 90 percent of Americans celebrate the holiday, according to the Pew Research Center. But what is it about the Christmas tree itself that is so special?
That depends on who you ask.
"The ornaments make the tree for me," said DePaul junior Megan Evans. "I love putting them up and seeing each all the unique ways people can decorate their own trees."
Hettel liked the ornaments as well but said, "I think what really makes [a Christmas tree] special is the people around it." He continued to say that the real value isn't in the lights themselves, although they are beautiful. Instead, it is in the sense of belonging that they create and what they represent to the people that they bring together.
Stazen also looked to the warmth of the lights saying, "[the tree] is a light in the darkness. It really is one of the only things pushing me through the long, cold, and dark winters here in Chicago."  She said that looking at the lights wrapped around the tree reminds her that winter doesn't last forever.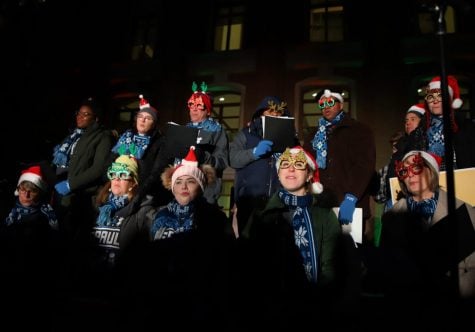 The ceremony was paired with DePaul's annual Ugly Sweater Party, which held activities before and after the tree lighting and handed out free DePaul themed ugly Christmas sweaters to the first 500 attendees. Honoring another young but cheerful holiday tradition.
"I think it's a little silly," said Annette Wilson, Deputy Chief of Staff at DePaul. "But if the kids find it fun and they have a good time, then that's what matters."
When the time finally came to turn on the lights, the crowd was prompted to count down from 10. Ten, nine, eight. Each successive number brought more anticipation as the crowd volume increased. Seven, six, five. Any wandering eyes turned and became fixated on the tree standing tall. Four, three. Those who had been hiding in the warmth of the SAC or Richardson Library quickly filed out to the square. Two, one. The colorful array of lights lit up the night, creating shimmering reflections in the eyes of each person there and filling the air with joy.
The tree will remain lit until students return for the Winter quarter in January and will serve, as Esteban said, "hopefully as a beacon to light your way back."