Hometown Chicago kid joins DePaul men's basketball for rest of season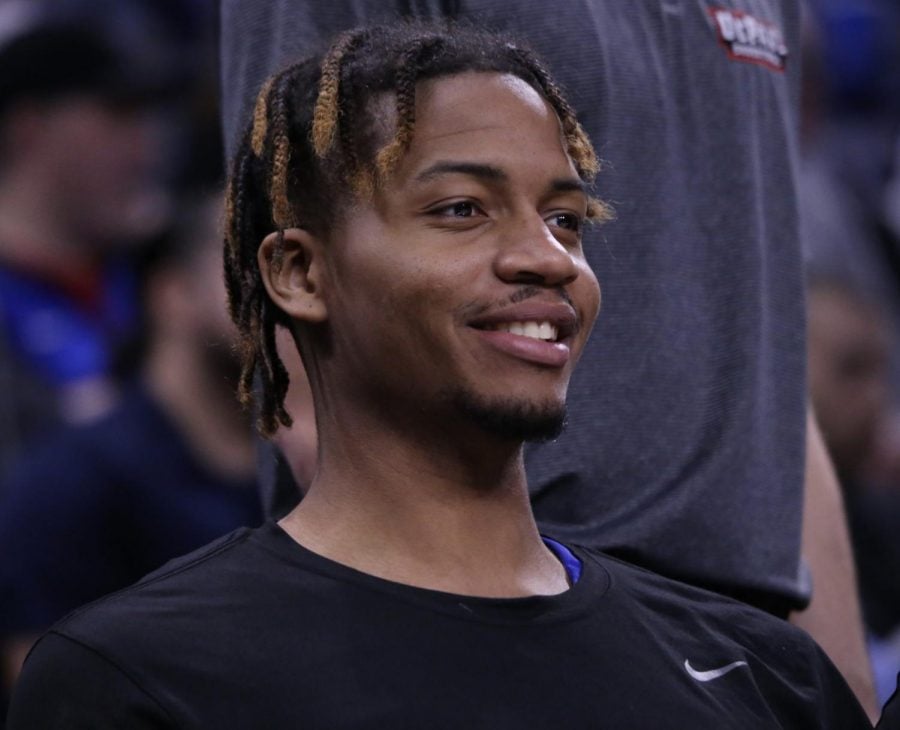 When DJ Williams announced he was going to leave George Washington at the end of last semester, he had one destination on his mind — coming home.
The Chicago native got his wish on Thursday when DePaul made it official that Williams will be joining the team for the rest of the season, and the fact the he is a graduate transfer, he is immediately eligible to play this season.
"It was only right," Williams said. "Once I got in touch with [DePaul], I just knew — I didn't want to talk to no one else. I knew I wanted to finish out at home, I'm just blessed to have that opportunity."
Williams became one of the best prospects in Chicago while playing for Simeon high school, he eventually earned a four-star status during his senior season in 2015 before announcing he was going to attend the  University of Illinois at Urbana–Champaign. He would spend his first two seasons at Illinois, averaging 2.2 points in just under 10 minutes per game in two years.
After an unsuccessful stint at Illinois, Williams left his home state to go and play for George Washington. After sitting out the 2017-2018 season due to NCAA transfer rules, the 6-foot-7 forward played in 31 games for the George, while averaging 13.7 points per game on 40.1 percent shooting from the field.
Now, Williams gets to close out his college career in the city where it all began for him — and he gets to do it while playing in front of his family and friends.
"This is great, my family can come see me play, friends are not too far from home," Williams said. "This is special. Growing up in Chicago I always knew about DePaul and growing up watching them play, so this is a dream come true to me."
Back when Williams was still in high school, DePaul was one of the schools to go after the talented player — but at that time, the Blue Demons were still struggling on the court and off the court in terms of Chicago recruiting. Fast-forward six years later and Williams finds himself playing for a program that is looking to get a destination that they haven't been to since 2004: the NCAA Tournament.
"Experience, leadership, versatility, be out there and guard certain positions and just bring that energy," Williams said on what he will bring to the team this season.
Getting Williams to DePaul presented head coach Dave Leitao and his staff with a unique set of challenges, getting the necessary paperwork, making sure he was eligible to play this season all needed to be solved before making the move official. Now, that he is in Lincoln Park, a whole new set of hurdles are in front of Leitao. Getting Williams acclimated to the playbook and DePaul's style of play is the team's next priority before the forward can take the floor with his new team.
"He's a quality young man, that's the first that we add to it," Leitao said. "He's in a really tough spot because it's very rare if ever, I don't remember seeing anything where you want to try and join a team in the middle of [January] and say 'hey, this is what's going to happen.' So, I think he realizes that as well as we do, but one of the things we want to do is get him in physical and emotional shape, learn what we are trying to do and then see where it works out. I don't know if I put expectations on it, so he can do this for us or that for us, we will see in a couple of days."
One of the things that Leitao doesn't have to worry as much about with a new player this time around is getting him acclimated to a new campus. Not only is Williams from Chicago, so he already knows the area and is comfortable living in the city, but he also has a familiar face on the roster that he knows from his Illinois playing days: senior guard Jalen Coleman-Lands.
The two spent two seasons with the Fighting Illini and were roommates during their time together, and even when both of them went their separate ways — the two have stayed in touch.
"It's crazy because DJ was my roommate," Coleman-Lands said. "We got a relationship on the court and off the court, so I'm looking forward to what he can bring just in practice competitiveness, making the team better."
Having a friend on the team has made the transition easier for Williams in terms of getting to know the campus, showing him around and letting him know how the team operates. The next item on his to-do-list is getting on the court as soon as possible. While he didn't play against Butler on Saturday, he sat on the bench and watched his team thump the Bulldogs 79-66 for their Big East win of the season.
Williams played off the fact that he might have been a good-luck charm for the team on Saturday.
"Our last few practices have been high energy, high level, our guys have been super focused," Williams said. "I was super focused even though I knew I wasn't going to play [against Butler] but I was still locked in. All the guys were locked in, the coaching staff. We just knew we needed to get this [win]."