DePaul surges past Butler for 13th Big East win of the season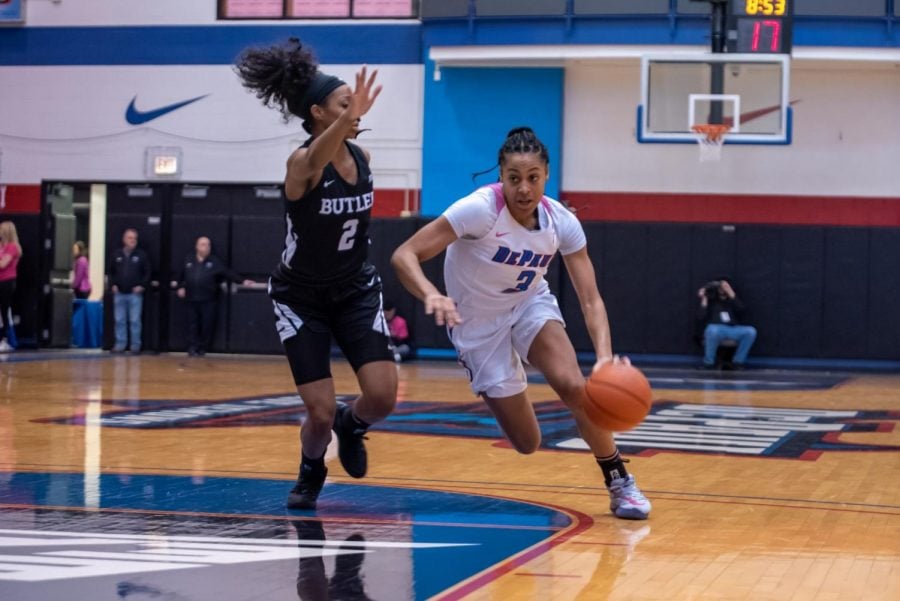 While DePaul and Butler entered Friday's game sitting one and two respectively in the Big East standings, there was a noticeable difference between the two sides when they squared off on the court at McGrath-Phillips Arena.  The Blue Demons' high-octane offense got hot in the second half and carried them to a dominating 89-60 victory over the Bulldogs.
Butler (17-7; 9-4 Big East) came into Friday's match with DePaul 9-1 in 2020 and riding a five-game winning streak, with their only loss in the new year coming against the Blue Demons on Jan. 19 at Hinkle Fieldhouse. Even in their second chance against DePaul, the Bulldogs didn't have an answer for four quarters on how to stop Doug Bruno's team. 
"I think that was a big emphasis this week that they were No. 2 in the Big East and they haven't lost since us," senior guard Kelly Campbell said. So, I think it was a great statement win that we had tonight.
DePaul opened the game scoring the first four points, but Butler responded by tallying off the next seven points. The Blue Demons, however, used their firepower on offense to retake the lead and start building a comfortable advantage. 
DePaul would then go on a 7-0 run after Butler took a 9-6 lead, with sophomore Sonya Morris and seniors Chante Stonewall and Campbell — who was honored before the game for reaching 1,000 career points — sparking the Blue Demons run.
After 10 minutes of action, DePaul led 27-19 while shooting 10-of-21 from the field and 5-of-10 from the 3-point line. The second quarter, however, was not as productive for the home team as they only made five shots from the field and only one 3-pointer. While the offense struggled in the quarter, the defense carried the torch by limiting the Bulldogs to only 12 points on 38.5 percent shooting from the field. 
Junior guard Deja Church and Morris combined for 21 points in the first half to help give the Blue Demons a 43-31 lead going into the break, while Campbell stuffed the stat sheet with six points, five rebounds and five assists. 
"Deja is another player here that because she transferred … she is still new to us and we are new to her and how we play is new to her," Bruno said. "It's coming for her and she's starting to find her rhythm. I just think it's a natural progression, just coming for her naturally and kind of slowly, but it's coming for her. I'm excited for her. …"  
Even though the Blue Demons had a somewhat comfortable lead heading into the second half, DePaul was on a mission in the third quarter to put the Bulldogs down. Bruno's team began the second half playing possessed, scoring eight straight points while Butler was trying to find its footing. 
"We started to see a theme with our team where we were kind of struggling in the first five minutes of the third quarter, so we really made it an emphasis to not let that happen this game," Stonewall said. "And I thought we executed very well."
DePaul kept the onslaught coming following a Butler timeout, with Morris and Stonewall proving to be too much for the Bulldogs to handle. The duo combined for 18 of the team's 31 points in the quarter, which helped establish a 74-50 lead for the Blue Demons heading into the final quarter. In the third quarter alone, DePaul went 11-of-21 from the field, 6-of-13 from the 3-point line and 3-of-3 from the free-throw line. 
Even though DePaul opened up a 24-point lead heading into the final quarter, Bruno elected to bring out his starters to open the fourth. Campbell, who picked up her second career triple-double against Providence on Feb. 2, was staring at another triple-double on Friday. The senior guard went into the fourth quarter needing one point, two assists and three rebounds to pick secure the feat. Well, she got the the rebounds and assists that she needed, but it was the one point that alluded her from picking up her third career triple-double. 
The Blue Demons were able to see out the final four minutes with their second unit in the game. Morris finished the game with 23 points on 9-of-17 shooting, while junior guard Deja Church tied her career-high with 19 points on 7-of-11 shooting. 
"Sonya is a special player," Bruno said. "She has the ability to score the ball. But what makes her special is what makes all athletes special, she is a very competitive human being. She loves to compete, and she's got a high motor. She's got skills, but there's a lot of people with skills that just don't have that competitive fire. The players sitting next to me are seniors Chante and Kelly who have a great competitive fire and so does Sonya."
DePaul, who is now overall 23-3 and 13-1 in the Big East, will be back in action on Sunday for senior day when they honor Campbell and Stonewall before taking on Xavier.