College of Education students form their own book club, gaining inspiration from BIPOC young activists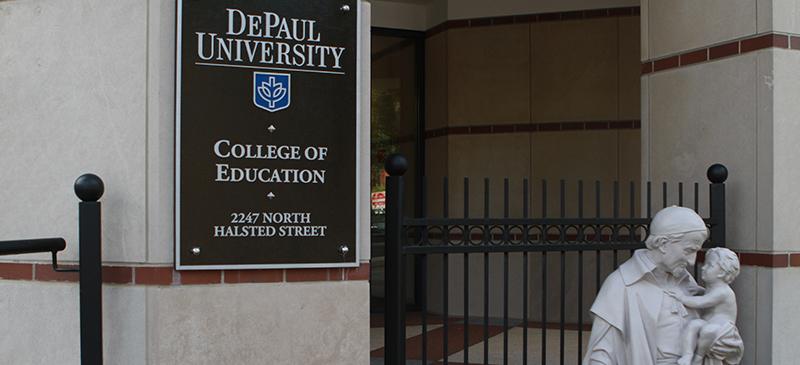 As the nation reckons with civil unrest and protests against social injustice where young people are taking charge, three students followed suit and started a book club to help keep the momentum going.
The DePaul Abolitionist Educators Book Club was founded by junior Olivia Hamer and seniors Erin O'Connor and Juan Sandoval.
It officially launched over the summer with members meeting every Friday from 1 to 2 p.m. on Zoom since its inception.
"During the uprisings led by youth this summer and continuing into the school year, it became pretty clear to us that young people are leading the revolution," O'Connor said. "If we want to sustain movements (as) future educators, we need to have a space where we can learn to be co-conspirators."
She added she personally takes inspiration from Noname, a 28-year old Chicago native, rapper and poet who launched her book club in the summer of 2019. 
Similar to Noname, "we have committed to reading works that center liberation and encourage revolutions of values, ideas and practices," she said.
Hamer addressed that English curricula are riddled with some of the "most colonizing" practices and she refuses to reinforce these in the classroom and beyond.
"I want to build up a space that's full of literature and art that counters the narratives students often internalize from the media," Hamer said. "I'd like to be part of a shift towards histories that do right by the millions of people and events that many other educators have chosen to make invisible."
Hamer added she wants her future students to recognize their classroom as an accurate representation of their varying needs and experiences.
"It would be my hope that a truly abolitionist classroom might remind students that it is entirely within their right to hold their teachers or classmates (and themselves) accountable for continuing oppressive practices and norms," Hamer said.
Like Hamer, O'Connor and Sandoval are also studying secondary education with a concentration in English. By taking classes together, they have become aware of each other's shared interest in creating a club with an abolitionist framework. 
"We felt like there wasn't enough space in the College of Ed for students to interrogate the ways that our school system perpetuates oppression in our communities," O'Connor said. 
To change that and spark conversation, the founders select a book every month and post it on their Instagram account.
"We eventually want to implement a more democratic system once we have more members," Sandoval said. 
They then divide the readings into four parts for their weekly virtual meetings. 
"The books are always chosen to respond to what we feel like the moment requires," Sandoval said. "[However] they are always subject to change, [like] if the book no longer meets the moment or provides imaginations that are focused on the dismantling of schooling, then we will replace it."
For instance, in early August, when Black-youth-led protests decrying police brutality were widespread, the founders replaced their initial reading of Paulo Freire's "Pedagogy of the Oppressed" to bell hooks' "Teaching to Transgress."
Club member and DePaul senior Erin Hughes discussed her takeaways from the August reading.
"'Teaching to Transgress' opened my eyes to the idea of transcending boundaries that inhibit students and teachers from imagining alternative frameworks to our conventional education and criminal justice systems in the U.S.," Hughes said. 
While Hughes is not an education major, she has interest in abolition and experience working with young students. She started to attend meetings when her friends, now founders, invited her, and she has been involved ever since. 
O'Connor said the club is not exclusive to education majors.
"While the organizers of this group are students from the College of Ed, we would love to hear from and work with any group or individual who is working towards liberation," O'Connor said.
Although the club's primary event is hosting discussions to reflect on the readings, it also supports campaigns such as the removal of SROs in CPS and demanding health and safety protections for DePaul's Chartwells workers.
Sandoval said that he wants the club to continue supporting youth-led organizations that are already doing the work that their chosen writers are advocating for. 
"Working in support of organizations that already have foundations and are in the midst of working to achieve goals… is much more pragmatic than attempting to take up and hijack those spaces that are already filled," he added. "As long as you are supporting these movements in some capacity, then it doesn't matter what form your advocacy takes, as long as it is contributing to a collective direct action."