Esteban, students discuss struggles of pandemic during webinar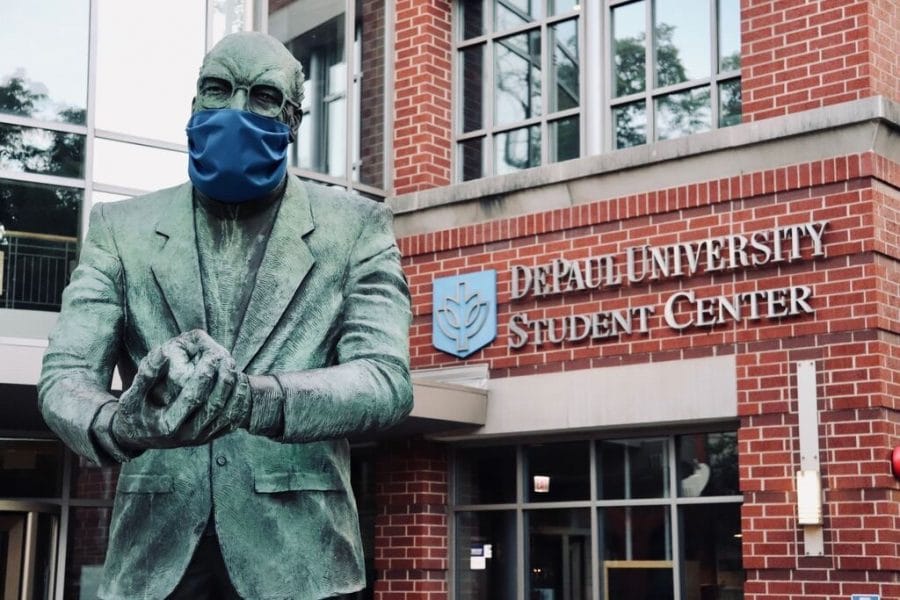 The office of Alumni Relations at DePaul hosted a webinar Tuesday focused on student's experience during a pandemic.
The webinar, titled Now We Must: A Conversation with Student Leaders featured DePaul President A. Gabriel Esteban and Sasha Gerritson, a member of the board of trustees and the chair of the Now We Must campaign as guests.
"Sasha was at the front convincing her fellow trustees that the initiative that we started, Now We Must campaign had to be done," said Dan Allen, the vice president for Advancement at DePaul. "The moment in which we found ourselves as a university demanded a response on behalf of our students and from that moment Sasha has been at the lead in reaching out to her fellow trustees and reaching out to members of the media, alumni and donors to ensure that the Now We Must campaign is successful and our students have what they need to continue in this academic year in the very best way that they can."
Esteban said he was grateful for Garritson's commitment to the campaign.
"The global pandemic has presented DePaul with an unprecedented challenge to provide for the health and well-being of our students faculty and staff while continuing to support the dream and promise of higher education," Esteban said.
He said that it hasn't been easy for many students who don't have access to high-speed internet or a reliable computer to transition to remote learning, and that there was a dramatic rise in the use of the student food pantry.
Gerritson said that it has been her honor and privilege to serve DePaul in this way. She admitted that when offered to lead the campaign, she became "terrified" thinking how they were going to raise money in "the time of Covid with all the things that are happening in our world, turned upside down."
"I thought we have to, we must. As a Vincentian community we are called to rise up and to come together to support and be there for those in need especially when those in need are students," Gerritson said. "It has been a journey of great faith, love and support."
Four student leaders took part in the panel, sharing personal insights about their educational goals, challenges and hopes for the future. Esteban said he is thankful for sharing their stories. 
The student's leaders reflected on questions involving their learning and life experience through the past several months of social distancing and studying in isolation. All said they need support in different ways to continue their educational paths.
Some of them had to move a couple of times and still don't know what to expect next.
"I've had to move four times since we moved remote," said Connor Mudd, a senior studying marketing in the integrated marketing experiential learning program. "I moved around on campus just based on which halls were still open, and then off-campus, and now currently living back on campus again." 
Mudd also said he couldn't focus on school or his job, and this caused tension in his mental health. This uncertainty reflects on his well being and makes his progress more difficult. 
"I was focusing on where I am going to live next month," Mudd said.
The students said they miss having in-person communication, and they feel disconnected from the DePaul community.
"There has been a lot of disconnect," said Camila Barrientos, a Latin American studies and political science major and the president of Dale. "I also see that students at large understand that the university is also going through a difficult time, but as members of this community we feel overworked and underappreciated in a way."
Barrientos said she feels that there are disconnects in the classroom on assignments. In the circumstances of a pandemic, all students need more understanding and financial support.
"I think that how the DePaul community can support its students — really what we're dealing with needs an understanding from a student standpoint. This is probably the best thing that DePaul can do to support us," Barrientos said.
At the same time, the five pillars of the Now We Must campaign seek to support students in need of housing, food, access to technologies and job opportunities and mental health and wellness which, according to Gerritson.
Christine Augustin, a graduate student in the clinical mental health counseling program at DePaul, said that the pandemic allowed her to learn more about herself and her response to the situation. She said that being a black student in a time of rising social injustice is one of the challenges for her.
"When we first got that email, and I had to move out of my apartment, I did not know to say," Augustin said, recalling the start of the pandemic. "There were so many things that were going on, I was scared, I was silent, I was traumatized, I was fearful, and I know that I was not alone."
Augustin said that due to her busy life she had to find time in her schedule for more social communications.
She said she acknowledged that our bodies may respond differently to trauma, and the results can be anxiety, depression, insomnia and difficulty concentrating. 
All the student leaders said they agreed that there is hope for a better future especially if we share the burden and stay involved.
"For the future I hope we won't take everything for granted," said Keith Norwad, a junior year at DePaul and president of the Black Student Union. "I guess we took for granted the things that we're used to doing on a daily basis and now just realizing how blessed and lucky we were."
With the rise of Covid cases at DePaul, remote learning seems to be the only option for the upcoming winter term.
"The pandemic has changed many things, but it will never change our commitment to our students," Esteban said. "The Now We Must" campaign is a critical part in DePaul's strategic response to Covid-19, directly supporting increased student needs. Together we can ensure every student has the resources needed to earn their degrees and reach their full potential."