Dogs, cats and other pets flee Afghanistan, CDC creates obstacle with temporary dog ban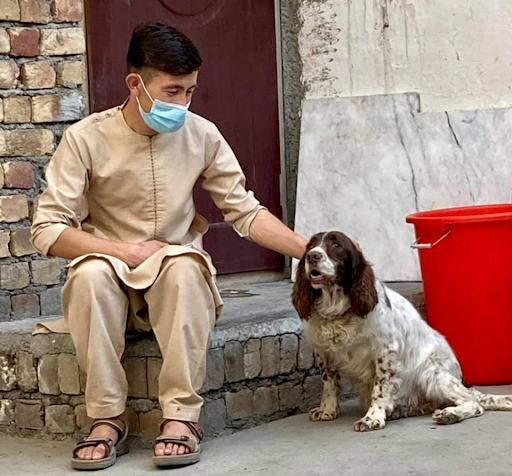 As the Taliban takes a strong position in Afghanistan, people rush to the airport to seek refuge elsewhere. However, people are not the only ones rushing to the planes — cats, dogs and other pets are taking flights in hopes of a better future. The Center for Disease Control placed a temporary ban on July 14 preventing Afghan dogs from coming into the United States.
The CDC estimates that six percent of all dogs imported into the United States come from a country with a high risk of rabies, such as Afghanistan. According to the CDC, the United States has been free of canine rabies since 2007. This ban is an effort to protect other imported dogs coming from countries that provide more adequate vaccinations.
"Inadequately vaccinated dogs are not protected against rabies and are a public health threat," the CDC says on its website. "Rabies is fatal in both humans and animals, and the importation of even one rabid dog could result in transmission to humans, pets and wildlife."
For Charlotte Maxwell-Jones, the director and founder of Kabul Small Animal Rescue, this poses a big obstacle for bringing dogs into the states.
"Theoretically the CDC ban on dogs prevents us from moving dogs into the U.S., and much has been made of this, but it had nothing to do with why we couldn't get the animals out of Kabul," Maxwell-Jones told The DePaulia in an email.
Maxwell-Jones is trying to get an exception from the CDC for these dogs left in Afghanistan, but there is no guarantee. If an exception is not granted, the Kabul Small Animal Rescue plans to send dogs to Canada.
"Because the future of their lives and health is in peril here," Maxwell-Jones wrote. "They will not survive or live decent lives."
Regardless, getting as many animals to a new environment remains a top priority, despite these CDC regulations.
"[We've] evacuated 317 animals between Thanksgiving of 2020 and July 14 of 2021," Maxwell-Jones wrote. "We hope to move another 250 or so when we do get a flight. As for other organizations, I believe Nowzad moved out just under 200 when they left, and at least a couple dozen in the year prior."
The Kabul Small Animal Rescue has made a big impact on the animals of Kabul, but they still face ongoing financial hardship. Most funds go towards flights, while some expenses are allocated for medicine and staffing.
"We used to be mostly bankrolled by my day job as a research director at a think tank and supplemented by small grants here and there and personal donations," Maxwell-Jones wrote. "Since this debacle started, we are funded by enormous personal donations, fundraisers run by SPCAI, War Paws, Animals Australia, Cuddly, Mutt Mutt Engine, Puppy Rescue Mission and others."
Despite the ban, the United States has brought in a few dogs from Afghanistan. According to KARE11, the Home for Life animal sanctuary in Minneapolis took in seven dogs from Afghanistan, one of which is Bluebell — a stray dog involved in a car accident while still in Afghanistan. Bluebell broke a leg and eventually had to get it amputated due to an infection.
The Home for Life animal sanctuary plays a small role in supporting animals from such large-scale damage in collaboration with No Dog Left Behind, another dog rescue organization."For somebody that is heartbroken about what's going on over there and knowing how privileged we are here, knowing what's going on there, is just eye-opening," No Dog Left Behind's Vetting Coordinator Chariss Nearmeyer told KARE11. "I wish we as a nation could talk about it more and pitch in more, and realize that there are people, dogs and cats and other animals that are still there with no voice."
View Comments (7)