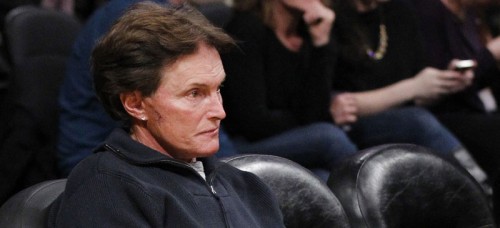 Growing up in Calabasas, California I was accustomed to seeing celebrities at some point of the day. For me, that was at my frozen yogurt job.
In California, when you hear Calabasas the first celebrities that pop into your head are the Kardashians. I would stare out of the glass windows at the frozen yogurt shop I worked at in my neon green polo, visor and magenta smock and see them occasionally. These people in their Range Rovers, with their venti lattes and sunglasses that would cost me three paychecks, would sicken yet amuse me.
I had seen all of them through those glass windows and they all seemed to crave attention, but there was something different about the time I saw Bruce Jenner.
Normally, when a famous person was around you would know because the paparazzi swarmed like angry bees, but the morning I saw Jenner, it was quite tranquil. I saw an average looking guy with a baseball cap, hair in a ponytail, sweatpants and a golf shirt with a smug smile on his face. I didn't recognize him at first, but I thought he looked familiar.
When he came outside with Starbucks in hand, he seemed to be admiring his surroundings as he walked to his car. He noticed me looking and gave me a smile and I nodded back, realizing it was Jenner. He slowly walked back to his car without a crowd of fans or paparazzi engulfing him. He was just an average guy getting his coffee.
Before this incident, my attitude towards the Kardashian Klan was disapproving and cynical, but Jenner seemed different. He seemed human, unlike what I was used to seeing on television, social media and in the tabloids.
When I heard about Jenner's desire to transition into a woman, I instantly thought back to his smug smile and overall peacefulness. I do not believe this is another one of the Kardashians' ploys to get viewers. Jenner is finally starting to live his life his way, rather than for the millions of viewers.
Jenner seems to be recognized for everything except what I think to be the most monumental moment in his career: crushing a world record in the 1976 Olympics. This victory led to many advertising gigs including having his picture on a Wheaties box and acting in "Can't Stop the Music." These temporary moments of stardom were not enough for the man who always wanted to push himself to the limit and he realized he could not reach his goal of worldwide admiration alone.
In 1990, Jenner met Kris Kardashian, and her role of being a "momager" began soon after. It seemed that their marriage was more of a business transaction than a union of love. On Kris' end of the bargain, Jenner had some credibility to help the Kardashians get noticed and ultimately star on a reality TV show, where Kris had the skills to put Jenner back in the spotlight.
Not only would she put attention back on the failed actor and world record breaker, but she would also play him off as a sympathetic character among the household of chaos. Finally, Jenner could get what he had wanted all along: to be admired by the world.
Today, "Keeping Up With The Kardashians" has millions of viewers who may even follow the Kardashian family more than their own, and Bruce is a big part of that.
Some people like Berry McDermott, a close friend of Jenner, argue that Jenner plays the role of a sidekick on the show, but I think he does the opposite. He humanizes the show and provides balance to the craziness the girls bring. He plays the role of an American dad raising two teens and dealing with family mayhem.
In 1977, The Washington Post reporter Kenneth Turan wrote that Jenner "is a real life version of the American Dream," and I think that this characterization follows him on the show. He is exemplary of the new American Dream. The idea that money and fame is everything, but behind those fast cars and perfect white teeth is the reality that money can't buy true happiness.
This is why I believe Jenner documenting his transgender journey will help the Transgender Community and all of the "Keeping Up with the Kardashians" viewers. People will finally see the truth that is supposed to be displayed on a reality show. Viewers will be able to relate even more so to Jenner as he experiences these changes and difficulties, which I believe is the ideal goal of most entertainers.
I consider Jenner's decision to publicly share his journey of becoming a woman with the world as his most courageous feat yet. He is finally showing the world true reality and starring in his own life.