Bringing crafty back: Crafting for a Cause at DePaul gives back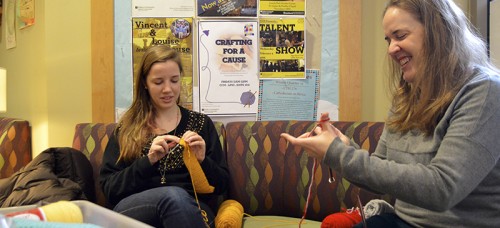 Creating new things with just two hands and some tools is a rarity for many college students. But Crafting for a Cause, a subgroup of the Catholic Campus Ministry, is trying to change that. The group consists of students and faculty who meet weekly to craft as a creative outlet as well as a way of giving back to the DePaul area.
With the brutal winter weather, some students are using the club as an opportunity to escape the monotony of winter as well as to  create homemade necessities.
"I enjoy making scarves," DePaul student Jessica Cook said. "A blanket is the biggest thing I've made,"
Knitting, sewing and using affordable products to create different crafts has become a lost art for students who typically rely on electronics or their friends to keep them entertained.
"(Crafting) really has become something that I find therapeutic," DePaul sophomore Julia Dourgarian said. "I've been knitting since I was young and it's always been enjoyable. I enjoy interacting with others, so this is a nice change of pace.
"My mother taught me how to knit and I really got into  (it)about three years ago. I don't have any friends who knit, but I make them scarves and other little stuff. They really enjoy them, so that makes me happy."
Not only do the students get to share their creations with friends, but they also get to help those who may be in dire need of something as simple as a scarf or blanket. The St. Vincent de Paul Center is a common destination for many of the less fortunate in the area and a lot of the crafts made by Crafting for a Cause are relayed through the organization to those in need.
Katie Sullivan, director of Crafting for a Cause, understands the significance of helping the less fortunate. "We've made a lot of stuff that we know is going to those who need it," she said. "There's also a Knitter for Critters program that we got involved with last fall that allows us to make sweaters and other smaller blankets for animals who may have been victims of animal cruelty."
Knitting is a hobby that has gone by the wayside over the last 10 or 15 years. Attention spans have shrunk and patience has suffered the consequences. Knitting, crocheting and creating different things by hand is rewarding to many, but why aren't others taking up the hobby?
"I think people just get lazy," Ryan Wilson, a student in the School of New Learning, said."I don't wear many scarves, but I do wear hats. I don't really have the time to sit and make a hat for myself though. It's cold here, obviously ­— and gets cold quick. I'd rather go buy a hat and be warmer quicker, than make my own and suffer for a few extra weeks."
This is the sentiment for some students at DePaul. They don't have time to learn how to knit, much less the time that it takes to actually knit or crochet something they can wear. Still, students interested in crafting should take advantage of the variety of supplies accessible in the city.
The North Side offers many shops with a decent mix of yarn and crafting. Paper Source on Southport Avenue has some decent options but is primarily a printing store. Blick Art Materials on Kingsbury Street offers crafting classes that are more theme-based. They currently are offering a class on Easter crafting that is about $30 per session and meets once a week. Jo-Ann Fabrics is the go-to for students who are regular knitters. Their closest location is on 2647 Elston Ave.
Knitting is certainly more of a traditional hobby, and will likely never become a popular activity among the college-aged crowd. However, there's a small contingent of patient and willing students, as well as faculty members that gain plenty from a handmade scarf, blanket or sweater.
Appreciating art and detail, creating something new and simultaneously giving back to the community is a feat Crafting for Change should be genuinely proud of.