Commentary: It's time for DePaul to move on from head coach Oliver Purnell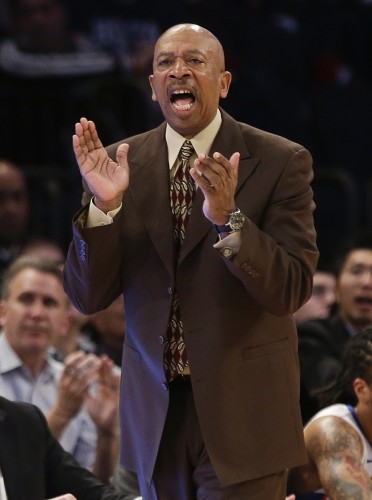 NEW YORK — DePaul guard Billy Garrett Jr. started talking, muttered the word disappointing and paused when asked about his first two years at DePaul following Wednesday's 78-63 loss to Creighton. Surely, Garrett never imagined that his second season would end on a worse note than his first.
Garrett didn't imagine ending the season by losing 11 of their last 12 games, including dropping eight straight. The Blue Demons weren't able to get out of the first round in the Big East tournament this year, a mark they reached last season when they upset Georgetown.
Garrett shook his head and started talking again.
"It's disappointing and you want to come in and help change the things around, but it's difficult," Garrett said. "You've got to live with the decisions you make, and I'm still going to try and help turn the program around. I've got a couple of years left so we'll see what happens."
Garrett's final two years can't be wasted. He made strides in some areas this season, but the former Big East Rookie of the Year ended the regular season in a slump. Garrett's jump shot never found consistency and didn't take as big of a jump as some people expected this season. He shot a more efficient 39 percent this season compared to 36 percent, but his point total slightly decreased from 12.4 points per game to 12.3.
For Garrett to make that jump, he needs a new voice.
And for DePaul to live up to Garrett and the rest of the team's expectations, head coach Oliver Purnell must be fired this offseason.
Fans are fed up with Purnell, who wrapped up his fifth year at DePaul with at least 20 losses in four of his five seasons.
However, it's more concerning that Purnell's coaching isn't getting the most out of his players and the Blue Demons ended the season looking hapless.
"I know I want to come back, because I want to continue to rebuild this program," Purnell said. "We've made some progress. But at the same time, I'm just like the fans — I'm not satisfied. I want to come back to finish the job. That's the way I feel about it."
Purnell, admittedly, made marginal strides this year. DePaul's six conference wins were their most since the 2006-07 season, and he seemed to sell his players on staying together after a shaky non-conference stretch to start 5-2 in the Big East. Purnell also seemed to make some ground recruiting locally, having nine players on the roster from the Chicago area.
But the rate of growth didn't stick, neither was it where it needed to be in year five of a rebuild. The Blue Demons resorted back to bad habits, and players like Myke Henry and Tommy Hamilton disappeared in some games after looking so good in others.
"We got away from what was working for us in the beginning," Garrett said. "We didn't get an identity, and that goes for offense and defense. We lost some grit and toughness. We let a 5-2 start (in the Big East) get to our head, and we didn't stay humble.
"We have to grow up as a team," Garrett said. "It's all hindsight now. Just go ahead and move forward."
Think of how much of a stark contrast that was to other Big East teams like Marquette and Creighton. While those two finished in the bottom of the conference, they finished the regular season strong and both added another wrinkle to help get them past the first round of the Big East tournament. For Creighton, it was establishing an inside game while Marquette adapted an effective 2-3 zone.
Meanwhile, Purnell's team did the opposite. The Blue Demons started the conference with a strong inside-out game, but that changed when teams figured DePaul out. Teams often relied upon a zone defense to disrupt the Demons' offense, and the sad thing was how predictable it would be each game. It resulted in DePaul passing the ball around the perimeter before hoisting up contested 3-pointers.
It created a down morale in the locker room, leading to a normally soft-spoken guy like Jamee Crockett to speak out about guys playing selfishly after Crockett's final home game on senior day against Butler.
"People had different agendas. People were just going 1-on-1 and trying to get theirs," Crockett said Feb. 28. "They were over aggressive and we turned the ball over. Like I said, good teams take advantage of stuff like that."
And that falls on Purnell. It's his job to keep DePaul focused and hold players accountable. Purnell kept experimenting to find the right players until the end, going back and forth with playing R.J. Curington and Darrick Wood.
Wood is another player who is seemingly frustrated with DePaul's situation. During the course of the season, Wood has gotten inconsistent minutes because of knee tendonitis and also because a lack of maturity. In the final game of the season at Marquette, Wood got in a verbal altercation with assistant coach Renard Phillips during a timeout and had to be separated. Marquette was Wood's fifth game of the year where he didn't see any action.
Wood also took to Twitter to vent about his situation in cryptic tweets, presumably about DePaul.
"Man, I got some shi*t I want to get off my chest!" Wood tweeted at 12:37 a.m. Thursday. DePaul's game against Creighton ended at 11:42 p.m.
Purnell is now 54-105 as DePaul's head coach, with only 15 conference wins to his name. He has two years left remaining on his contract on a hefty sum, earning $2.2 million per season.
It's unclear if DePaul Athletic Director Jean Lenti Ponsetto is willing to move on from Purnell after Ponsetto has supported him so strongly in the past. There's also the question if whether DePaul is willing to eat Purnell's contract and pay another head coach. A DePaul athletics spokesman said Ponsetto was unavailable to comment after the game.
Keeping Purnell would mean the athletic department is okay with the lack of progress being made. Attendance, per Crain's Chicago business, was up nearly 2,200 this season. Yet one has to wonder how many of those same people will come back after such a disastrous end to the season.
There is one legitimate risk, however, that could give DePaul pause from firing Purnell — potentially losing Garrett, by far and away DePaul's best player and also a factor in getting other recruits to come to DePaul. If Purnell and his entire staff are removed then that would include assistant Billy Garrett Sr., Garrett's father.
Asked if he was worried his father's job is in jeopardy, Garrett said, "It is what it is. We'll see. If he's here, he's here. If he's not, he's not. You have to live with all the decisions. We'll cross that bridge when we get to it."
Following up on that, I asked Garrett if he was likely to stick around if his father was fired.
"We'll see what happens," Garrett said. "We'll see what happens. We'll see. We've just got to look at everything and not rush to any decisions or anything like that. We'll see what happens."
If Garrett is thinking about leaving DePaul, then the athletic department must give him a reason to stay. They can do that while also finding a new coach. There's already precedent for having Garrett Sr. stay as he was kept on after Jerry Wainwright was fired in 2010.
But more importantly, Garrett needs to be convinced that it's worth sticking around even if his father isn't there. He needs to be sold that DePaul can win and advance his college basketball career.
The Blue Demons need a new head coach who can actually do that.
View Comments (6)