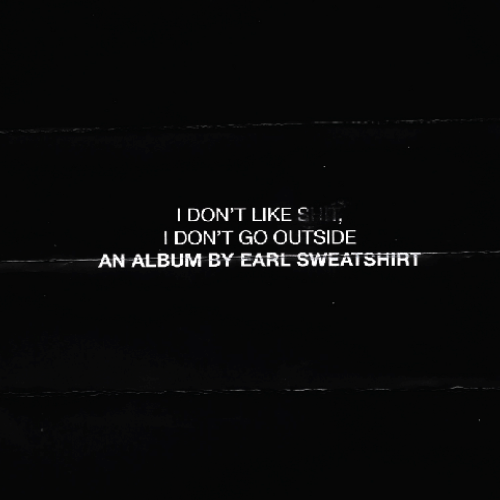 Odd Future member Earl Sweatshirt innovates the rap genre once more on his second studio album "I Don't Like S–, I Don't Go Outside." Appropriately titled for anyone who experienced the harsh effects of this past winter, the 21-year-old LA-based rapper completely ditches the faster flow found on previous records while still employing his aggressive delivery. Tracks on the album are similar, but sometimes strikingly varied in subject as they explore themes of isolation and existentialism. From Earl questioning his friends' loyalty to drowning his troubles with whiskey, there's a track on this album that everyone can relate to.
Earl released his first self-titled album, "EARL," for free back in 2010 and received much critical acclaim from several indie music blogs. The self-released mixtape included production and vocals from fellow Odd Future comrades Tyler, the Creator and Syd Tha Kid. "Doris", the 2013 follow up, received similar praise for it's production and edgy lyrical quality, solidifying Earl's position as a staple in alternative hip-hop.
Impressively, production for nine out of the 10 tracks on "I Don't Like S–, I Don't Go Outside" is credited to Earl under the alias "randomblackdude." Opening track "Huey" sets an eerie tone for how the following songs will sound. Here, Earl battles inner demons and critics alike through a slower, laid-back flow over a dull old school hip-hop beat that is almost sleep inducing. Earl is careful of this, as on the next track "Mantra" he becomes more alive and confrontational as he discusses things he's accumulated since becoming famous: money, respect and women. Conscious of his high-energy, "Mantra" could easily be the next underdog anthem and get the crowd roaring at Earl's live shows.
"Grief," the lead single from the album, shares the same sentiment in its ambient yet intriguing sound.  Earl opens up about making the record in isolation and breaking trust with close friends. The track also strikes a political nerve, as Earl details his efforts to avoid being yet another victim of police brutality by subtly referencing Michael Brown and Eric Garner. The visual for "Grief" is just as compelling with shots of Earl intertwined with ambiguous scenarios all coated with a negative color effect.
"I Don't Like S–, I Don't Go Outside" easily sets itself apart from other politically charged, self-aware records like Kendrick Lamar's "To Pimp A Butterfly" or Kanye West's "Yeezus." Earl provides a more straightforward and reflective account of someone gaining confidence and attempting to hide insecurities at the same time, which will ultimately resonate well with listeners.