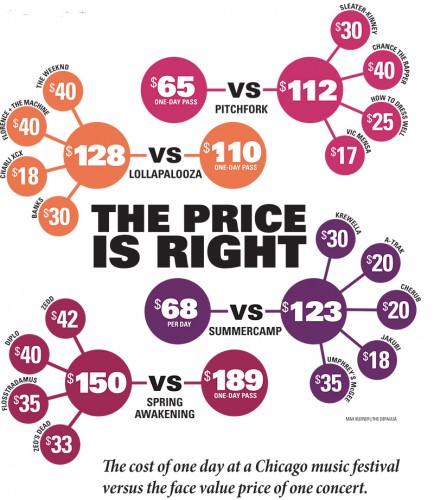 Spring is the season for transitioning. College seniors are gearing up for graduation, returning students are applying for that big name summer internship and others are just simply spending more time outdoors to soak up the beaming sun they missed dearly.
But for avid music-lovers in the city, warmer weather is generally a sign of something else approaching — festival season. Usually kicking off with Coachella in April, and ending during the late summer with festivals like Lollapalooza, the series of music festivals that take place during these months is guaranteed to attract publicity, die-hard fans who are prepared to dance non-stop for days on end and most importantly — lots of money.
It comes as no surprise that the costs of passes to these large-scale events will deplete bank accounts faster than a textbook. Still, however, many people remain concerned about whether the pricey cost of a general admission ticket to hundreds of bands in one weekend is worth the price.
Of course, the history of music festivals traces all the way back to the '60s. According to a report from Resident Advisor, music festivals began to increase in popularity from an elite, high-class event to a larger, more cultural showcase in which a mass of people could attend around the mid 2000s.
"Youth culture" in regards to forming and shaping one's identity in the realms of fashion, art and music became a new market that promoters could tap into. Essentially, older festivals like Woodstock inspired the popular music festivals of today like Austin City Limits.
Since then, music festivals have become much more than just seeing a favorite band play live. The experience of being surrounded by equally eager fans, an endless supply of alcohol and stations with various free swag create a climate of kinship and familiarity that some believe is priceless.
Jeremy Garcia, DePaul sophomore, already purchased his Lollapalooza passes for this year's festival. He enjoys being outside in larger crowds, as opposed to being crammed in smaller venues.
"I'm really excited because it's my second year going," Garcia said. "There's so much to do and always something going on, so I think it's totally worth it. It's just an overall really fun atmosphere."
Despite the hundreds of thousands of attendees these festivals draw in every year, some remain skeptical about investing in a pass, like Katy Guzman. Like many others, Guzman has always been unconvinced of spending hundreds just to see a couple of acts on the bill. 
"It just doesn't seem worth it," Guzman, a DePaul junior, said. "Plus the smaller venues tend to produce more intimate shows. I can actually feel a connection with the band." 
The benefits of hosting a large-scale music festival cannot be ignored, however. For larger cities like Chicago that have lower-income neighborhoods, music festivals are a chance to boost the city's local economy by increasing tourism.
Looking forward, as festival numbers continue to increase, they may soon become the primary attraction for live music.