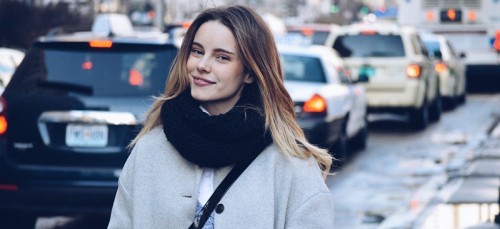 With the chilling effects of winter slowly coming to an end, any hint of warm weather is enough to draw people out of their homes. Although June through August is reported to be the best time to visit Chicago, Michigan Avenue is bustling on this particular sunny March afternoon with tourists strapped with DSLRs and selfie sticks.
Singer Cynthia Nabozny, who performs as CYN, sits poised on a bench tucked away in the lobby of the museum, unbothered by the frantic crowd scattered around her. Small in stature in a brown cape-like jacket, slim jeans and a thick black scarf, she executes the look of a sophisticated artist, which is seemingly appropriate for the setting. Turned off by the increasing noise level, she suggests going to an alternative location.
"Do you want to go for a walk?" she asked, calmly flashing a smile. "It's so nice outside." Getting over a cold, she has a desire to be out in the sun.
Stepping in puddles from the aftermath of melting snow, we walk south in search of a more quiet space. Walking through the park and over a bridge that leads to the museum's gift shop, she notices an empty patio area nearby and we immediately claim a table. Though looking up at the skyscrapers might cause her to blend in with the surrounding tourists, Nabozny has been familiar with the view for about three years since first moving to city.
The 21-year-old Detroit-born singer says she relocated primarily for college. But aside from studying at DePaul, Nabozny has also used the city as a muse for her music. She began experimenting with vocals and music software during seventh grade and has since then continued to refine her production skills with more complex editing methods.
"It was just something I did for fun with my friends," Nabozny said. "It got a little bit more serious when I reached out to producers, but it's all happening slowly."
Drawing inspiration from personal experiences like transitioning into adulthood and blossoming relationships, Nabozny's music is reflective and extremely self-aware. Lyrically, she strives to keep a strong sense of honesty present in all of her songs.
"I try to express myself in a true and accurate way, but not an obvious way," she said confidently while putting her hand above her face to block out the sun. "I can think of one line and an entire song is written. I always carry a notebook on me."
Capitalizing on those spontaneous thoughts was how her first EP came about. Released on SoundCloud last year, the self-titled five-track project demonstrates Nabozny at her most expressive with a sound so unique it makes comparing her to other internet-based acts impossible. The EP was successful as it generated praise-filled comments from producers all the while racking up thousands of streams, with the last track "We Don't Try" impressively gaining over 208,000 plays. Because of this, she remains optimistic about the Internet as a landscape of opportunities for emerging artists.
"I owe everything to the Internet," she said. "Even though there are so many other people doing what I'm doing, it's such a powerful tool to make myself an individual. I can't help but use it to be expressive."
Jeremy Schettino, California-based producer by the moniker JERMS, messaged Nabozny via SoundCloud in hopes of creating a remix of her track "The Only Lo Lo Lo." Communication then shifted to email where the two exchanged numbers, and then once more to text messages.
"I started making music around her voice and slowly it began to come together," Schettino said. "It was a great experience for me because it was my first time working with a vocalist. It was also interesting because we're 3,000 miles away from one another."
Though technology has helped artists at a distance collaborate, lack of face-to-face communication leaves room for messages to be misconstrued.  Nabozny believes that this is one of the bigger challenges she faces as an artist that relies on the Internet heavily for her work.
"Sometimes if I write something and send it to somebody, they will tell me they don't like certain lines," Nabozny said. "If you're doing a collaboration, you have to realize that's it's a shared vision."
Despite those minor struggles, Nabozny remains persistent with her goal to make music that is relatable to people like her.
"I want other young women to relate to my songs," she said after pausing briefly to reflect. "I want to be a voice for young adults in general."
Unexpectedly, a security guard interrupts our conversation by reprimanding us for trespassing and demands we move. Rather than become upset, Nabozny giggles and relocates to a ledge with the sun beaming down on her face once more. With plans to travel abroad and begin performing live shows next year, Nabozny's optimism and diligence show no signs of wearing thin, making 2016 look extremely promising.