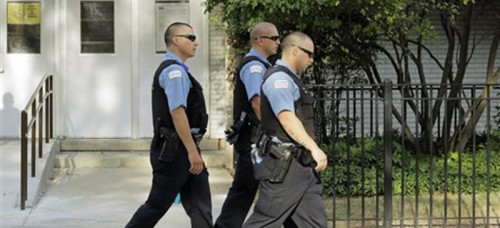 As instances of police brutality and crime continue across the nation, Chicago is forced to look at its own crime problem and whether the policies of newly re-elected Mayor Rahm Emanuel will prove effective or stoke the gathering flames. 
Chicago has been known as one of the most crime-ridden cities in the nation since the days of Al Capone. Today, there are varying estimates of how bad crime really is.
There were 30 percent more murders reported in the first three months of 2015 than the first three in 2014, according to the Chicago Sun-Times,
WGN-TV reported there were 26 percent more homicides in the first three months of 2015 than in the first four of 2014. They also reported that police found 1,500 illegal weapons so far in 2015, a 22 percent increase from 2014.
The crime issue, however, is not just one of civilians breaking the law; it involves the conduct of police officers.
In Chicago, prosecutors began the trial for white police officer Dante Servin Thursday of shooting and killing unarmed black woman Rekia Boyd in 2012.
In South Carolina a video recording showed a white police officer who shot and killed an unarmed black man running in the opposite direction, which was released by the New York Times on April 8. Another white officer shot and killed an unarmed black man in Wisconsin in March. Recent memory will also recall the killings of Eric Gardner and Michael Brown.
Considering the recent attention towards crime and brutality, both Mayor Rahm Emanuel and Jesus "Chuy" Garcia promoted policies during the 2015 mayoral election to prevent crime in Chicago.
Emanuel said that he would combat crime and gun violence by moving police officers from their desks to the patrol car, expanding prevention programs such as one that offers jobs to students on break, and stopping the flow of illegal guns.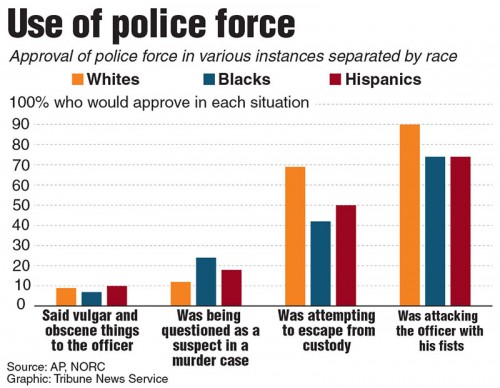 Garcia, meanwhile, said that he would reduce gang and gun violence by hiring an additional 1,000 police officers and forging better police-community relations.
Emanuel originally advocated hiring an additional 1,000 police officers during his 2010 mayoral election but never went through with the policy. His inability to do so could be attributed to the lack of funds necessary.
It's estimated that costs to hire, train and sustain one officer for an entire year is about $100,000, according to the Chicago Sun-Times. To hire, train, and sustain 1,000 officers, $100 million is required.
Since abandoning his former police-hiring policy, Emanuel has instead paid police officers to work overtime in order to patrol areas that would otherwise require more officers. In 2014, $95 million were spent to pay overtime for officers, according to Chicago Magazine.
Emanuel's reasoning is that it's cheaper to pay officers to work overtime than to hire new ones. However, as officers work longer hours, the quality of their work may decrease. 
Garcia, in support of his own platform, advocated cutting $75 million from money spent on overtime and instead hiring new officers. Where the additional funds would have come from remains unknown.
Either way, both Emanuel and Garcia said they wanted more police officers on the streets. The argument is that with more officers on patrol, it is more likely they will spot a crime and stop it. Additionally, if civilians know that there are more officers on patrol, they would be less inclined to commit a crime.
Yet, there could be drastic flaws in the policy itself.
"They want more cops, but all that means is that they're going to find more crimes," William Sampson, a public policy professor at DePaul, said. "If you have no cops, there's no crime."
Policy makers are probably aware of this themselves, but they need something to show in order to be elected. 
"The politicians need a tag line," Michael Bennett, a sociology professor at DePaul University, said. "They need something that they think the public will perceive as addressing the issue. The truth is that it is a much more complex issue."
People who commit crimes are often in poverty, lacking an adequate job to support themselves, an education to get an adequate job or a supportive network of family and friends to help out and watch their kids.
Crime is further linked with race. Chicago's poorest neighborhoods are almost always home to African-Americans and Latinos — who are the most widely arrested for committing crime. 
According to a 2012 study by the Chicago Reader, the poorest neighborhoods in Chicago — Riverdale, Fuller Park, Englewood, and West and East Garfield Park — have populations that are 40 to 61 percent impoverished and 93 to 98 percent African-American. Their homicide rate ranges from 36 to 63 per 100,000 residents.
People who live in these areas often have little choice in the matter.
"You got two alternatives," Sampson said. "You can either work at McDonalds, or you got to go to college. Or, you hit somebody in the head and take their cellphone. Now, which is easiest?"
Solving structural poverty to prevent crime in Chicago is a challenge no politician has yet to take on wholeheartedly; however, politicians elsewhere are trying to solve crime of a different sort — police brutality.
One potential solution that the Obama administration advocates is the use of body cameras on police officers. If an officer knows he is being watched, supposedly he will act within the law in fear of being held accountable. Furthermore, video records of officers' actions could prove useful to find out what happened during particular situations.
Although it is a relatively new policy, many cities are experimenting with police camera technology.
In Chicago, police officers in the 14th District have tested body cameras, according to the Chicago Tribune. While officers said the cameras do not solve the underlining issues of crime, they are helpful in figuring out what happened during a particular encounter, as cell phones did during the killing in South Carolina.
The mayor of the South Carolina city where the killing happened ordered 250 body cameras on Wednesday for police officers to wear after an appropriate policy is created and officers are trained to use the technology.
In Wisconsin a similar policy is pending approval, where $30,000 will be used to fund the study of body cameras' effectiveness. It is estimated that the cost to equip 335 police officers with body cameras is approximately $900,000. 
If Chicago cannot afford to hire 1,000 police officers, it is unclear how the city could purchase enough body cameras for the current police force.
Another solution to address police brutality is to amend the selection process that decides who becomes a police officer and who doesn't.
"The main issue is the selection process," Bennett said. Many police departments "have reduced and sometimes eliminated the psychological exams. At one point it was mandatory in most police forces."
When police officers know how to use weapons or patrol, but don't necessarily know how to build good relations with residents, problems can occur.
"The bottom line is that there are (police officers) who ought not to be carrying weapons," said Bennett.
"The folks who are committing street crime don't have a future," Sampson said. "We got to give them one. We don't know how. We are not willing to spend the money to do it."