Raising funds and awareness for cancer across DePaul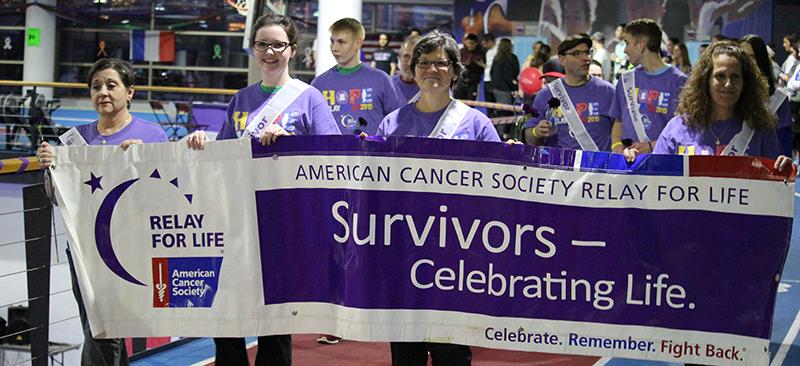 Two organizations, hundreds of students and tens of thousands of dollars for one cause: ending cancer.
Whether it's knowing a friend or family member that has or is affected by cancer, hundreds of DePaul students unite every year to take on new fundraising challenges towards curing the disease. Last week Demonthon's 24-hour fundraiser that aimed at raising $24,000 actually raised more than $36,000, while DePaul's Colleges Against Cancer, CAC,  raised more than $40,000 for their annual highlight event, Relay for Life.
To explain why they did it — why they stood on street corners, overcoming fears of asking strangers for money; why they sent countless emails asking for donations and then stayed up through the night to walk around a track — students said it was because everyone, in some way is affected by cancer. 
DePaul sophomore Alexa Ohm's parents led the opening lap around
the indoor track last Friday at CAC's Relay for Life event. Ohm's mom, Maria, was diagnosed with breast cancer two and a half years ago and was Ohm's inspiration to join CAC.
"I'm not the only person who knows somebody who has cancer," Ohm said. "It's about helping the greater good. So even though I'm personally affected by it, I've been lucky enough to say that (my mom) is a survivor. There are other people who can't say the same and they're still fighting the fight against cancer."
DePaul junior Kathleen Ashenden has a grandfather, a grandmother, an aunt, a classmate and a friend whose lives have been affected by cancer. She walked the track at Relay for Life and said, "I think it's really important to have events like this because it raises awareness and it gives us a chance to try to end a disease that has affected so many lives and so many families."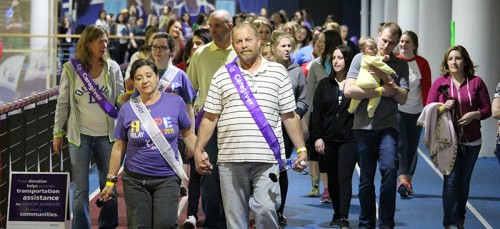 DePaul's Relay for Life donates its proceeds to the American Cancer Society, which uses money to fund patient care and programs like transportation for patients to and from doctor appointments. Maria Ohm said the most important contribution goes towards research.
"I think they're really close to figuring it (a cure) out. They need a little bit more (time and funds), and (cancer) may be something of the past," Ohm said.   
Both DePaul and Loyola University at Chicago's Relay for Life events raised significant amounts of money compared to the University of Chicago and Illinois Institute for Technology, which raised just over $8,000 combined. With 912 participants, Loyola raised more than $75,000, while DePaul raised more than $35,000 with only 382 participants.
For Demonthon dancers, or participants, raising the funds for the Ann & Robert H. Laurie Children's Hospital of Chicago is easier when so many people in the community have used it.
"Every time I go canning I meet three people that either work at the hospital, have been to the hospital or have someone who goes there," Sadie Brown, fundraising coordinator for Demonthon, said. Canning, or asking for random donations on the street, is one of the creative ways the organization has devised for students to fundraise.
Last Monday marked the beginning of Demonthon's dancer appreciation week, which Brown said was "to motivate (dancers) and show them how much we appreciate the work they do. They have only a couple weeks to raise $250 and that can seem so daunting. So it's us saying we're here for (them)," Brown said. "Once they leave every event they just want to raise more money."
Only four years old, Demonthon is ranked 17th of the 270 Dance Marathons around the country that donate funds to Children's Miracle Network Hospitals. DePaul's group raised $103,700 in its first year, setting a record for the highest amount raised by a first-year Dance Marathon group. Last year they doubled that first total, raising more than $214,000, and altogether Demonthon has raised more than $468,000 for the Lurie Children's Hospital.
"Some people are not used to donating and some people are not used to fundraising," DePaul junior Karli Bahner said. To warm people up to donating, she said using phrases like "donate a little change to make change" helps.
"It took awhile for me to be comfortable asking people to donate. You have to not feel guilty asking people for money and for receiving money," Bahner said.
Freshman Lindsie Bliss spent three hours on Sheffield and Fullerton avenues canning. She said the collection of bills and change in the bottom quarter of her clear jug likely amounted to $50.
"It really adds up," Brown said. "This weekend I went canning. I was out for two hours and people gave me dollars and pennies. I ended up with $190 in two hours."
After all the work campaigning and putting on events like the 24-hour fundraiser, Brown said it is the Demonthon event itself that makes the hard work pay off. At the Demonthon event, dancers get to spend the night interacting with children who visit from the hospital.
"They just inspire me so much," Brown said. "Other people, they have siblings that have had cancer, family members, friends, and people who work at the hospital."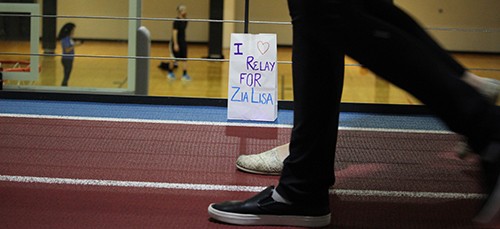 Four hours into Relay for Life last Friday, all the participants set down their footballs and pizza, and silently filed onto the upstairs track. The lights dimmed and participants walked past illuminated, white paper bags dedicated to survivors or victims of cancer.
"The whole reason we're (at Relay for Life) is to remember and honor those who have fought their battle," MacKenzie Parker, president of CAC, said. "It brings everyone together and you remember why you're walking."
"To be a survivor, I take a different look at life now," Maria Ohm said. "The little things don't bother me anymore because I've overcome the biggest thing."
DePaul junior Teagan Reid was diagnosed with leukemia first when she was five and again when she was eight. She raised the most money from DePaul this year at $1,320 and said she wants to work at a non-profit for public health advocacy.
"(Relay for Life) is a really great event because it acknowledges that we are survivors, but it also remembers those that have lost their battle with cancer. It also fights for future people that get diagnosed," Reid said. "Being a good friend or family member to that person is really important if they're going through that battle. They just need that support."
Reid said she doesn't remember the hard parts of having cancer since she was so young. Her mother, Maura Reid, said she certainly remembers.
"It was an absolute shock the first time. She had been sick for a long time," Maura Reid said. "When she relapsed (in 2001) that was a shock."
"You always have to act like you have hope and the future is going to be bright. There were those times, I gotta tell ya, when it was really scary for us. But then we're so excited for these kinds of events," Maura Reid said. 
"(Relay for Life) is a great event. Even just walking that track and everyone clapping. Every year I get goosebumps and I get teary-eyed. It's just such a great community event," Maura Reid said. "I would really suggest everyone experience this one time."