Caroline Vickrey concedes 43rd Ward aldermanic race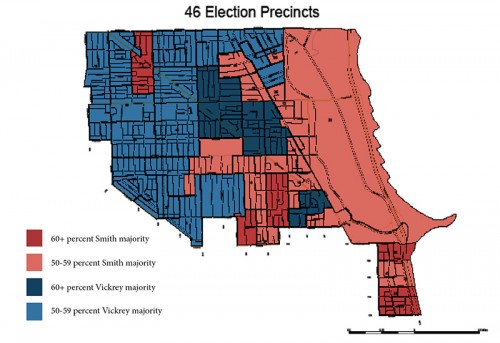 Ald. Michele Smith declared victory Tuesday in the race for 43rd Ward alderman after challenger Caroline Vickrey conceded earlier in the day, a week after the polls closed.
The race was one of the closest in the city with Vickrey initially leading Smith by six votes after all precincts were counted last week. Smith retook the lead, however, and has since expanded on that lead once absentee votes started trickling in. Smith currently leads by 86 votes out of more than 14,000 cast. 
"We are proud to report my re-election as your Alderman for the next four years," Smith said in an email to supporters. "While this has been a hard fought campaign, all of us, whoever we voted for, care deeply about the future of our community."
Vickrey conceded earlier in the day in an email to supporters acknowledging that while ballots will be counted up until April 21, the margin is too much to overcome.
"We could drag this out for another week, demand a recount and file a formal challenge — and many of you have urged me to do so — but I do not believe this is in the best interest of our ward," Vickreysaid. "For this reason, I am today ending my campaign for alderman of the 43rd Ward."
The race had divided the ward as issues such as the redevelopment of Children's Memorial Hospital and the construction of the Lincoln School annex led to heated debate in a ward known for it's close races.
This was Smith's third straight runoff, losing the first time in 2007 to then-incumbent Vi Daley and winning by a couple hundred votes in 2011 against Tim Egan. 
The race became personal at times with Smith accusing Vickrey of tax fraud and Vickrey suggesting that Smith was circumventing campaign finance laws through the compensation she received for consulting work she did with a supporter's arts foundation. Smith struck a conciliatory tone in declaring victory, however.
"I'd like to thank Caroline Vickrey for her passion and hard work," Smith said. "She has been a committed community member for over twenty years, and she ran a strong campaign. We look forward to working with her for the betterment of our community."
Before the election, Vickrey indicated that despite the things that were said during the campaign, she would be willing to work with the alderman for the good of the ward.
"I plan to continue my work in the community, working to improve it and make it the best place it can be and I'll always do that," Vickrey said. 
Smith will begin her second term next month.