DePaul senior, Syracuse graduate place first at Launch DePaul awards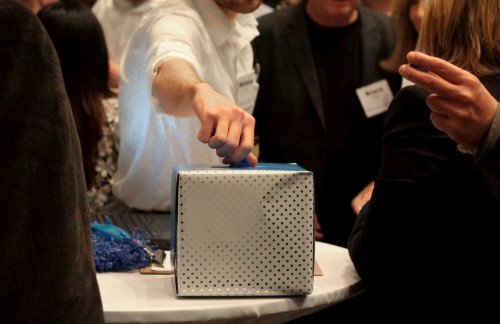 Joseph Prosnitz and Elizabeth Hakimi knew each other for 10 years before becoming business partners.  Innovation, and the belief that one crazy idea just might work, eventually brought them to center stage Tuesday to receive the first place prize at the Coleman Entrepreneurship Center's Launch DePaul awards. 
"I've always wanted to hold a big check," DePaul senior and psychology major Hakimi said, smiling as she posed for a photo while hugging the giant piece of cardboard worth $4,000.
The duo joined five other finalists divided into graduate and undergraduate groups. By making it to the final round, each group was guaranteed a cash prize, but not before they tried to convince the panel of judges they were worth the $4,000 first place prize and win over the audience for the $1,000 people's choice award.
"I dragged her into it," Syracuse University graduate Prosnitz said.
Hakimi's brother and Prosnitz were friends in high school, and when he started brainstorming ideas with business potential, he recruited Hakimi to help with branding and marketing.
Before winning both first place for undergraduates and the people's choice award, Hakimi and Prosnitz had 90 seconds to pitch their company to the judges and had six minutes to answer questions about their plans going forward.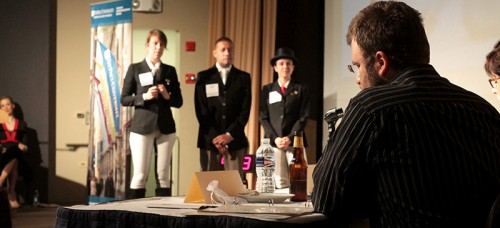 Their big idea was UpRide, a service that converts normal bicycles into stationary or mobile ellipticals. It's not as expensive as standard exercise equipment and it's considerate of people who need low-impact exercise. They called it BYOB, short for "bring your own bike."
"We both have medical issues that make it hard for us to run and do traditional aerobic exercise. So I think we believe in the product," Hakimi said.
But she said the competition was tough, so the team couldn't be too sure about winning the prize.
One of their competitors who placed in second place for undergraduates was AxeCrate, a company started by DePaul senior Ryan Siepka and his high school friend Jesse Aquino. Their love for guitars led to a campaign to recruit followers on Instagram, which then led to their big idea: offering followers monthly shipments of guitar goodie boxes, filled with different accessories every month like picks, strings, and other equipment.
After beginning sales in January, AxeCrate increased their Instagram following to more than 22,600 and ships their "crates" to an average of 50 customers a month. So far they have made $3,500 in profit and want to begin offering subscriptions rather than their current pay-per-month service.
"I come from a family of entrepreneurs," Siepka said.
His partner, Aquino, did not go to college because he wanted to pursue his own business instead. It was after he worked for other people that Aquino decided he wanted to work for himself.
"I wanted to know too much. I tried to find out what was going on and got fired because of it," Aquino said.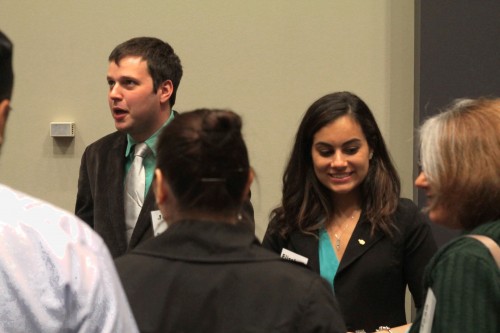 One of the benefits to the award ceremony was not only for students to sell their ideas to potential investors, but also to learn about other million-dollar ideas.
After watching the award ceremony, Prosnitz said, "We think the equestrian thing could be really huge."
He was referring to Horse Pilates, a company that caught many attendees by surprise.
"We're not the target demographic at all, but when they actually started talking about the numbers, I was more impressed by them than any other group, including ourselves. I never thought (horse Pilates) was a thing, and now I think they're gonna make a lot of money doing that," Prosnitz said. "I want to give a shout out to them. I was very impressed."
Nicole "Sue" Susenburger is a graduate student from Germany in DePaul's business communication program and CEO of Horse Pilates with Luis Sanchez and Allie Kuopus.
Upon receiving first place at the graduate level, Susenburger pranced on stage hugging her teammates in riding pants and boots.
Certified as an equestrian trainer in Germany and with 15 years of experience under her belt, Susenburger conceived the idea of a website offering e-courses to other horse trainers in the U.S. while also selling a side rein workout rope for horses. After serious market research, her team found there was a high demand for webinars and in-person clinics for horse cross training.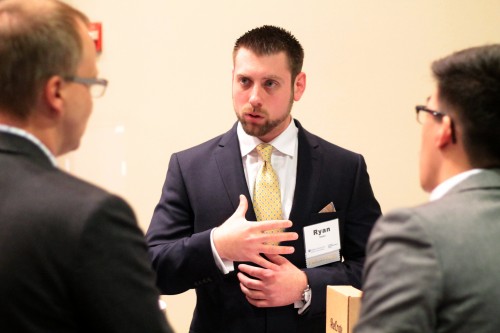 When asked what the team would do with the $4,000 prize, Susenburger said they would rent office space in a start-up incubator and hire a video editor to professionally edit the footage of their videos.
"I'm super overwhelmed," Susenburger said after winning the award. "So many months of work went into this and we're super, super happy."
Despite being dragged into a crazy business idea, Hakimi said she's going to stick with it after graduation.
"I think it's gonna be really successful," Hakimi said.