Online overload: Too much screen and social media time may call for a detox
Hang on for a minute...we're trying to find some more stories you might like.
Some quiver at the thought of spending an entire hour without checking social media or using your phone to send calls and texts. No snaps would be sent, Instagram pictures would go "unliked" and tweets would never be retweeted. Your phone would not ping with various notifications and your mom would not be able to call and question you about your grades and those errant charges on the credit card bill.
For one hour you would be clueless to the lives and activities of your friends and favorite celebrities. For 60 minutes you would be unable to make known what you were doing and where you were. You could spend an hour doing whatever you want to do without shame or pressure to broadcast the activity. Now imagine doing this for an entire day. If this sounds like your idea of paradise, then you may want to try a technology detox.
Michelle Duff, a 22-year-old senior at Johns Hopkins University in Baltimore, has eliminated the use of personal social media from her daily life. She still uses her cell phone to communicate with friends and family and her computer for schoolwork, but she finds that abstaining from social media has saved her headspace from the anxiety of the media social contract of constant check-ins and outdoing one another in photographed activities.
"I was getting cluster headaches," Duff said. "I was always on my phone looking at what other people were doing. It was to the point where I would take an hour to choose an Instagram filter. Ridiculous."
Duff quit social media cold turkey by deleting all the apps on her phone and blocking Facebook on her computer with an online blocking app.
"It was really hard but it was worth it," she said. "A week in I was like wow … I felt so much calmer. I had more time for myself. I was actually getting stuff done on time. It's actually so great. I'm trying to get all my friends to let go of all that stuff. It's so toxic."
DePaul senior Henri LeMeur, 22, felt deleting his Facebook for a short amount of time relieved him from the stress of seeing constant life updates from friends of friends, acquaintances and people that he had maybe met years ago at a bar once but wasn't quite sure about.
"It was hard at first, but at the same time it got really easy" LeMeur said. "I deleted (Facebook) for three months. It was nice actually to break the ties from someone you didn't really know or care about's life updates."
If deleting all of your social media apps and blocking Facebook on your computer seems extreme, consider the more nuanced approach taken by Rachel Strum.
Strum, a senior at Lincoln Park High School, found that deleting the Facebook app from her phone and turning her phone off two hours before bed gave her a healthier attitude in the morning.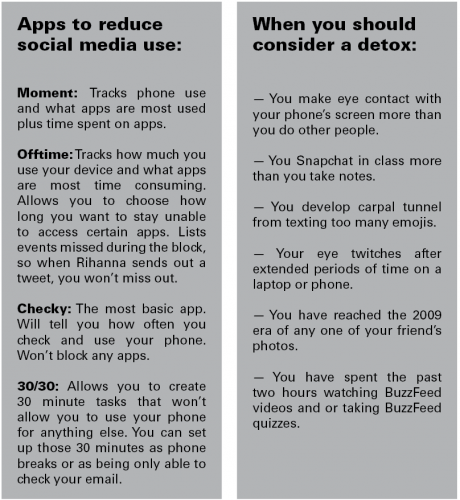 "I would check my phone before I went to sleep and the lights would be off but I would be scrolling through my newsfeed so I would stay up later," she said.
Strum said turning off her phone two hours before bed gives her time to text friends after school but also gives her the opportunity to power down for the night before going to sleep. Strum described social media as being "addictive, like a drug."
"When I'm with my friends, there is always that moment when we stop talking and all check our phones. I don't do that anymore. I think it's so rude. I call my friends out on it all the time. If we are together, I want everyone to want to be there."
In 2010, the Kaiser Family Foundation ran a national survey regarding children, teens and their time spent using smartphones and the Internet. In their findings they reported that within that age group, roughly two full days were spent devoted to technology.
The report stated that, "Today, 8-to 18-year-olds devote an average of 7 hours and 38 minutes to using entertainment media across a typical day (more than 53 hours a week). And because they spend so much of that time 'media multitasking,', they actually manage to pack a total of 10 hours and 45 minutes worth of media content in to that time."
But how much is too much time spent on your phone? Luckily, there's an app for that. Although it may seem a bit counterintuitive to spend time on your phone to monitor how often you use it, there are now apps for Android and iPhone that send users endless push notifications when an acceptable amount of time spent on the device has been surpassed. Apps like Moment and Break Free are made to help alleviate smart nphone addiction by tracking the time you waste on social media, texting and email.
If you cannot bear to be without your device for extended periods of time, try exercising. Yoga instructor Jenny Lester believes spending time away from your phone during a workout to move your body, focus your mind and center yourself can be just as beneficial as spending hours away from your device.
"You can't be mindful of what is going on in your body if you're distracting yourself with the phone," Lester said. "Taking the time to focus and meditate may make you not want to use your phone; it may help you realize other things that you can do"
Consider putting the phone away and not using apps for an hour, a day or even a week if you can stand it. The benefits of waking up refreshed, accomplishing tasks on time and feeling focused definitely outweigh liking a status.