Theatre School students illuminate church for DePaul Light Project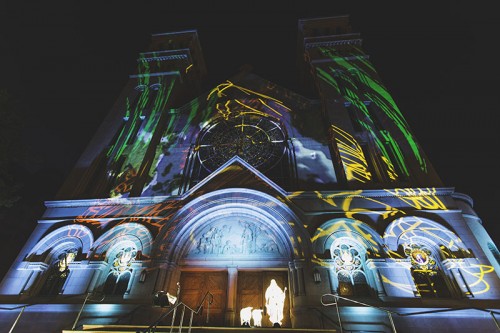 Like a crowd gathering for fireworks, neighbors, alumni and students watched light displays dance across the stone face of the St. Vincent de Paul Parish Thursday at the premiere event of the Theatre School's DePaul Light Project. Four two-minute shows designed by teams of lighting design students were inspired by local and historic artists under the guidance of Theatre School alumnus and professional lighting consultant, Paul Gregory.    
Gregory, who owns Focus Lighting, an architectural lighting firm in New York City, returned to his alma mater in October to mentor students in illuminating a building as large and detailed as the St. Vincent de Paul Parish. After an initial workshop with Gregory in architectural illumination and periodic Skype sessions throughout the year, students finally saw their projects come to light Thursday night after a rain delay on Wednesday.
"They picked an artist that would find the architecture of the building interesting, then they kind of developed a story that this artist would tell in light," Christine Binder, head of lighting design at the Theatre School, said. "It's really been in the last month and a half that this has come together."   
"It's really nice getting to the actual project after working for so long," sophomore Mattias Lange-McPherson said. "My favorite part was the layering that we did. I think it really looked like the artists' original paintings. We met with the artist today and she said she really liked what we did with the image."
Lange-McPherson's team project was modeled after the work by Mary Ann Papanek-Miller, a current faculty member and Department Chair of Art, Media and Design. Other artists included Leonid Afremov, AJ LaGasse and Vincent van Gogh.    
In the van Gogh group was sophomore Ricky Latshaw, who said the hardest part about the project was working with so many other lighting designers, when in a typical show there is one lighting and one technical designer. 
Also difficult was setting it up and tearing it down the week of the show. It was the first time any of them could see what their months of work would look like. 
"We really didn't get to see what it would actually look like until last night," Latshaw said. "But we're kind of used to that (uncertainty) working in theatre. You have all these concepts and plans and then you don't really know what it is going to look like until you get there. Then you just have to work with what you got."   
"We had some last minute changes to make it run smoothly," Jack Riley from the Leonid Afremov group said. "(But)it went absolutely fantastically."