Ashley Holden reflects on end of track career at DePaul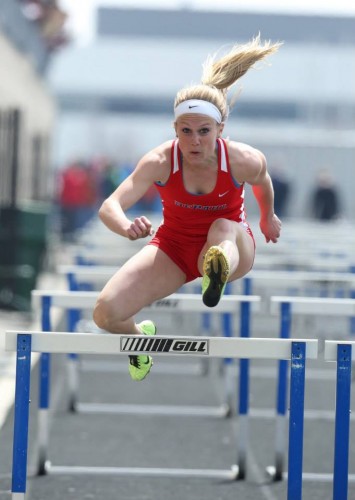 "Holden up," said the official standing next to the long jump pit at Villanova University. I stepped on the runway, digging the spikes on my jumping shoes into the ridges of the track as I found my beginning mark. This was it, my third and last jump in the finals of the Big East Championship meet. However, this jump wasn't just my last jump of the meet, this was the final jump of my track career.
Ever since high school my life has revolved around the sport of track and field. I ran cross country in the fall, indoor and outdoor track for my high school in Greenville, Illinois, and finally summer track with the East St. Louis Railers club team. Plenty of time and sacrifice went into planning and training for meets.
This dedication only increased as I moved from high school to college athletics. Every aspect of my life revolved around track practice, meetings, and team events. While regular students were out having fun, my teammates and I were participating in hard workouts and meets. I dedicated my time to running and going to school for four years. As a senior it was odd thinking about becoming a retired athlete after the Big East conference meet.
As I approached the Big East Championship this year as a senior, I began to feel even more excitement about stepping on the track to compete in long jump and my other two events, 100 and 400 meter hurdles. With every step in the process of getting ready for the meet; the team warm ups, the drills prior to my events and the last time I got in the blocks on the day of finals, all I wanted was to put everything that I had into my races. I wanted to perform well, not just for me, but also for all the people that helped me. I wanted to do my best for my teammates that supported me from day one and my coaches that believed in me even through the hard times. Finally, and most importantly, I wanted to put my all into my races for my dad who had coached me throughout high school and put in extra time to make my dreams of being a Division I athlete come true.
Stepping onto the runway for that final jump I was blinking back tears. With my parents watching from the stands, my coach standing next to the pit and my teammates eyes on me, I sprinted toward the white board looming in the distance. As I pushed off the board and flew through the air, I could tell that this jump was a successful one. I climbed out of the sand pit and waited to hear the distance. "5.59 meters!" The officials yelled and I burst into tears, my jump was a new personal best. This jump also earned me the fourth place position in the event.
As I cried and walked away from the pit for the last time, I felt sad but mostly happy because I could see all the smiles of my supporters surrounding me. My parents ran and hugged me and my teammates clapped as my fellow teammate, MaShayla Kirksy, the champion in the event, and I walked off of the track. It is moments such as this that I will remember for the rest of my life, but these memories are not the only aspects of athletics that I will carry into my life as I leave DePaul.
Throughout the good and the bad in my life my teammates and fellow DePaul athletes were there for me. Because of this, I found not friends, but formed a family bond with all of the athletes at DePaul. These bonds were especially strong with my teammates as we traveled together, won together and struggled together.  Being a track athlete gave me a family to turn to and I know that wherever I go next, my family will always be there for me.
In addition to these special relationships, being a long-term athlete taught me how to stay tough and work hard through any type of obstacle. There were times throughout my career, even in my senior year of college, where I wanted to quit. Track is a brutal sport based on performing all out at the right time.  Knowing that you are going to feel the pain of lactic acid in your legs as you round the last curve on the track or knowing that there is always a potential of falling over a hurdle is hard. However, the feeling of flying into the pit or successfully crossing the finish line kept me pushing for more.
As I now find myself as a retired athlete, I have realized that these lessons are the reason why athletics are so important. Through my struggles in track, I am now prepared to tackle the next adventure in my life with little fear. I know that I will probably fail at least once during my career or in my personal life, but I will have the strength to push through anything life has to throw at me. Even though track may be over, the toughness and strength that I found through running will always be within me.