Composing the future: Journeys of three DePaul musicians as they prepare for graduation
Editor's note: This is the last article in a three-part series following three seniors in the School of Music. Read part 1 here, and part 2 here.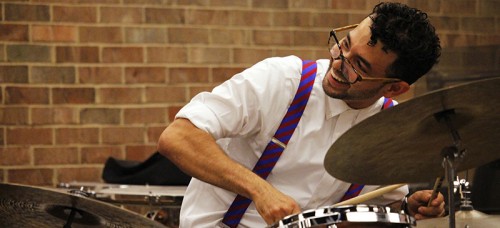 Too often, college is about looking forward. There's the meticulously planning of classes for next quarter, studying for finals next week, gathering friends for a Friday get-together and applying for summer internships. Then rinse, repeat and recycle the process a few times. Shake up the friends, apply a little extra pressure and blink — and suddenly, it's graduation. And a lot has changed, both personally and professionally.
"When you get into college, you're not thinking, 'okay, what am I going to be like, and who is the person I'm going to be in four years?'" jazz percussionist Zach Yanez said. "It just happens."
For Yanez, along with vocalist Christine Roberts and violinist Katherine Baloff, college has been both long and short, tangled with occasional growth spurts and pains. Though their May senior recital is a culmination and celebration of their work at DePaul, the climax of their musical careers is yet to come.
With his father and instructor seated in the back, Yanez lurched behind his kit, his lines of drum claps mingling with noodling lines created by a bassist, guitarist, pianist and horn player. They're now his friends, colleagues and allies — fellow School of Music students often are asked to perform during one another's recitals — and it won't be easy to say goodbye as they all forge paths across the country. Yanez is likely headed back to his hometown in Austin, Texas mid-summer.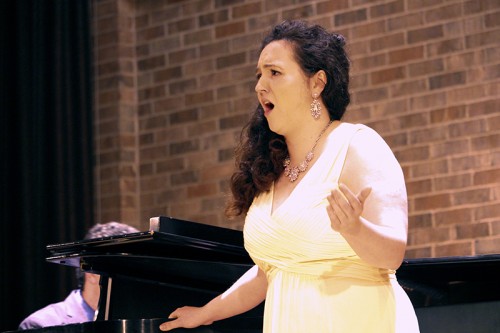 "I'm trying to absorb as much as I can — with my friends and the city — and just be around people I love as much as possible because we're all going to split," he said. "Which is cool that I have those connections forever and ever and ever, but I'll miss them. Because it is personal — it's a really personal experience."
A month ago, Roberts thought she wasn't going to be leaving Chicago, but a scholarship offer has since shifted her plans: a promising scholarship offer means she'll be following her current instructor, Jane Bunnell to Michigan State.
In her four years, she's been bogged and beaten down with rejections and harsh critiques. In a  stereotypically frazzled freshman fashion, she would misplace her ID and credit card. Sophomore year, she considered dropping out ("well, I only wanted to drop out for about an hour," she laughed) but channeled it into working harder. It's payed off in both her music and overall confidence.
"It's easy to forget why you're doing it because it's so stressful," she said. "(But) I like doing this –  it brings me joy."
As Bunnell watched, Roberts' vibrato tones purred through selections by Brahms and Bach. In less than a year, she'll sing in Chinese for a spring abroad tour with her Michigan State ensemble.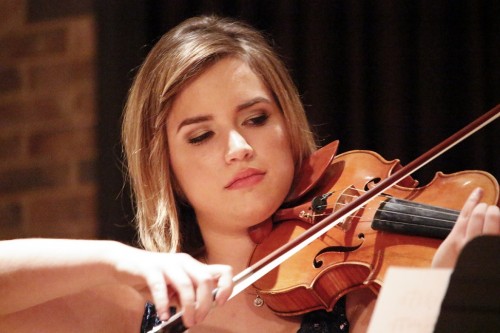 For Baloff, less has changed; she's still arranging a move to Lynn University on a full scholarship next academic year. But last week, she had a little help from her family in organizing a senior recital, cooking chili with her father and performing alongside her brother, who studies viola.
Likewise, she sees the changes she's made personally and professionally during college as almost one in the same.
"I think both (music and personal life) go hand in hand," she said. "What I learn in music applies to the real world."
Though their time at DePaul is almost over, it's just the beginning.
"It feels like something is ending, but I know nothing really is because it's just school," Yanez said. "Music is going to go on for the rest of my life."
---
Advice for incoming School of Music freshmen
"Never forget that you're doing it because you love it. You're doing performance for a reason, and it's still there."
— Christine Roberts
"Don't give up. One person's opinion isn't the opinion of everyone."
— Christine Roberts
"Work as hard as you can. This is the time in your life when you're going to have the most time to practice, make mistakes and take chances, musically."
— Zach Yanez
"Come in with an open mind, and always be a team player."
— Katherine Baloff
"Accept as many gigs as you can, within reason. Accepting gigs is great, but don't overbook yourself, leave time for breathing."
— Katherine Baloff
"Don't wait until the last minute to buy a recital dress. Especially if your recital is after prom season … and you can never have enough black dresses. "
— Katherine Baloff